Ask any woman how she feels about getting an annual pelvic exam and she may involuntarily pull her knees together and cringe. It's not exactly something she looks forward to.
With a growing number of medical experts suggesting annual pelvic exams are unnecessary, some women may be tempted to skip the stirrups in 2016.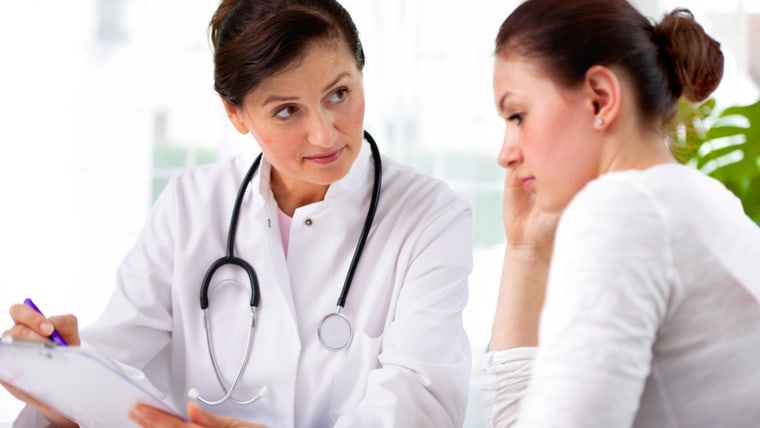 But many in the medical community still believe an annual pelvic exam is the safest option — including the American College of Obstetrics & Gynecology. Though ACOG recently published new guidelines recommending against annual cervical cancer screenings, ACOG still believes annual pelvic exams, which screen for many other health issues, are best.
Related: Do I really need an annual physical? More doctors say maybe not
A recent report in the Annals of Internal Medicine examined the opposing viewpoints.
Pelvic exams: unhelpful?
A pelvic exam involves a doctor or nurse practitioner inserting the gloved finger of one hand into the woman's vagina, while the other hand presses down on her abdomen. The object of the exam is to get a feel for the health of the woman's reproductive organs, including their size and position in the abdomen.
It's an uncomfortable, invasive procedure, and ultimately, there's no data proving the exam has any value when done in women who are asymptomatic, says Dr. Jennifer Potter, director of the Women's Health Center at Beth Israel Deaconess Medical Center and an associate professor of medicine at the Harvard Medical School. Potter wrote in the journal article against annual pelvic exams.
While Potter says women should absolutely get cervical cancer screenings, or Pap smears, every three to five years, pelvic exams aren't as useful. Though doctors assumed for years that the exam could help detect ovarian cancer in its early stages, she says studies show it doesn't work very well for that.
Related: 7 health habits that can cut your heart risk in HALF
While the exam has much better odds of detecting uterine tumors, this type of cancer usually causes symptoms, Potter says, adding that the same goes for most sexually transmitted diseases.
Beyond the discomfort caused by the exam, there are more dangerous downsides, Potter says. For example, when doctors find something that feels amiss, women may get further diagnostics including surgeries they wouldn't have had if not for the pelvic exam.
Pelvic exams: still necessary
Yet many ob-gyns, including Dr. Hope Ricciotti, still see value in pelvic exams. Even if the exam isn't always useful as a screen for ovarian cancer, Ricciotti, the chair of obstetrics and gynecology at Beth Israel Deaconess, says it can tell a doctor about a number of other conditions. Ricciotti argued in favor of annual pelvic exams in the article.
For example:
It can give a warning that a woman's uterus is starting to prolapse, meaning that the muscles holding it in place have weakened and it is slipping out of place and down towards the vagina. This can happen after pregnancies, so it can affect both younger and older women.
If a woman's organs seem stuck together that could be a sign of endometriosis. Findings on the exam might prompt a doctor to ask whether the woman is having pain during intercourse.
In younger women, the exam can offer doctors a chance to teach women about their bodies.
Women don't always know what is normal and what is abnormal, Ricciotti says, so they may not complain about symptoms. And "women can be too embarrassed to ask about some of those things," she says.
Related: 10 small food changes that may make a big difference in your health
Yet, Ricciotti isn't sure women need to have the exam every year. "We've got to find some middle ground here," she says, adding that what's really needed is a lot more research on pelvic exams. Currently there's a real dearth of studies on their value, Ricciotti says.
And some physicians believe that pelvic exams do help when it comes to detecting ovarian cancers.
Dr. John Fisch says he's caught ovarian cancers during exams. "It's not a great screening test, but there is some utility to it," he adds.
"To say that the pelvic exam causes harm is ridiculous, in my opinion," says Fisch, director of Womancare Associates and an associate clinical professor in the department of obstetrics and gynecology at Magee-Women's Hospital of the University of Pittsburgh Medical Center.
"Ninety percent of all breast biopsies are benign. Does that mean that mammography is a bad screening test? No. It's the best we have. How many times does a physician listening to someone's heart actually hear something. And yet we do it every year," he says.
Fisch says he's never been asked to forgo the pelvic. And, he says, he's not sure why a woman would come in for a yearly exam with an ob-gyn instead of an internist if she doesn't want one.
A middle ground
Dr. Priya Batra may have found the middle ground that Ricciotti was looking for.
"In my practice I do tell the patients, if they don't have any symptoms and aren't pregnant, that it's unclear whether we get a lot of information from the routine pelvic exam," says Batra, an ob-gyn at the University of California, Los Angeles, Medical Center. "From my perspective, it can be offered, but it's not necessarily a requirement. It's not something to be pushed on a patient."