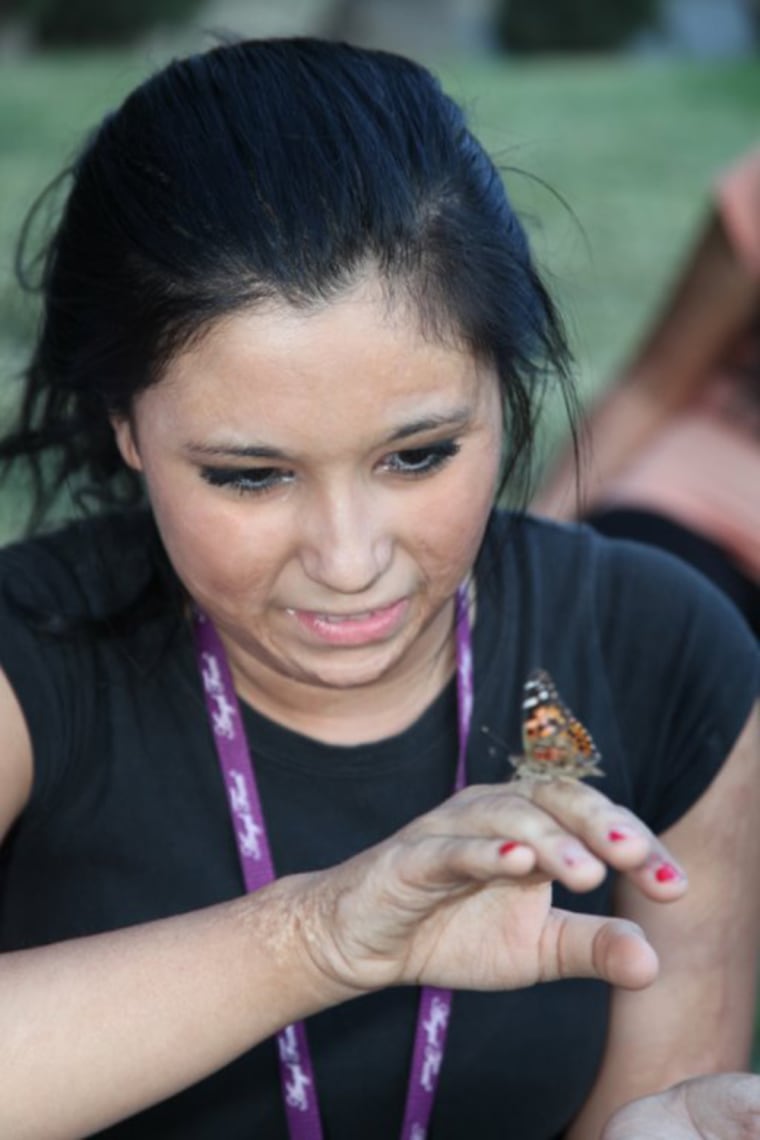 The burned girl. Since she was a young child, that has been Zebonie Lopez's designation. It is more than a description— it's a shroud, keeping Zebonie, 16, of Lake Wales, Florida, and girls like her from believing in themselves and thinking beyond their skin. 

After sustaining burns over 50 percent of her body in a car accident at age 5, Zebonie says "I always felt like I had to hide." The 16-year-old wore sweaters year-round in the Florida heat to cover her scars. The staring and teasing from classmates and strangers alike upset and unnerved her, and her only options seemed to be flight or fight. 
"When I'd see people looking and whispering, if I couldn't just get away I would snap at them and tell them something nasty," she says. "I'd feel bad, but I did it."

Time spent at an annual Angel Faces retreat last summer changed Zebonie's focus— from concealment to expression and from suspicion to belief in the common good will of others. A national nonprofit organization based in Southern California, Angel Faces provides healing treatments and ongoing support for adolescent girls with severe and permanent disfigurement from trauma and burn injuries.
At the one-week retreats, volunteers and licensed therapists encourage the girls to explore new ways to heal emotionally. The goal is to increase their self-esteem, decrease their depressive symptoms, and heighten their quality of life by creating a better path. Essentially, the girls are taught to go out and live their lives openly and positively. 
Angel Faces is just one of dozens of retreats or camps around the country providing much needed comfort and and the feeling of a shared journey to thousands of young burn survivors. 
"The common denominator among burn survivors is the feeling of being alone — even when they have amazing support at home," says Dana Kuhn, director of programs at the Burn Institute in San Diego. "Once you go to a gathering of survivors, you no longer have that sense of being alone."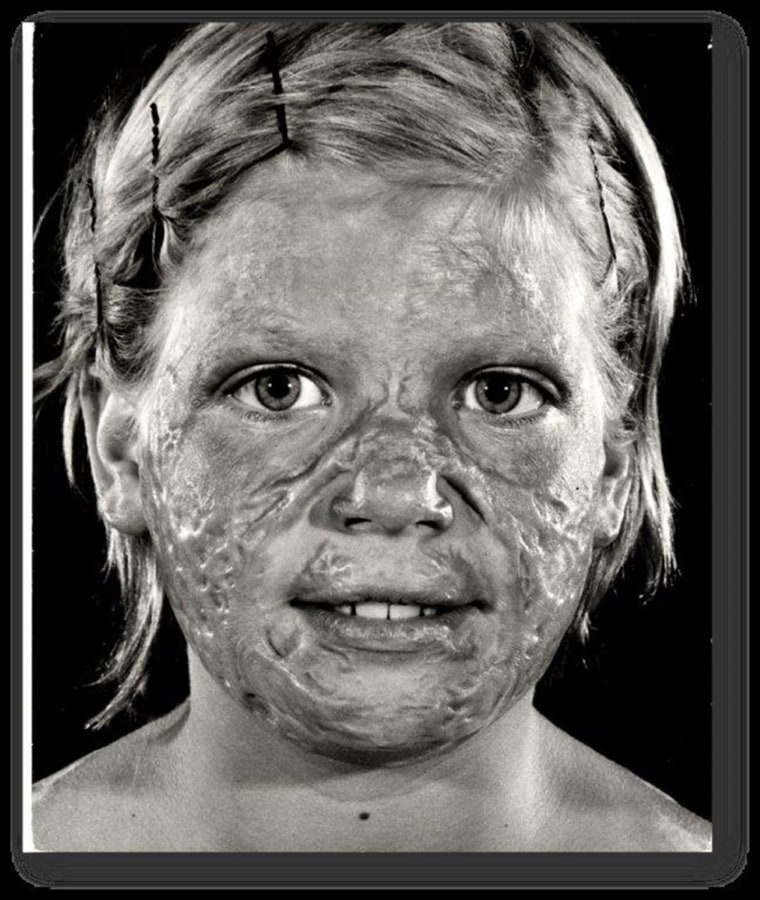 Angel Faces founder Lesia Cartelli works to bolster the strength and confidence of the girls so they can step back from their defensive positions.
"These girls have thick armor from years of fending off stares," says Cartelli. "But when they walk into a room, people are going to stare at them anyway—it's a fact. These girls first must learn that they're not victims. Only then can they learn to teach others how to treat them with care and respect."
Cartelli knows. After more than 50 percent of her body was burned in a natural-gas explosion at age 9, she was determined to show people that she was much, much more than her burns. "I had to build a character and a sense of humor fast or I'd be picked on, stared at, or rejected," she says. "I had to be someone people would want to be around—overcoming how I looked."

As an adult, she launched a burn camp in San Diego. Three years into the program, she says she had an epiphany. "Three teenage girls walked by me with their heads sinking down. I knew I was failing because on Monday, back in their regular lives, they'd have the same horrible days. I was not giving them what I knew they really needed – to grow spiritually while looking different, learning how to master the social world with confidence, and teaching them how to handle teasing and rejection."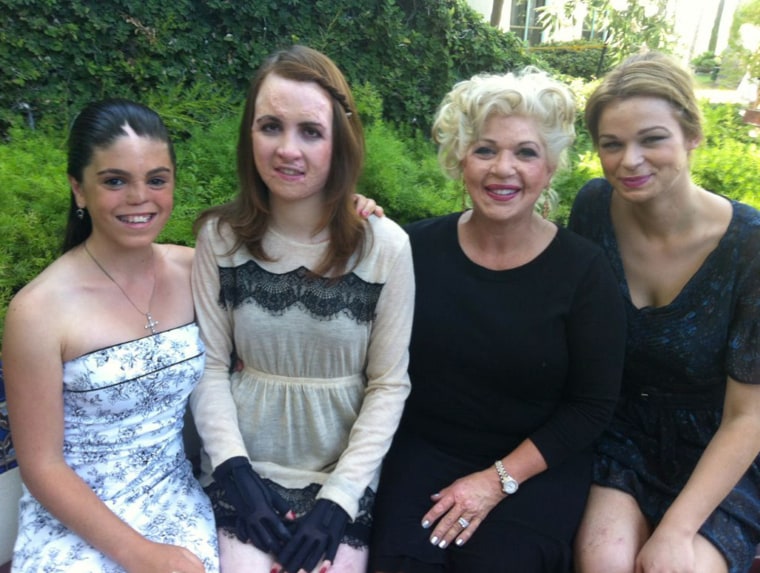 The Angel Faces retreat came out of that, with a focus on the spiritual/emotional and physical growth of recovering from a trauma. Cartelli has created an intimate, focused program geared toward all aspects of the girls' recoveries. She calls it a healing journey.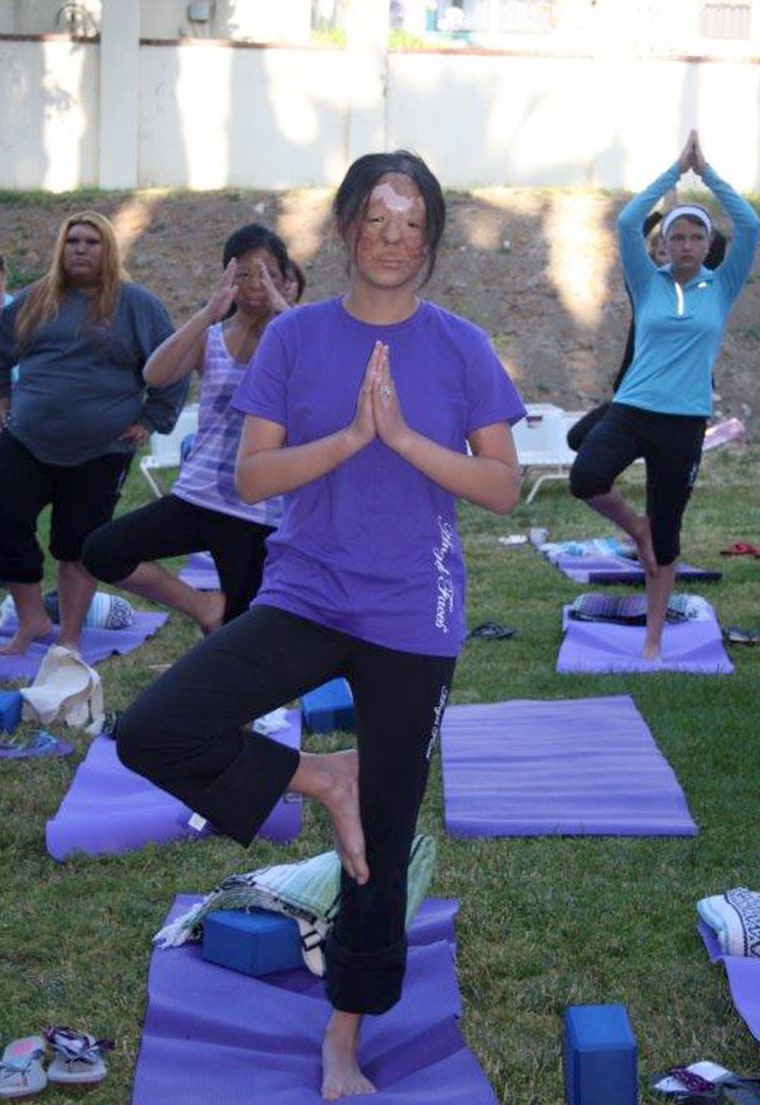 Art projects build on the empowering theme of the week. Corrective-beauty consultants teach the girls how to use makeup to enhance their natural beauty—and maybe to draw on an eyebrow where one was burned off, or to give them cheekbones when they don't have any. Therapeutic massages and facials prove to the girls that touching doesn't always involve pain.

Zebonie was skeptical last year when she went to her first Angel Faces retreat. 
"But they showed us instead of just telling us, and that's how we learned," she says.

The counselors ask each participant to think of one of the worst encounters they've experienced. Zebonie remembers a boy in her middle school who, "when he saw my scars, he got this look of disgust on his face, like 'Yuk.' And then he wiped his own arm like I was contagious."

One by one, the girls enter into a role-playing scenario with the volunteers, demonstrating the incidents and responses. Cartelli steps in with different choices, which they all act out.

"They showed us how to explain our story in a long way and a short way," says Zebonie. "I can say something like, 'I was burned in a car accident. I'm fine now. Thanks for asking.'"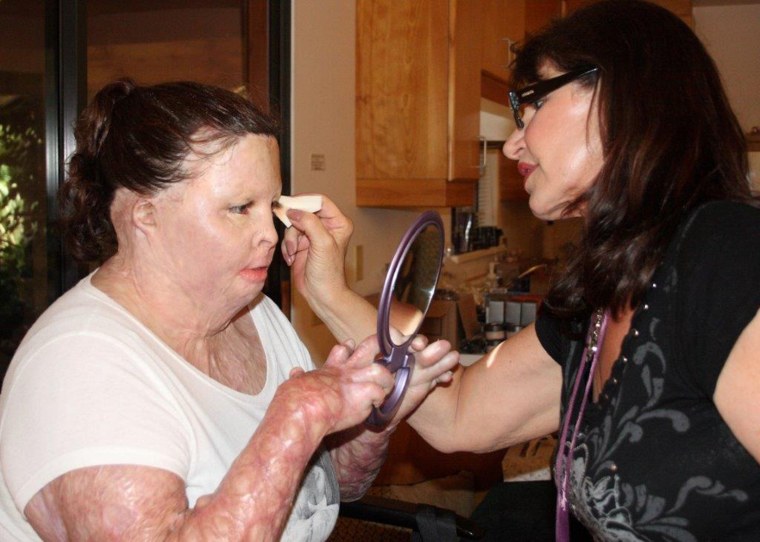 The goal, Zebonie explains, is for everyone to feel good after a confrontation. "That person will leave happy because he knows your story and that you're a nice, gentle person, and you'll leave feeling more confident."
Zebonie is looking forward to attending her second Angel Faces retreat this month—held for the first time at an East Coast location, Wolfeboro, N.H. She has a goal: to practice how to get along with staring people. "I know what to do but I'm scared I'm going to get shut down," she says. "When I go back this year they'll teach me more and then I'll be able to do it. If I do it once, I can do it a million times."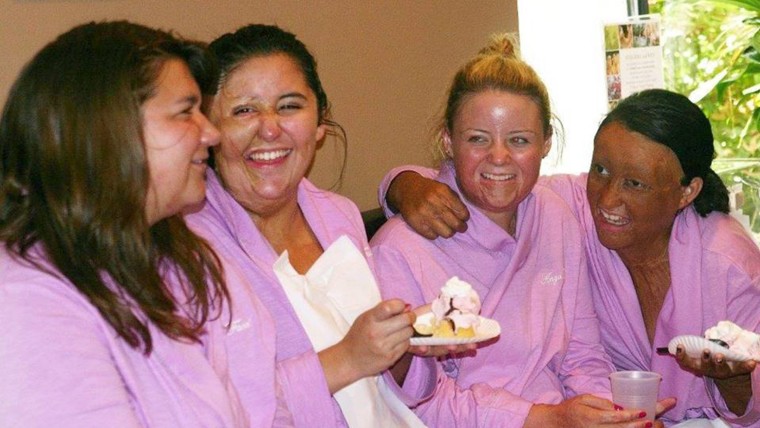 Alexandra Rockey Fleming is an author, journalist, and mother of two teens. She lives outside Washington, D.C. Lesia Cartelli's first book, Heart of Fire, will be published by Carlyle this summer.