Michael Phelps has returned to the Olympics with renewed enthusiasm — taking home his 19th gold medal over the weekend. And though the Olympian is clearly in top shape, his physical appearance has a lot of fans wondering: What are those dark marks and bruises all over his upper body?
WATCH on NBCOlympics.com: What's with Michael Phelps' mysterious bruises?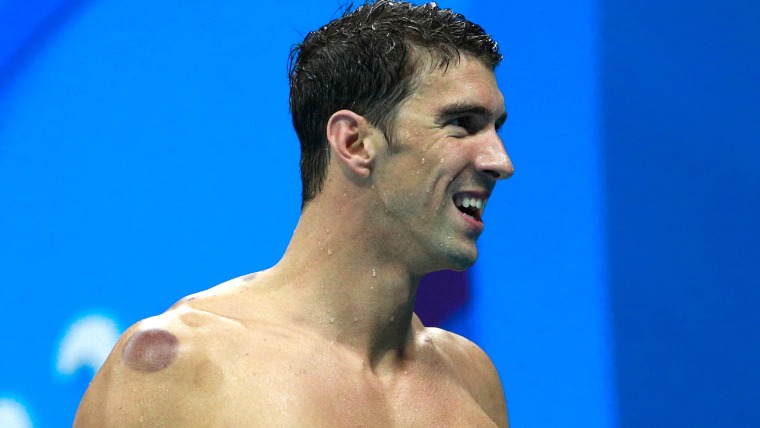 Thanks to Phelps' Instagram account we have a hint: The mysterious spots are likely a result of cupping therapy, a form of ancient alternative medicine believed to have healing qualities, and remove toxins and tension from the body.
RELATED: Acupuncture, cupping: What Bobbie Thomas is trying to help with her pregnancy quest
There are several methods of this practice: retained cupping, flash cupping, moving cupping, wet cupping, medicinal cupping and needling cupping. The cups can be made of various materials. In most practices, a substance is placed in the circular cup and set on fire. Once the flame goes out, the cup is placed upside down on acupuncture points on the skin for about five to 10 minutes, resulting in red circular marks or bruises on the skin that can last for up to two weeks.
RELATED: Extreme spa treatments from around the world
Phelps isn't the only Olympic fan of cupping — swimmer Natalie Coughlin has also posted about the therapy on Instagram, writing, "Laughing because it hurts so bad. Gonna leave a mark! #AthleteLife."
So, does it work? There's no clear "yes" or "no," though there has been some research on the topic. A 2012 review of randomized controlled trials found cupping therapy combined with other traditional Chinese medicine helped to treat patients with herpes zoster (shingles), facial paralysis, acne and cervical spondylosis.
Another meta analysis of studies assessing the effectiveness of cupping as a treatment for pain found cupping helped reduce discomfort for lower back pain sufferers and those experiencing pain from cancer. A 2013 study evaluating the effect of cupping on knee osteoarthritis found the therapy helped with management of the condition, relieving pain and stiffness.
According to Dr. Samuel Sarmiento, NBC News Medical Unit fellow, there's no clear research on how cupping might help athletes, though there are a few theories as to why they say it helps them recover more quickly.
"Cupping might help sore, overused muscles by increasing blood flow (to those body parts) and that releases chemicals from the immune system that are known to be involved in inflammation," Sarmiento wrote via email.
Another idea: Maybe it's all in their heads. "You can't underestimate the power of the mind in healing — especially for elite athletes who often hire special coaches just to help them find the psychological edge," Sarmiento wrote.
When it comes to Phelps, whatever he's doing seems to be working — whether it's in his head or not.