The frozen food aisle of your local grocery store may look a little bare due to several frozen spinach recalls over the past few days.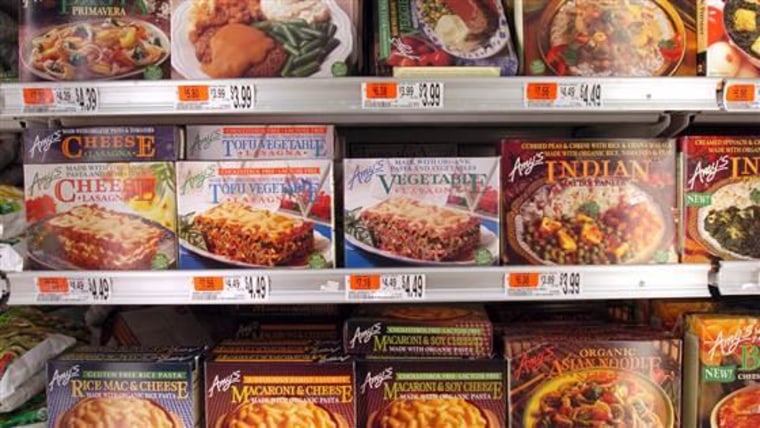 Currently, spinach-based products from Amy's Kitchen, Wegman's, Cadia, Meijer and Wild Harvest, have issued voluntary recalls, due to some products being potentially contaminated with listeria. Listeria monocytogenes is a bacterium that is the third leading cause of death from food poisoning, according to the Centers for Disease Control.
The good news, so far, is that no one has reported any illness.
Amy's Kitchen is recalling packages of its pizza, pasta, lasagna, and others containing spinach, and includes 73,897 cases of frozen products manufactured between Jan. 21, 2015, and March 14, 2015. The products were shipped to stores throughout the United States and Canada. Products include Spinach Lasagna, Enchilada Verde Whole Meal, Gluten Free Tofu Scramble Breakfast Wrap and Brown Rice & Vegetables Bowl.
Wegman's recalled about 12,540 packages of Wegmans Organic Food You Feel Good About Just Picked Frozen Spinach, which was sold in 85 of the company's stores in New York, Pennsylvania, New Jersey, Virginia, Maryland, and Massachusetts between Jan. 27 and March 21, 2015. Affected packages have "Best Used By" dates of either Jan. 26, 2017 or Feb. 2, 2017. Wegmans plans to notify customers who used their Shoppers Club Card to buy the product with an automated phone call.
Also recalled:
Cadia Organic Cut Spinach, 16 oz. frozen packages (UPC 15369 01165) distributed in California.
Meijer Organics Chopped Spinach, 16 oz. frozen packages (UPC 41250 02362) distributed to warehouses in Michigan, Ohio and Wisconsin.
Wild Harvest Organic Cut Leaf Spinach, 16 oz. frozen packages (UPC 11535 50170) distributed to warehouses in Arizona, California , Delaware, Washington, Maine and Virginia is also being recalled.
The products were supplied to Wegman's, Cadia, Meijer and Wild Harvest through Stanwood, Washington-based Twin City Foods, Inc., one of the nation's largest independent processors of frozen vegetables. Twin City received the spinach from Coastal Green Vegetable Company LLC of Oxnard, CA, which initiated the recall of the bulk spinach on March 20, 2015 due to possible contamination with listeria.
Amy's Kitchen was also supplied by Coastal Green Vegetable.
"We're cooperating with the FDA and working with our customers on the recall," says Paul Fanelli, spokesperson for Coastal Green Vegetable Company. "We are an ingredient supplier and we supply to customers who use the products in other items. They have to decide based on their use of the product whether they need to recall product themselves. Our decision was to tell them we had the issue and to inform them as quickly as possible so we can protect public health."
The frozen spinach was recalled after a microbiological test done at Coastal Green came up positive for possible listeria, says Twin City Foods spokesperson Mark Hubbard. "In an abundance of caution products are being pulled," says Hubbard.
Consumers who have purchased the affected product are urged to not consume the product and immediately return it to the store of purchase for a full refund. Consumers with questions may contact the retailer where they purchased the affected product.
About 1,600 people per year get sick from eating listeria-laden foods, according to the CDC. Otherwise healthy people may only experience fever, headache, abdominal pain and other symptoms. But listeria infection can cause miscarriages and stillbirths among pregnant women, explains food safety expert Joan Salge Blake, an Academy of Nutrition and Dietetics spokesperson.
And, as other recalls have shown, this voluntary recall may expand to other companies, explains food safety consultant Jamie Stamey.
This recall is being made with the knowledge of the U.S. Food and Drug Administration.
This article was originally published Mar. 24, 2015 at 5:26 p.m. ET.