American Airlines will allow passengers with nut allergies to board the plane early starting next month to allow them to wipe down any surfaces that could potentially trigger their condition.
The company confirmed to TODAY on Wednesday that the new policy will go into effect on Dec. 12 after flight-service manuals are updated.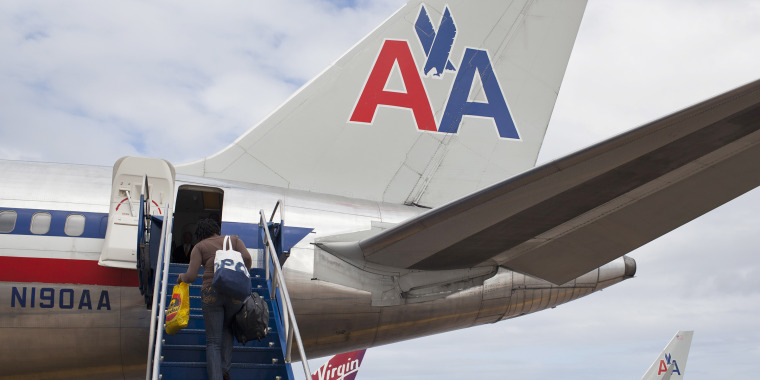 The change in policy was also outlined in a filing Tuesday with the U.S. Transportation Department that was reported by Bloomberg.
"Customers with nut allergies who would like to board flights early to wipe down surfaces may ask to do so at the gate,'' an American Airlines spokesman told TODAY. "Though we do not serve peanuts in flight, we can't guarantee our customers won't be exposed to peanuts or other tree nuts during their trip."
The filing was an answer to a complaint by Food Allergy Research & Education, a nonprofit dedicated to helping the 15 million Americans living with food allergies.
The group claimed American Airlines was violating the legal rights of passengers with food allergies by not allowing them to preboard the plane and wipe down surfaces, which the company denied.
Allowing those with nut allergies, which can be life-threatening, to board early allows them to wipe down tray tables or seats during the general boarding time.
"We strongly encourage those with allergies to take all necessary medical precautions before flying,'' the spokesperson said.
American Airlines now joins Delta Air Lines in allowing passengers with nut allergies to board the plane early to disinfect any surfaces.