It was Valentine's Day and the Alzheimer's patients in a Louisville, Kentucky, nursing home had something to love.
When volunteers gave out baby dolls and toy puppies to the elderly residents last week, their reactions were striking. The women tenderly cradled the life-size dolls, supporting their heads and smiling at their faces. The men gently stroked the toy puppies and held them on their laps. Photos of the joyous event went viral on Facebook.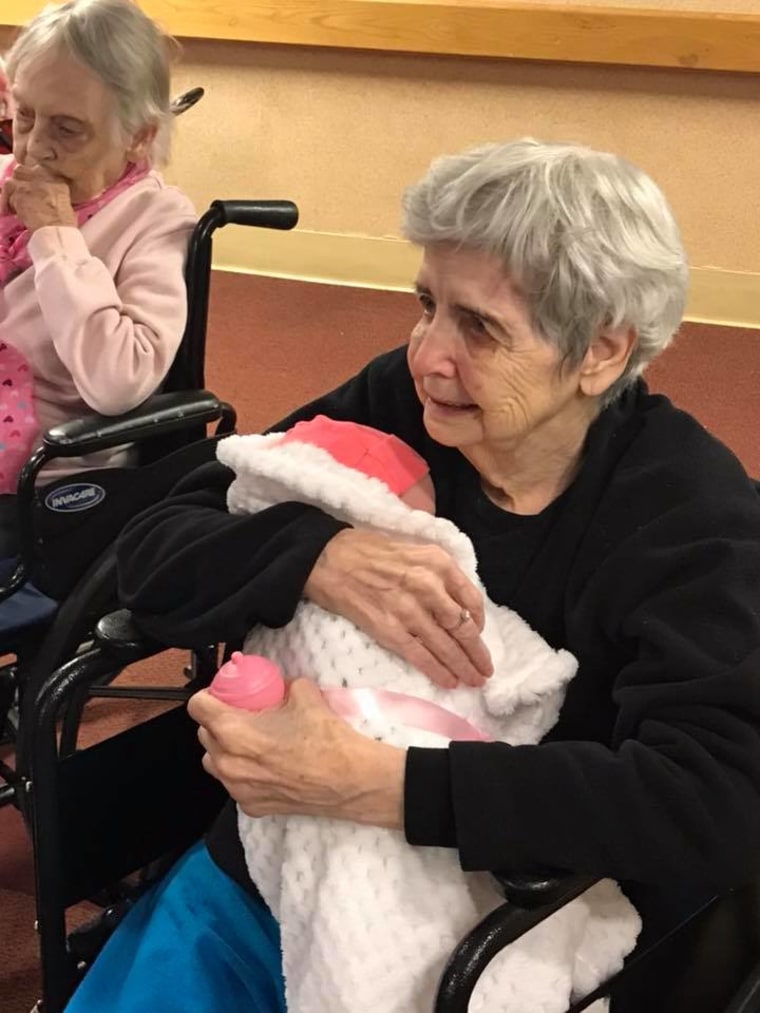 The doll giveaway — called Pearl's Memory Babies — is a passion project for Sandy Cambron, a Kentucky resident whose mother-in-law Pearl died of Alzheimer's. Cambron's coworker Shannon Blair helped with the Valentine's Day visit at Park Terrace Health Campus, where her own mom is living with the disease.
"It's overwhelming," Cambron told TODAY about the response from the nursing home residents. "It's just great to know that it's comforting them."
"It's heart-breaking and heart-filling all at the same time because it makes you realize they're lonely because they've lost everything they know," Blair added. "It's almost like Sandy was giving them something back that they've lost… immediately, they make a connection with it."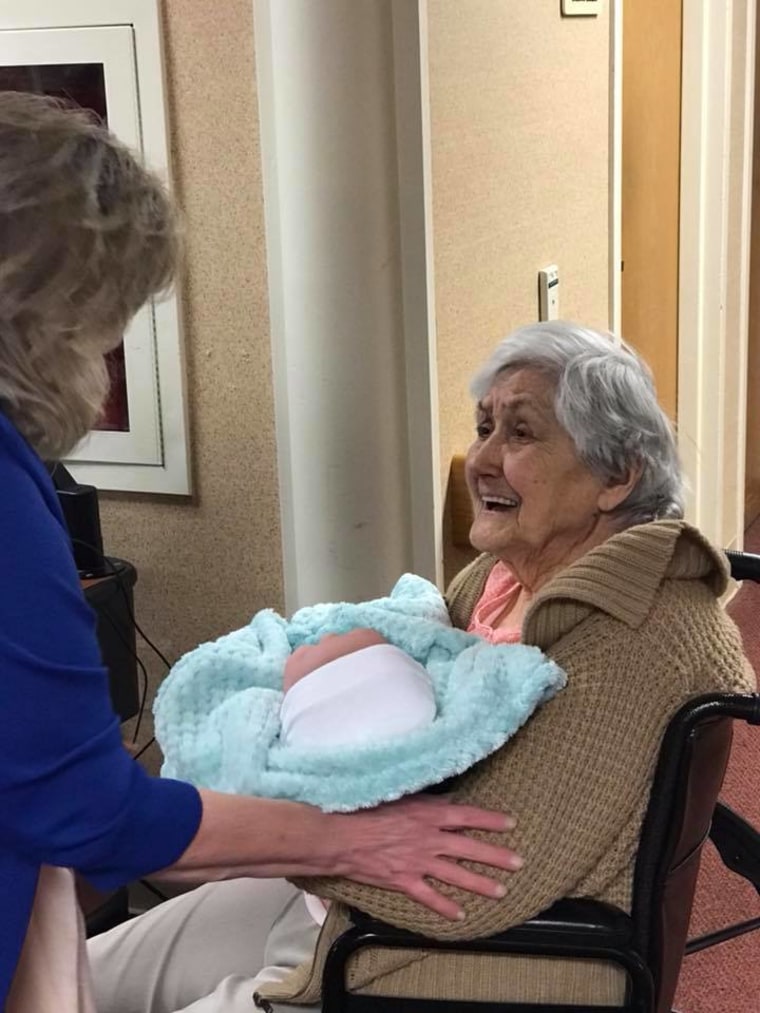 Cambron's mission started when her mother-in-law developed Alzheimer's more than a decade ago and had to move into a nursing home. The transition was difficult, so Cambron tried different ways to comfort her. Pearl loved animals and the family thought toy cats and dogs would help, but they didn't cheer her up. Then one day, Cambron brought in a baby doll.
"She immediately took to it and just loved it and kept it by her side the whole time until she passed," Cambron said.
After Pearl died in 2008, the family brought baby dolls for all the patients in her nursing home in her memory. Cambron tried to do it as often as she could through the years. Then, she found out Blair's mother had Alzheimer's and had recently moved into a nursing home. Just as with Pearl, the transition proved to be difficult, so Cambron offered to provide a doll to Blair's mom and her roommate.
"I didn't understand what I was about to experience," Blair recalled. "My mom's roommate had such an overwhelming reaction to the doll — it was very emotional."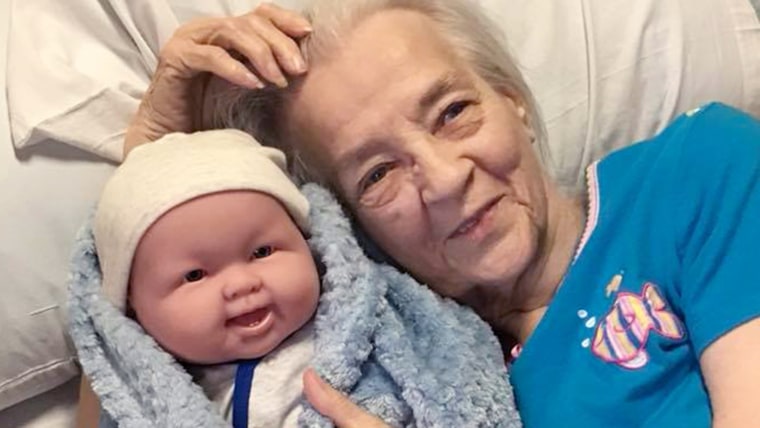 Her mother was bedridden for weeks after a heart attack, but the doll helped her meet other patients.
"Women and men would come and just sit in my mom's room and hold her doll. They started talking and that's how my mom made friends. It was actually through the doll," Blair said.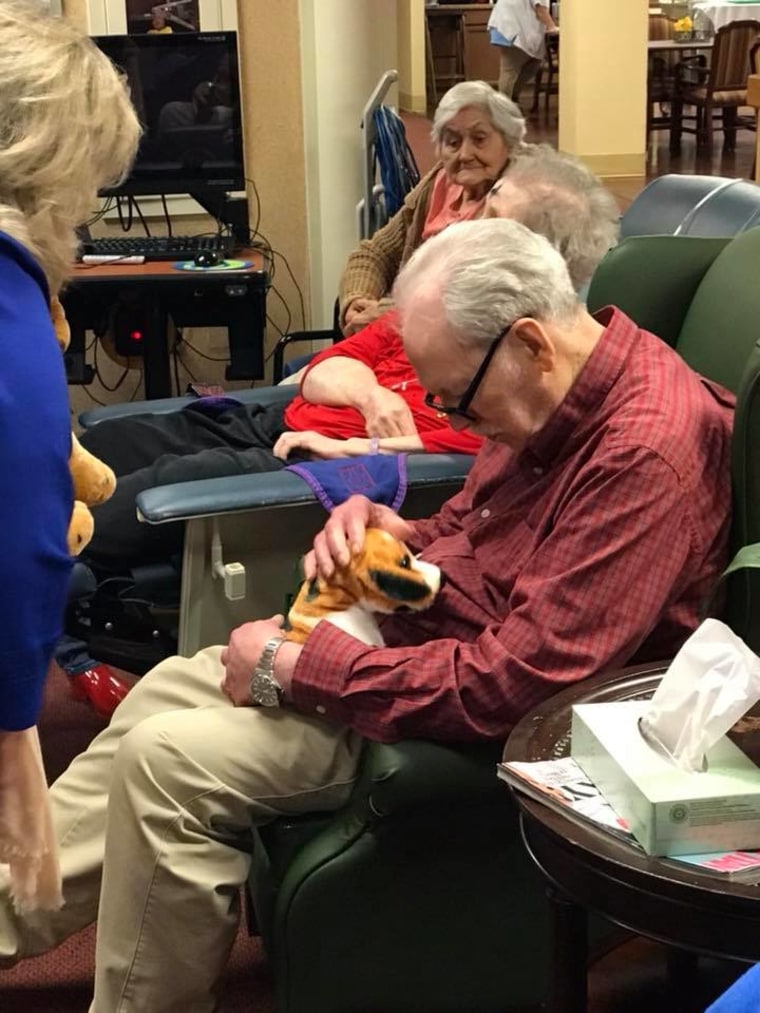 The research around doll therapy is limited and far from conclusive, but there is anecdotal evidence to suggest it may help some people living with moderate to severe Alzheimer's disease or other dementias, said Ruth Drew, director of information and support services for the Alzheimer's Association.
"We know that people living with Alzheimer's — particularly in the later stages — can respond to a variety of different interactions or stimuli. It could be music or art or pets — even dance," Drew noted. "It's important to be able to find activities that meet the person with the disease where they are in that moment, and help them enjoy life with dignity."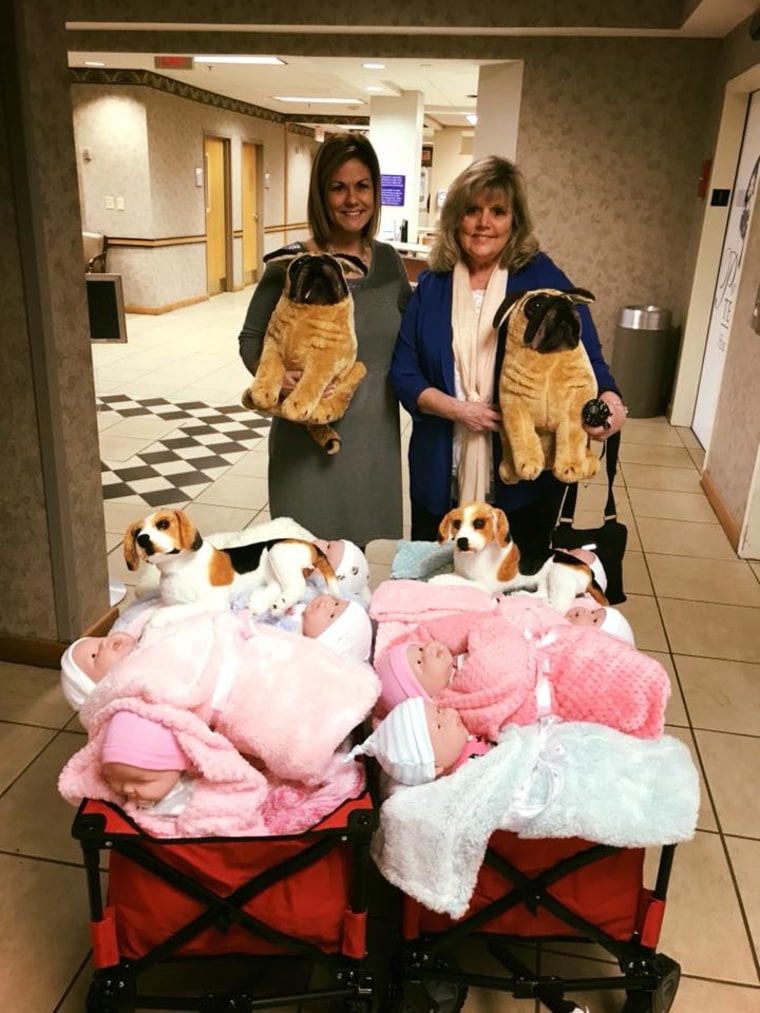 Meaningful engagement could help to calm patients who are agitated, improve their mood, boost social interaction, and provide a feeling of connection, she added.
After the huge Facebook response to the Valentine's Day event, Cambron is raising money to try to give baby dolls to as many Alzheimer's patients in her area as she can. She buys life-size dolls, puts them in a diaper, dresses them in real baby clothes and wraps them in blankets.
"It's as if it's a child or a grandchild, or something that maybe takes them back in time," Blair said.