November is Alzheimer's Awareness Month and National Family Caregivers Month, when millions of people who care for loved ones with the disease are recognized for a job that can take a serious toll.
"I worry about my mom, but then like, she has to worry about me. So I just wish there was more of a balance," 14-year-old Hailey Corum told NBC News special anchor Maria Shriver.
After long days at school and work, she and her mom, Robyn Forbes, come home to care for Hailey's 82-year-old grandfather, Jim, who has Alzheimer's. A former naval officer, he now struggles with everyday tasks, sometimes forgetting his family's names — a very different person than the man they grew up with.
"I describe him as my rock. He was strong, smart, funny — everything that you could ask for in a dad," Forbes said.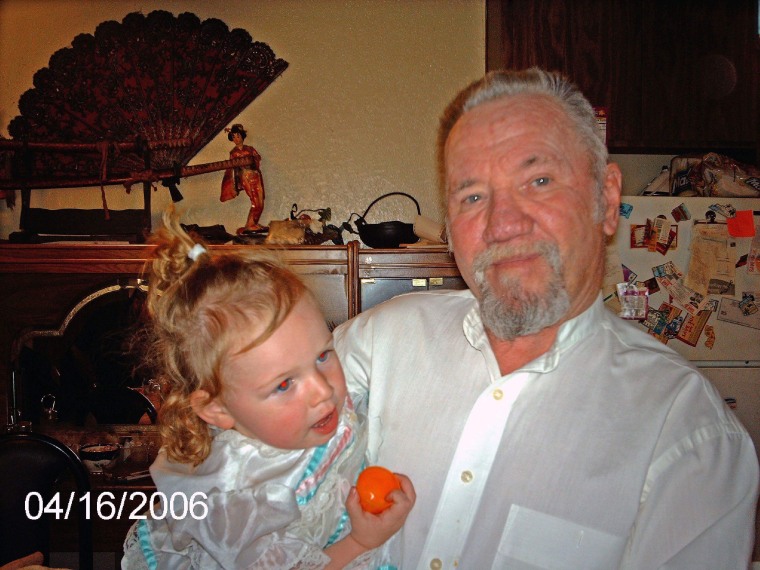 After losing his leg many years ago, Jim uses a wheelchair. Last year, he was diagnosed with Alzheimer's, making it more difficult for him to take care of himself, so Forbes moved him and her mother into the tiny apartment she shares with her daughter and her boyfriend. While her partner works nights to care for Jim, Forbes and her daughter take the mornings and evenings. They get him dressed, prepare his meals, give him his medications and keep him safe as he slips into the cognitive fog of Alzheimer's.
Hailey has written a powerful essay about her experience caring for her grandpa.
"I worry about it all day when I'm at work, and it's draining," Forbes said, noting she feels like she's falling through the cracks.
Experts say it's a national crisis. Of the 16 million family caregivers, almost 60 percent suffer from high emotional stress, and 40 percent suffer from depression, according to the Alzheimer's Association.
It's not just adults: 250,000 kids under 18 also care for loved ones with Alzheimer's.
"The emotional, physical, mental challenges of this disease impact the entire family, and the reality is it goes on for a long period of time," said Beth Kallmyer, vice president of care and support for the Alzheimer's Association.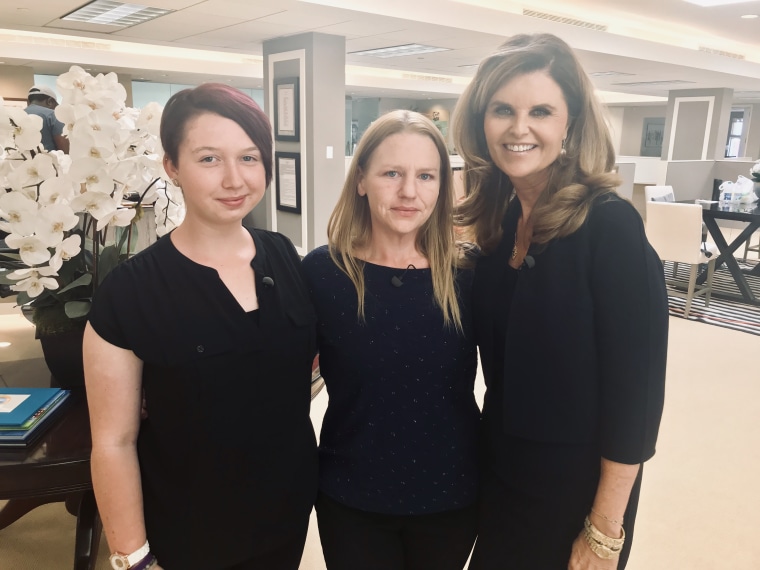 Caregiving has left Forbes living paycheck to paycheck and her daughter Hailey struggling to adapt to her new role.
"It went from the role of like, 'I'm the granddaughter, he's the grandfather, I look up to him, he teaches me.' And then now it's more of, 'I'm aiding him in a lot, and he's depending on me for a lot,'" Hailey said.
"I don't wanna always ask my mom for help, because that's always putting so much on her plate."
That comment left Forbes in tears.
"As her mom, I don't want her to ever have to worry about stuff like that, you know? I want her to worry about being a kid, and between watching what's going on with her grandpa, and then obviously she worries about me. That it worries me. You know, she's only 14," Forbes said.
As the stress takes its toll, it's no wonder caregivers sometimes get sicker than the people they're caring for. Since her parents moved in, Forbes has lost 50 pounds and can't remember the last time she went to the doctor.
"I don't have time. If I do take time off work, it's usually for one of their appointments, and they have so many appointments," she said.
Until caregivers get more support, she'll make it work, somehow, Forbes added. Her family knows it's worth it because every moment with Jim is a gift before Alzheimer's steals him away.
"Take advantage of the time you have with your loved one. Do something with them. There is some guilt of not spending time with them, when you had the opportunity to," Haily said.
Earlier this year, Congress passed the RAISE Family Caregivers Act, which will develop a national strategy to support caregivers.
Resources for families:
The Alzheimer's Association 24/7 Helpline: 800-272-3900.
The association's caregiving pages contain information and resources to support caregivers.
The Alzheimer's Association and AARP Community Resource Finder connects caregivers to a variety of local resources by simply entering their zip code.
ALZConnected is an online community for caregivers and patients.