Alyssa Milano has opened up about suffering from anxiety so crippling that it resulted in her checking into a psychiatric ward before she finally got the medical attention she needed.
In an essay for TIME, the 45-year-old actress revealed she has generalized anxiety disorder, which she believes was "most likely triggered by my postpartum depression" after the birth of her first child, Milo, in 2011.
"My journey with mental illnesses began with my journey into motherhood," she wrote, explaining that she had a "dream" pregnancy that ended with a complicated labor that included throwing out most of her birth plan and undergoing a cesarean section.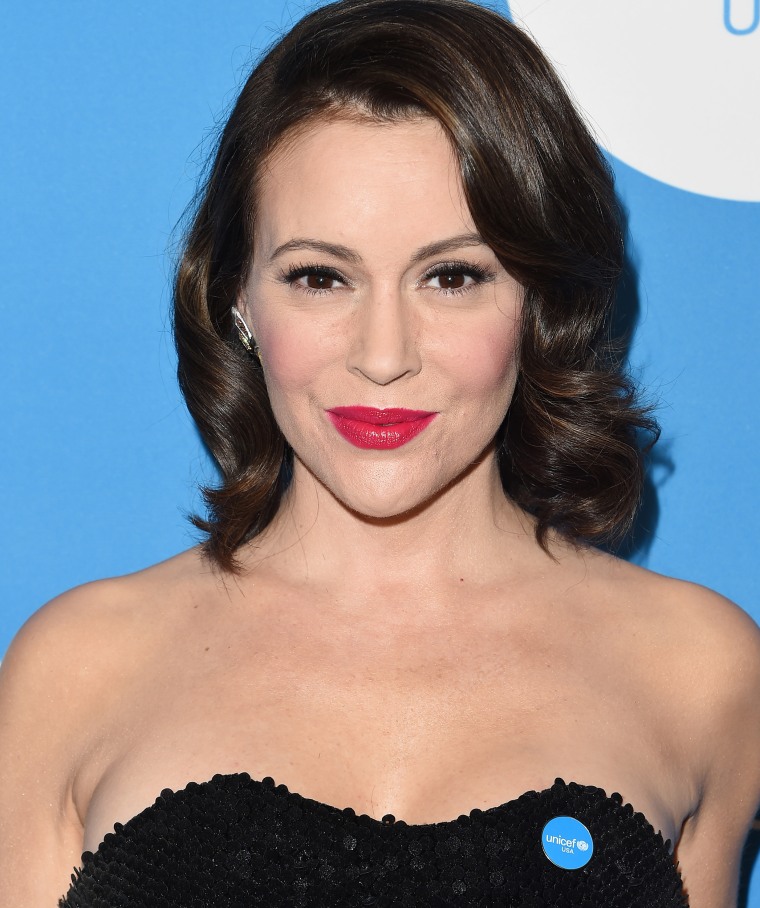 "That first night, after we returned from the hospital, I suffered my first anxiety attack," she wrote. "I felt like I had already disappointed my child. I felt like I failed as a mother, since I was not able to give birth vaginally or nourish him with the breast milk that had not come in yet. My heart raced. My stomach seized up. I felt like I was dying."
Milano recovered but said her anxiety returned a few months later when her son got very sick. Then, when she had to go back to work, her illness worsened.
"I began to develop irrational and obsessive fears," she wrote. "Like many working moms, I was overwhelmed by guilt for leaving my son during work hours, and like many others who suffer from anxiety, my pain was not taken seriously."
She said the anxiety that built up during 16-hour days on set culminated into debilitating anxiety attacks at night.
"Finally, I hit a wall. One early morning, I went to the emergency room at 2:00 AM, asked for a psychiatrist and got help," she said.
Milano asked to be committed and stayed in the psychiatric ward for three days.
Milano, who wrote her essay as part of Mental Health Awareness Month, joins Kristen Bell, Selma Blair, Ryan Reynolds and other celebrities sharing stories about their struggles with anxiety and other mental illness.
Anxiety is a very significant part of postpartum depression, said Eynav Accortt, a clinical psychologist at Cedars-Sinai Medical Center in Los Angeles and the administrator of its postpartum depression screening, education and referral program for new mothers.
"We're actually moving away from calling this postpartum depression. It's actually being referred to more as a perinatal mood and anxiety disorder because there is so much overlap," Accortt said. "This can present so much with the anxiety symptoms. In fact, anxiety symptoms are even more significant than depressive symptoms."
According to the National Institute of Mental Health, one in six U.S. adults lives with a mental illness, but some of Milano's doctors and even her female colleagues still couldn't understand what she was going through.
"Here's the thing about mental illnesses: you don't always look sick, and the answers are not always clear or black-and-white," Milano wrote.
Accortt said mood swings, exhaustion and crying spells are common within the first few weeks after giving birth, but feelings that linger much longer and that get strong enough to interfere with daily tasks can be signs of postpartum depression.
She encouraged new moms worried about their symptoms to talk with their medical providers.
"However, if they don't get answers that feel good to them — if they're dismissed as, 'Oh, this is just part of being pregnant,' which it isn't — then they need to turn elsewhere," she said. "These women should literally be provided with the telephone number of a maternal mental health provider."
If they don't get a referral, she suggested reaching out to Postpartum Support International and other agencies designed to provide maternal mental heath support.
Milano concluded her essay by encouraging her fans to speak up, especially around her.
"If you see me on the street, please come tell me that I am not alone," she said.