/ Source: TODAY Contributor
As we try to stick to our New Year's resolutions, daily trips to the gym are still up there with the highest of our priorities.
If you're actively trying to hit the gym before work or even on lunch breaks, you understand just how valuable that time is, and how hard it can sometimes be to slip away.
Ever struggle to get ready quickly post-workout? We sure do! Whether you've got a meeting, errands or a fun date planned, we've got the perfect advice for you!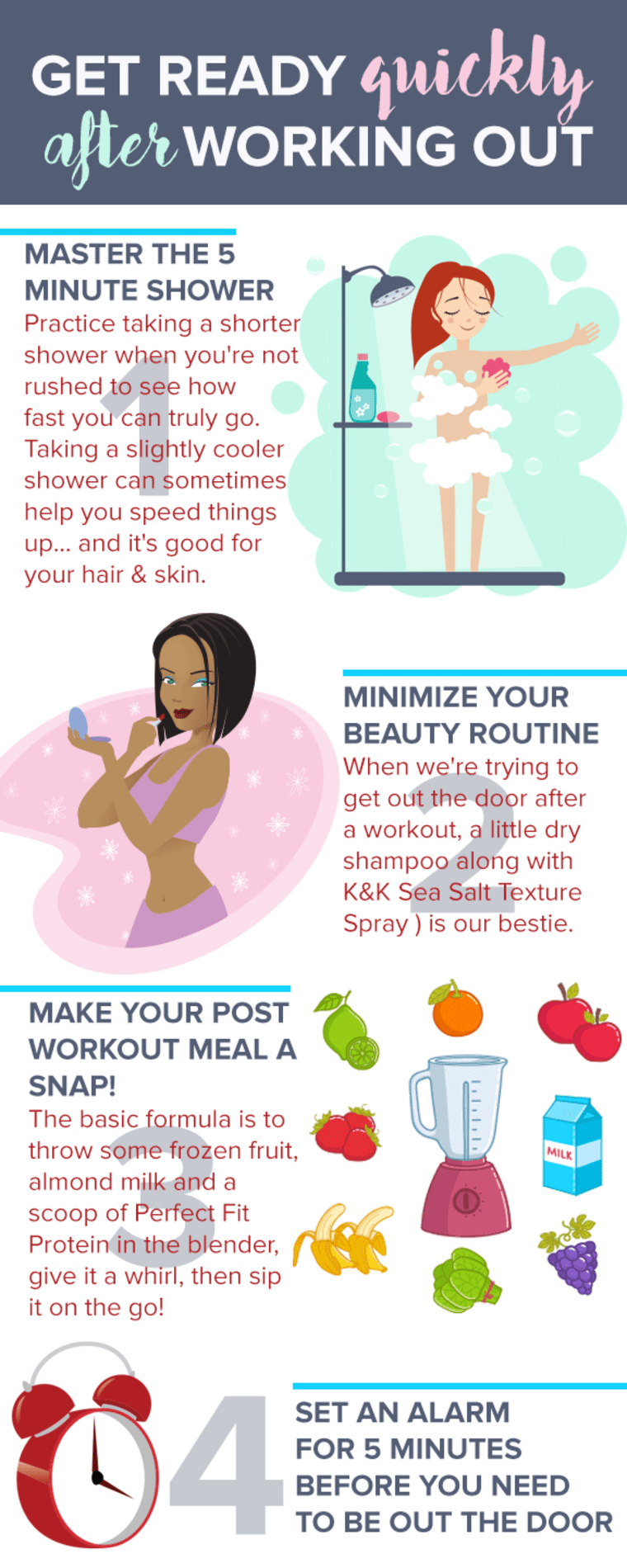 These are our top ways to get it together quickly after a workout. Like what you see? Share it with your friends on Pinterest!
Master the five-minute shower.
Practice taking a shorter shower when you're not rushed to see how fast you can truly go.
RELATED: No soap in the shower? Why you should dial back on the suds
Taking a slightly cooler shower can sometimes help you speed things up, and surprisingly it's good for your hair and skin!
Minimize your beauty routine.
When we're trying to get out the door after a workout, a little dry shampoo along with K&K Sea Salt Texture Spray is our best friend.
RELATED: 8 big makeup messups — and how to avoid them
Not only does this heavenly combination allow you to skip washing your hair, but it also gives you a sexy, beachy, tousled look that works any time, especially for a night out!
Make your post-workout meal a snap.
Our go-to meal recovery is a decadent smoothie. In need of a good suggestion? Try this Chocolate Sunrise. The basic formula includes frozen fruit, almond milk and a scoop of protein powder.
Throw it in the blender, give it a whirl, then sip it on the go!
RELATED: 11 easy, healthy smoothie recipes to freshen up your breakfast for spring
This ensures we get enough protein to help our muscles recover from exercise. We also like to keep sliced, frozen bananas in the freezer to add a creamy twist to smoothies.
Set an alarm for 5 minutes before you need to be out the door
This is a great reminder to wrap things up, grab your bag and hit the road! You won't be able to ignore the constant blaring of an alarm — the perfect way to get you hustling and out the door.