A few years ago, Alicia Mccarvell saw a trend circulating on TikTok about people whose partners are "10x hotter" than them. And she knew if she posted her own take on this with her husband, it would go viral.
Sure enough, she was right. Within 48 hours of posting the video in 2019, @aliciamccarvell amassed 56,000 followers. 
Why was the Canada-based content creator so certain the video would rack up views? Because her relationship with her husband, Scott, is not a traditional one in terms of societal beauty standards, Mccarvell says. She calls it a "mixed-body relationship" — she is plus-size, while her husband is not.
"That's when I knew that my body was always going to be a part of the equation when it came to my content," Mccarvell tells TODAY.com. 
Mccarvell, who defines herself as a "self-love advocate," is set to host The BodCon on March 5. The third annual virtual conference will feature over 30 speakers whose goal is to help participants transform their relationship with their bodies.
"We're going to have tough conversations," she says. "We're going to talk about the biases of the world and the way that people are treated."
Mccarvell is up to the task. The 33-year-old, who previously had a love-hate relationship with her body, is feeling confident. Not only does she now embrace her body, but she's found her "missing puzzle piece" with content-creating — and she's ready to break down misguided perceptions about beauty and relationships, she says.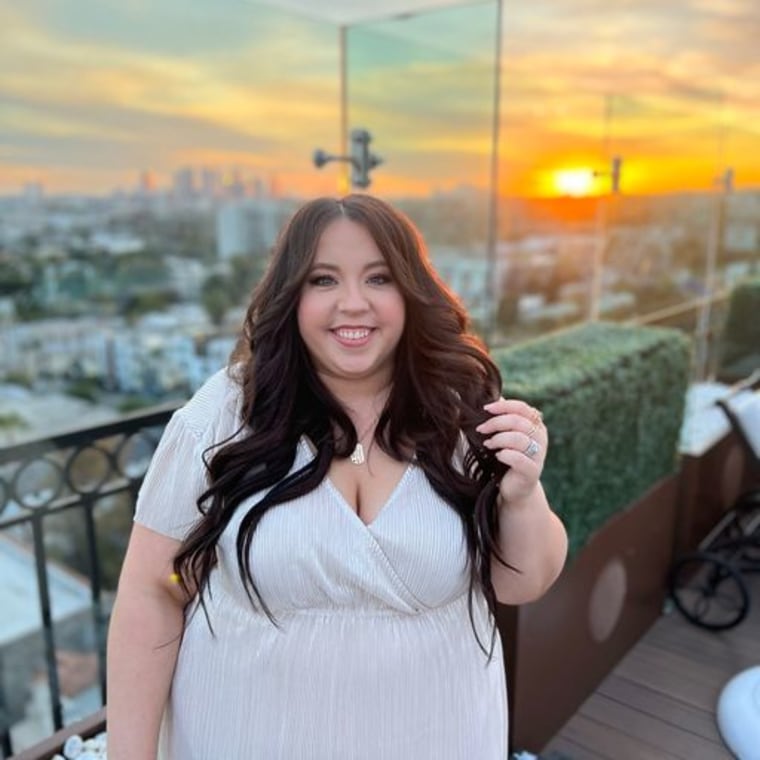 Defining moments on her self-love journey
About 10 years ago, Mccarvell, who has been a range of sizes over her lifetime, entered a bikini competition a decade ago at 127 pounds. She anticipated the walk across the stage would be life-changing. Instead, she looked at her body, shaped by hours of daily cardio and strength training, and felt unhappy.
"I had put all of my eggs in this basket of being thin and that I was going to be able to live blissfully in a thin body forever," she says. "I knew when I walked across the stage that that wasn't the answer." 
She realized she had to stop making decisions based on what she hated about her body and start focusing on what she loved about herself.
A Florida vacation with her husband in 2017 was a milestone for her in embracing that shift. At the time, it had been over a decade since Mccarvell had gone to the beach with anyone. So when the pair spent two hours in the water together, it was a big deal.
"Nobody cared that I was fat. Nobody stared at me," Mccarvell recalls. "I was genuinely so happy in those moments that I wouldn't have noticed it."
She says she recognized once more that how she felt about her body needed to change — it was not only impacting her but the people she loved, including her husband. 
After the trip, Mccarvell went to the dollar store and picked up a notebook to begin a daily habit of writing something about herself that made her proud. The hope was that this exercise would help her start separating who she was from what she looked like. 
"I quickly realized, struggling through these things, that regardless of how my body looked, I was always going to be ... the funny friend. I was always going to be a good partner, I was always going to be a hard worker," she says. "And if people couldn't see past my fat body to see all of those cool things, that wasn't my responsibility."
And if people couldn't see past my fat body to see all of those cool things, that wasn't my responsibility. That was their responsibility."
Alicia Mccarvell
Educating about harmful beauty standards
In June 2022, Mccarvell posted a TikTik of her and Scott transitioning from wearing towels to wedding-guest chic. Her video was not unlike what many other couples filmed for this trend.
But her particular video went viral, garnering over 50 million views and a handful of trolls. In a TikTok posted the next day, Mccarvell featured a few of the comments she received from her previous video. 
"Love is definitely blind," one user wrote. 
"Sugar mama other wise I don't understand," another user said.
Mccarvell again took to her page two days later to address why her post skyrocketed in views. 
"We all know why," she said in the video. "It's because by beauty standards, we don't make sense. The world looks at us and immediately values Scott more than me."
"And since we don't add up, people try to add things to my side of the equation to make it make sense by saying things like, 'Oh, she must not have been fat when they met,' or, 'Oh, she's got to be rich.' Or they try to decrease his side of the equation by saying things like, 'He must be gay,' or, 'He fetishes fat women.'"
Mccarvell says it "makes sense" to her why these people think the way they do about her relationship. She, too, had learned the misconception that you couldn't have a happy successful marriage or a career if you were fat.
"I've been there," she says. "The difference is that I was motivated to unlearn it because I'm living in this body."
So Mccarvell tries to come from a place of empathy regarding the TikTok trolls. But she also has a "3 E" system where she will erase comments she feels are harmful, educate people where she feels it's important to do so and eradicate people from her space. 
For the content creator, her TikTok — now with 5.8 million followers — is a platform for users to understand the value of all bodies. 
"If watching me exposes you more to what it's like to experience the things that I've experienced and if watching me makes you more tolerant of the fat people in your life, I think that that's important," she says.