He's seen the seen the scale hit 340 pounds. But today Al Roker says he's finally figured out how to control his weight -- and he says he's never going back to the way he was.
TODAY's popular weather and feature anchor has written about his weight-loss journey in a new book, "Never Goin' Back: Winning the Weight-Loss Battle For Good."  On Thursday, he opened up to Matt Lauer about his struggles.
"I'm thrilled about where I am," Roker said. "Life is terrific; I wouldn't trade it for a moment. But you always wonder where you would be if 'x' hadn't happened. I'm thrilled that I've finally got to this place at 58 years old. I finally got it figured out. I feel good about it."
A decade ago, Roker made headlines after undergoing gastric bypass surgery and slimming down to 190 pounds from a peak of about 340. But after he shed the fat-guy image, old habits returned. When his mother was hospitalized five years ago, Roker turned to junk food for solace and regained 40 pounds: proof that it's possible to "eat through a bypass," he said.
"I went back," Roker told TODAY's chief medical editor, Dr. Nancy Snyderman, in a recorded segment that preceded his live interview with Lauer. "And I hated it. I know what I have to do now to keep that from happening again."
Four years ago, Roker told Snyderman, he was able to "put on the brakes" and bring his weight down through a combination of diet, including a cleanse, and exercise. He embarked on a 28-day detox during which he cut out caffeine, alcohol, sugar, dairy and gluten. By the end of the four weeks, he had lost 28 pounds.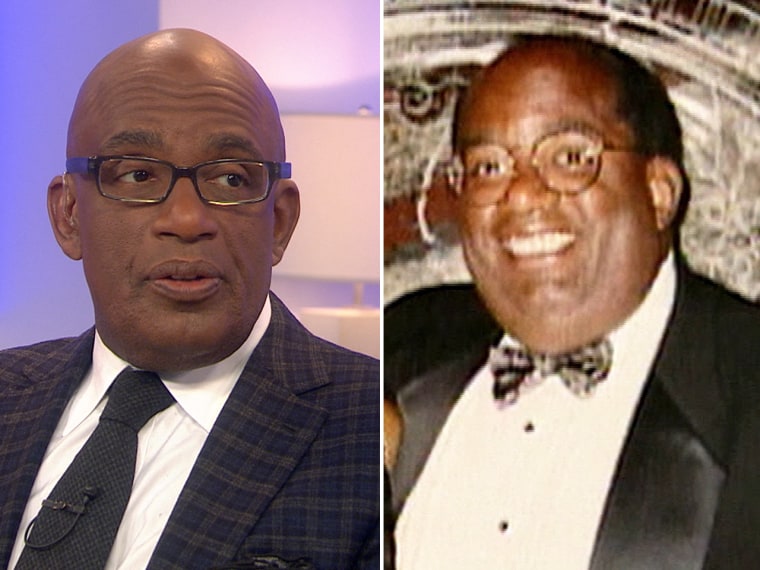 In addition, he altered his diet permanently: Today he eats only whole, unprocessed foods that are high in protein and low in carbs. And he embarked on a "slow method" workout regime that involves three 30-minute exercise sessions each week. Strength training creates more lean body mass, which in turn burns more calories, Snyderman explained.
Lauer asked Roker what led him to binge before he altered his lifestyle.
"It was one of those things where, to a certain extent, you don't feel worthy ...  you're going to be found out as a fraud, you're not as good as you think you are, all those different things combined," Roker said. "And, I like food. But beyond having a good piece of steak or something like that, I'd have to have two steaks."
In his book, Roker writes about how his weight put pressure on his marriage to fellow TV journalist Deborah Roberts. Even when she pointed out his lack of discipline or low self-esteem, he told Lauer, it didn't get him to change.
"It brings you up short, but even that wasn't really enough to say 'you've got to do something about this,' and that's the problem," Roker said. "People think that the folks in their life who are overweight, 'I'm going to just help them.' It's not a help. We know we're fat."
Today, Roker added, he is feeling good and enjoying a special relationship with his scale, living by that number. "I weigh myself in the morning and at night, because this way I know where that number is. Dr. Nancy thinks I'm nuts.
"Over the New Year's holiday, I gained three pounds, and I'm working back to get that off again," he revealed. "I know I don't want that number to keep going up."
More from TODAY Health:
Fructose may trick your brain into overeating
Holiday hangover? Here's the case for a 'dry' January