Al Roker, TODAY's beloved weatherman, returned to the show this month after several weeks away due to health issues including blood clots, possibly due to having COVID-19 in September, and internal bleeding. Now he and his wife, Deborah Roberts, are sharing more about the ups and downs of Al's time in the hospital, his recovery progress and how their family helped each other stay positive.
Deborah called the experience "the worst roller coaster ride you have ever been on" in an appearance alongside her husband on Maria Shriver's digital series, "Conversations Above the Noise with Maria."
Deborah explained that Al was "in a state of depletion" because he wasn't able to eat that often while in the hospital in case his medical team needed to run tests. And although he wasn't in excruciating pain, he "was in a lot of discomfort. His veins were beginning to collapse. They couldn't find veins after a while," she said.
At one point, his family "really did think we were going to lose him," Deborah recalled. His medical team was struggling to find the source of his internal bleeding and blood clots, and "as long as the mystery existed, we were on pins and needles," she said.
But these days, after he endured a seven-hour surgery and two stays in the hospital to treat the issues, Al is doing well and back on TODAY. For now, he's doing physical therapy almost every day to rebuild his strength, and he's still taking blood thinners.
During he first day back to TODAY on Jan. 6, Al was asked by co-host Dylan Dreyer whether "everything is fixed" regarding his health, and he replied, "As best we know." He then joked that it seems like he needs a "tuneup" once a year and that some treatment for his knee is "coming up."
"I'm a shriveled husk," he laughed. "You've got to monitor all of that stuff. ... Getting back (to work) is tonic, as well."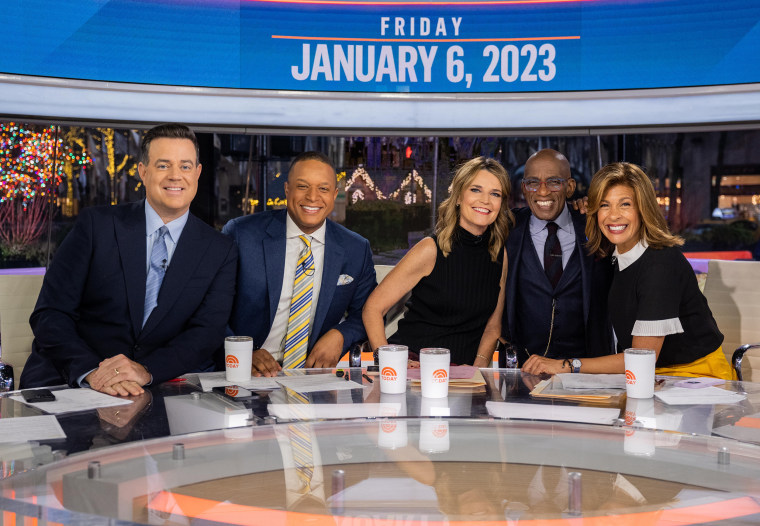 Al shared some of the first details about his health scare during his first day back on TODAY earlier this month, when he was also joined by Deborah.
"I lost half my blood. They were trying to figure out where it was," Al said of his medical team at the NewYork-Presbyterian/Weill Cornell Medical Center.
His medical team discovered he had two bleeding ulcers, he said. During his surgery, they had to resection his colon, take out his gallbladder and redo his duodenum, part of the small intestine.
"I went into for one operation, I got four free," Al joked.
"I really do feel good. I'm sure I'm going to collapse like a stone after this is over because this is the first work I've done," Al said. "It's been a journey."
"Thank God for Deborah," he continued. "She basically shielded me from a lot of this. I had no idea how sick I was. I am a living example of ignorance is bliss. ... I was able to put all my energy into just recuperating because I didn't know how bad off I was."
The Al was first hospitalized in November 2022 and shared on Instagram at the time that he had blood clots in his legs that had moved into his lungs. He was there for a month and unable to co-host the Macy's Thanksgiving Day Parade for the first time in 27 years. He went home on Thanksgiving but had to return to the hospital, finally going home on Dec. 8.
It was the first time that Al had been in an intensive care unit — in particular the surgical ICU, he said.
"(We) were extraordinarily concerned about Al," Dr. Felice H. Schnoll-Sussman, Al's gastroenterologist, told TODAY in a Jan. 6 segment. "Extraordinarily concerned. He had a life-threatening experience. I mean, there's just no doubt about that."
Deborah shared how scary his condition was for his family. He has three children: Courtney, 35, Leila, 24, and Nick, 20.
"He is a living, breathing miracle," she said on TODAY. "He really is, and I have to say — I'm not overstating it, I don't think — Al was a very, very, very sick man. And I think most people did not know that."
But there was one moment in particular where Deborah knew that Al would pull through.
"Al and I were sitting there one day in the … hospital and through this very scratchy voice — and he was so gaunt and exhausted — he said, 'I'm going to make a spatchcock turkey,'" Deborah said. "I didn't know whether to burst into tears or just to beam. That was the moment. ... I just knew at that point that (Al's) will, that drive is so, so strong."
"As a guy, I think you don't want your family seeing you vulnerable," Al recalled. "You're supposed to be the strength."
He added that his daughter Leila took off work and came home from Paris to be with him, and that Nick and Courtney were also there in person. His sister, Alisa, and his brother, Chris, visited, as well, as did plenty of TODAY show staff.
"It was it was really special. It meant so much," he said.
Asked by Maria how his health scare has changed his outlook on life, Al said he's made it a point to get more sleep and to decline social invitations more often. "I think one of the things we both kind of realized because we were off the grid, in a sense, socially for two months (is). we're saying no more to things," he said.
Al said his recovery has been made easier thanks to his participation in the Start TODAY walking group. Earlier this year, he hit a major exercise milestone: walking more than 10,000 steps a day for more than 200 days straight.
"Each of my doctors said, if I wasn't in the shape that I was in, this might've been a different outcome," Al said.