A young man starting a new life with the woman he loved was put to rest on what was supposed to be the happiest day of the couple's lives — their wedding day.
Solomon Chau, 26, of Toronto, Canada, died on Aug. 17 after fighting cancer for eight months, according to his obituary. His funeral was held on Aug. 22, the date he originally planned to marry Jenn Carter. In a bittersweet twist, the couple had a last-minute wedding in April, less than a month after Chau learned his liver cancer had spread, and that he probably wouldn't be alive on the date that they had originally chosen for the wedding.
Carter's older brother Mike told TODAY.com his little sister is "hanging in tough" despite losing her new husband.
RELATED: School choir plans sweet surprise for 'unsung' teacher with cancer
"She's doing OK," Mike Carter said. "This doesn't make a lot of sense to her. Being that young — this isn't supposed to happen to 26-year-old married couples. It's a little confusing. A bit of a shock, even though we knew it was coming."
Jenn announced the sad news of Chau's passing on Facebook.
"Sol, you'll never know the impact you've had on me," she wrote. "You've taught me, through everything we've been through over these past months, to never let a day go to waste. I'm forever in your debt for showing me what love really is all about, and we learned more about it at 26 than some will learn in a lifetime. You and I should have been able to live the next 60 years of our lives together, but I'm still forever thankful that God gave us 8 incredible years. You're everything I could have asked for in a husband and more, and you'll always have my heart."
Chau, who grew in Ontario, met Carter at a party on his 19th birthday and was instantly head over heels for the young woman, according to the Toronto Star. He eventually moved to Toronto to be closer to Carter, and proposed to his future wife last spring. Months later, he was diagnosed with cancer.
RELATED: Photo of girls hugging amid cancer fight goes viral
Friends, family and well-wishers raised more than $50,000 through an online fundraising campaign to throw the couple a last-minute dream wedding in April.
"They lost a lot of money on the wedding originally planned for Aug. 22," Mike said. "We all felt really bad, and wanted to help them out."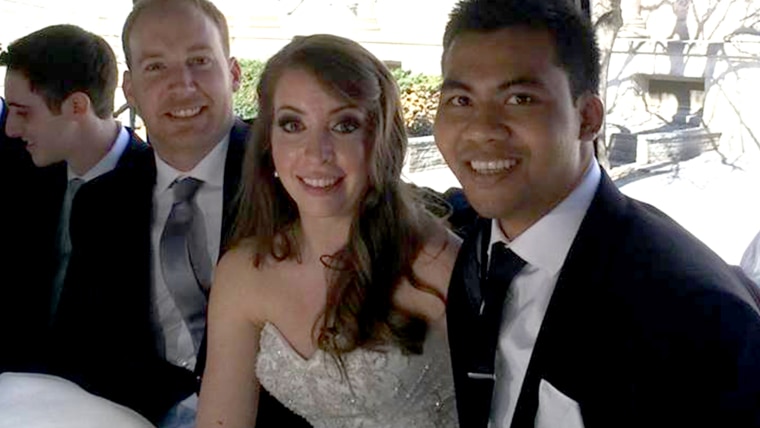 The wedding turned out "beautiful," he said, and the couple was determined to live every last moment to the fullest.
"It was at Casa Lomo, this big castle in Toronto," Mike added. "It's kind of the dream wedding place. There was a positive vibe, despite the sadness. That was what they wanted. I gave a speech and tried to make it funny. Jenn said, 'I don't want anything too sentimental and sad, I just want it to be a happy time.' So despite everything going on, it was beautiful."
As for Sol, Mike said, "He really was like a brother to me. He wouldn't have wanted any of this attention, but if it can inspire other people, that's good."