After losing her hair to chemotherapy while receiving treatment for advanced stage ovarian cancer, Deanne Mayall was feeling depressed about being bald. Every look in the mirror reminded her of her cancer diagnosis. 
So, the Kingston, Ontario, native decided to change that.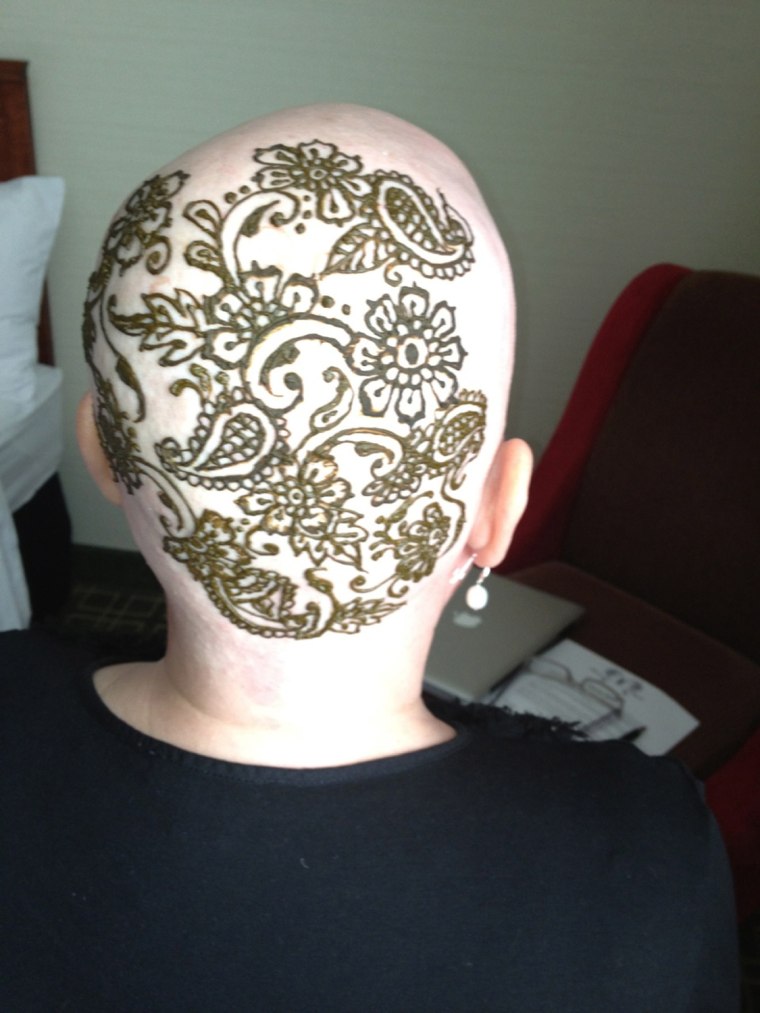 A friend passed along a recent article from Samaritan Magazine, which described how a new Toronto-based business named Henna Heals is using the ancient art form of henna to beautifully transform the bald heads of people with cancer and genetic alopecia. 
Using a hairless head as a canvas, henna artists hand-paint intricate and captivating designs onto the women's scalp with the natural plant-based paste called henna.
Known as henna crowns, "the designs are customized and one-off works of art," says Frances Darwin, the brainchild behind Henna Heals. They take between 60 and 90 minutes for the artist to create, and the twirling patterns can simply ring the head, or extend as far down the neck and around the forehead and ears as a person desires, she explains. 
Darwin is quick to point out that henna crowns are not tattoos, and involve no needles or pain. And the designs are temporary, lasting seven to 14 days.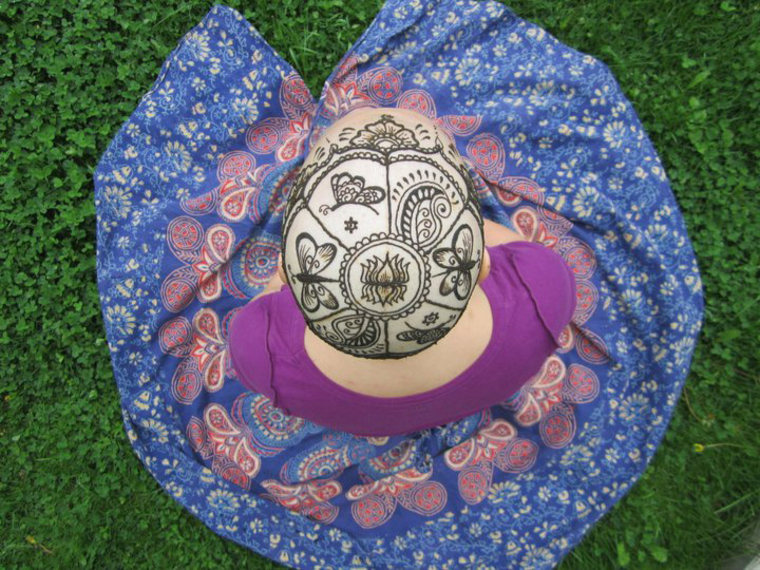 When first applied, natural henna paste is a dark brown. After it dries and flakes off, it leaves a light orange stain on the skin that eventually darkens into a terra cotta color. The stain will last about two weeks and fades as your skin naturally exfoliates.
Darwin, a photographer, was inspired to start her company when she first saw the henna crown's transformative powers.
She was in San Francisco to meet with a henna artist about doing a maternity henna photo shoot of designs placed on women's pregnant bellies, when the artist mentioned that she also painted designs on the heads of cancer patients. Intrigued, Darwin asked whether she knew someone with one willing to be photographed.
While taking pictures of a breast cancer patient whose head was strikingly adorned with a henna crown, the woman told Darwin that she had never felt this beautiful, even before she had cancer. Darwin knew that when she returned home to Toronto she wanted to continue this unique way of empowering women to feel beautiful, confident and powerful.
But henna artists typically use this type of body adornment on hands and arms, and few had experience working on heads. Then there was the issue of ensuring that artists used completely safe -- and the freshest -- 100 percent natural ingredients to make their own henna pastes. (Darwin advises avoiding henna artists who use "black henna," which has unsafe ingredients.)
After finding some reputable artists and training them to work with people who have experienced hair loss, Henna Heals began offering women these "walking works of art." The new business has done about 20 henna crowns so far, mostly on women. Right now, the marketing for Henna Heals is aimed at women, but Darwin hopes eventually to introduce the idea to men and kids, too. 
For her henna crown, Mayall selected a flowing paisley pattern with flowers. She got it after her second of six rounds of chemotherapy. The 51-year-old had decided against wearing wigs, hats or scarves, and that she would confront being bald.
Just last year, Mayall lost both of her parents to cancer, and this March, she was diagnosed with advanced ovarian cancer. Her doctors first tried surgery, but she was told that the tumors had grown too big and the cancer had spread too much. She's now had three of six rounds of chemotherapy, to help shrink the tumors before her doctors consider whether to attempt a second surgery. 
Getting a henna crown seemed a way for her say, "I have cancer and I am not only OK with how I look, but I can take back some control and have some (temporary) fun doing it."
Mayall said her friends and family "loved it" and were not surprised the she would find something audacious to do to tackle her cancer diagnosis.
But it's been the reaction from total strangers that has been the most unexpected -- and invigorating to her. "Having the henna crown seems to have made me approachable to others who've been exposed to cancer in one way or another, and they've been more willing to share their stories" with me, explains Mayall.
"I think people are surprised to see this because I'm not hiding my baldness or my illness," she adds. For her, the $100 investment has had unanticipated payoffs and been a bold and empowering way to approach losing her hair.
"I think a henna crown is a great option to boost people's spirits and feel more like themselves again while coping with hair loss," says Kathleen Gill-Bazazi, general manager of the Images Oncology Boutique at Massachusetts General Hospital in Boston. "It sounds fun, and I imagine it's very uplifting," she adds.
For nearly two decades, Gill-Bazazi has helped fit women with wigs following hair loss. Women tell her that losing their hair is the hardest and most traumatic part of cancer treatment -- even tougher than coping with the illness itself.
"As long as a henna crown is not harmful to the patient and the medical provider has no issues with it, I think it helps make getting through a tough time easier," she says.
Related: