If you thought job interviews were nerve-wracking, imagine the struggle for someone with autism trying to enter the workforce.
Without the ability to pick up on social cues, it can seem nearly impossible to navigate the social subtleties of an interview and make a good impression on a future employer.
But a new interview simulation training program might help change that. A computer program that simulates a job interview can actually improve the way autistic adults present themselves, according to a new study published in the Journal of Autism and Developmental Disorders.
The program, which was originally developed to help train FBI agents to interrogate suspects, allows users to practice job interviews and get feedback on their performances.
"Individuals with autism spectrum disorder have difficulties with social communication and picking up on social cues and empathy," said Matthew J. Smith, an assistant research professor at the Northwestern University Feinberg School of Medicine. "That makes interviewing a little more difficult for them."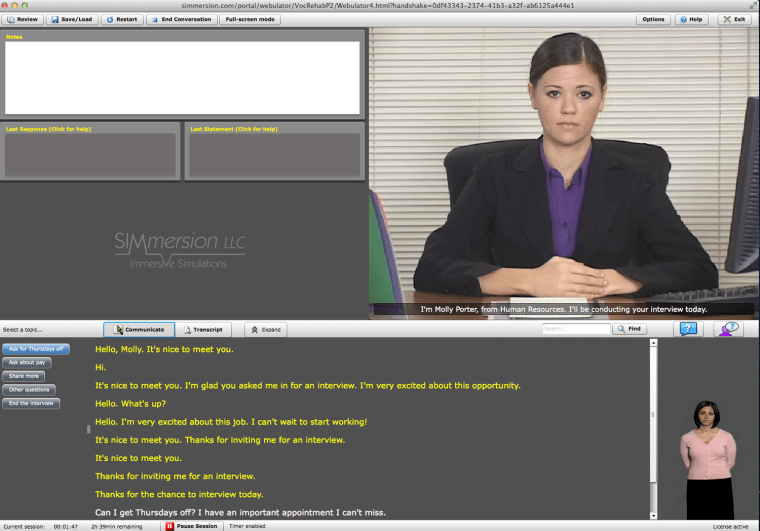 Smith and his colleagues randomly assigned 26 adults aged 18 to 31 either to get the virtual reality sessions or to get no extra help. People using the program were greeted by a fictitious human resources person named Molly Porter, who is played by an actress.
Stored in the program are a multitude of possible responses from Molly, who comes in one of three possible personality types: friendly, business-like or curt. Users start out with friendly Molly and if they get better at interviewing, they eventually graduate to curt Molly.
Each of Molly's interview questions comes with 10 to 15 possible answers in varying degrees of appropriateness.
Smith cited an example of an inappropriate response to Molly, "I saw you at the bar last week, do you want to go out sometime?"
"Obviously it's extremely inappropriate to ask Molly out on a date," Smith said. "If they offer up an inappropriate response, Molly will end the interview."
When users answer questions well, they get feedback in the form of a smiling figure with a thumbs up at the bottom of the screen.
At the beginning and end of the study, volunteers had a simulated interview with an actor playing the role of job interviewer. Then an independent human resources person scored the performances. 
Those who got the interview training were judged to have improved in three areas: appearing dependable and hardworking, appearing easy to work with, and sharing information about themselves in a positive way.
"Many adults with autism never get the chance to prove themselves in the work setting because their poor interviewing skills mean they strike out before they ever get a chance," said Dr. Elizabeth Laugeson, an assistant clinical professor at the UCLA Semel Institute for Neuroscience and Human Behavior.
"Although most people with autism want to work and live independently, they often struggle with the skills necessary to make this happen. This is why job interview training, like the kind provided in this study, is so important," Laugeson said.