Colby Ramos-Francis, a rambunctious 17-month-old from Britain who was at risk for blindness from a giant tumor on his eyelid, has had his life transformed because of a Facebook posting that touched the heart of American surgeons.
The benign growth, a tangle of malformed blood vessels known as a hemangioma, first appeared as a birthmark. But it grew so big it blocked Colby's vision and elicited uncomfortable stares and even suspicions about whether his parents were abusive.
"Children were approaching him, looking at it, and then walking away," said his mother, Aimee Ramos-Price. "Some were even too scared to come near him."
Colby's parents, who live in the small town of Corsham, 90 miles west of London, were told they could do nothing about the birth defect, but it was taking a toll.
"We've been asked if we hit Colby," Ramos-Price told TODAY. "I mean it's been difficult … going to the doctors' appointments, as well as going to the social worker."
"We've even gotten on buses before and the bus driver has actually said he looks like he's been beaten a few times," said Colby's father, Jamie Francis, 23.
Typically hemangiomas, sometimes called "strawberries" because of their red color, shrink in the first year of life. But Colby's continued to grow until it was tumor-sized, occasionally bleeding and putting dangerous pressure on his cornea.
Frustrated by their doctors' wait-and-see attitude, the family turned to the Internet and began posting on a Facebook group for other parents whose children had similar birthmarks, according to a report in The New York Daily News.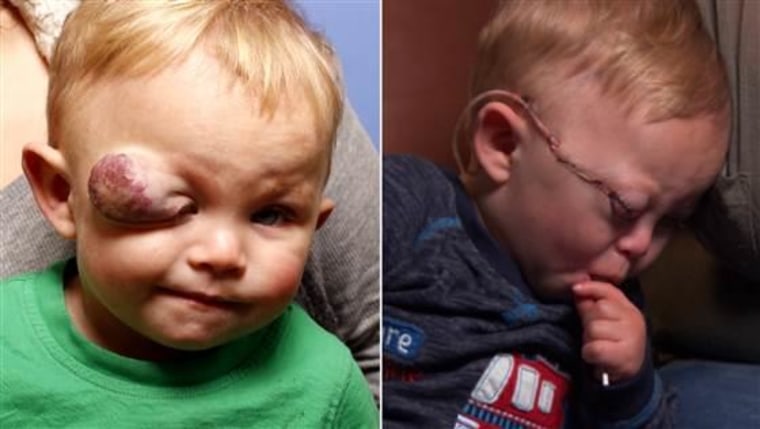 Their pleas caught the attention of Dr. Milton Waner, director of the Vascular Birthmark Institute of New York at Lenox Hill Hospital in New York City. He contacted The Little Baby Face Foundation, a charitable organization that pays for reconstructive surgery.
And on Feb. 4, a surgical team removed the tumor at Lenox Hill Hospital. The foundation picked up the entire tab for Colby's surgery — about $50,000 in travel, lodging at the Ronald McDonald House and medical care.
"It was critical to get this tumor off to really preserve his vision," said one of Colby's surgeons, Dr. Thomas Romo III, founder of The Little Baby Face Foundation and director of Facial Plastic & Reconstructive Surgery at Lenox Hill Hospital and Manhattan Eye, Ear & Throat Hospital.
"He definitely was at risk for blindness," Romo told TODAY. "And, in fact, he may still have lost significant vision."
After this week's surgery, doctors said Colby's sight was intact, but they would know more when his stitches are removed this week. He'll have a follow-up surgery in six months.
His parents were thrilled with the surgical results.
"To me, he looks completely different," said Ramos-Price. "He looks absolutely amazing. The job they've done is incredible."
"It's almost like he's a different boy," added Francis.
Colby's future looks bright as his parents look forward to the day when their son is "treated like a normal child."
"We want him to be able to play with children and not have children be scared of him," said Francis. "We want him to socialize properly as a little boy."
"Now," echoed his mother. "He can."
This story was originally posted on Feb. 8 at 10:04 a.m. ET.