If you're following along with our "6 Months to a 6-Pack challenge" and ready to kick start your own fab-ab diet, this food plan is the perfect guide. The meals are designed with the right mix of lean proteins, high-quality carbs and healthy fats to give you fast and effective results. 
Each day choose one breakfast, one lunch, one dinner, and one-two snacks—and feel free to repeat favorite meals as often as you'd like. 

A few rules to keep in mind 
1. Add 1 tablespoon of chia seeds to your daily menu. Thanks to plenty of fiber, this ritual can help suppress appetite and keep your digestive track moving along.

2. Drink a cup of unsweetened green tea (hot or iced) 15 minutes before eating breakfast, lunch and dinner. It'll take up room in your stomach so you consume less at mealtime, and as a bonus, green tea slightly revs up your metabolism.
3. Enjoy plenty of water with meals and throughout the rest of the day. If you prefer something other than water, stick with calorie-free beverages like naturally-flavored seltzers, sparkling waters or unsweetened iced or hot coffee and tea (add optional skim, soy, light coconut or unsweetened almond milk). Be sure to skip sugary drinks like soda, fruit drinks, sweetened iced teas and flavored waters that add on unnecessary calories. 
4. Enjoy unlimited amounts of non-starchy vegetables during and between meals (non-starchy veggies include: peppers, celery, broccoli, cauliflower, tomatoes, beets, sugar snap peas, snow peas, carrots, mushrooms, onions, green beans, asparagus, lettuce, and leafy greens like spinach, chard and kale). All vegetables listed in the plan are interchangeable, so feel free to swap a salad for steamed broccoli, have sautéed spinach instead of cauliflower, or enjoy sugar snap peas instead of baby carrots with lunch.  
Breakfast options

Fruit + Greek Yogurt
Fruit of choice - 1 banana, 1 apple, 1 pear, 1 orange, or 1 cup blueberries, blackberries, raspberries or sliced strawberries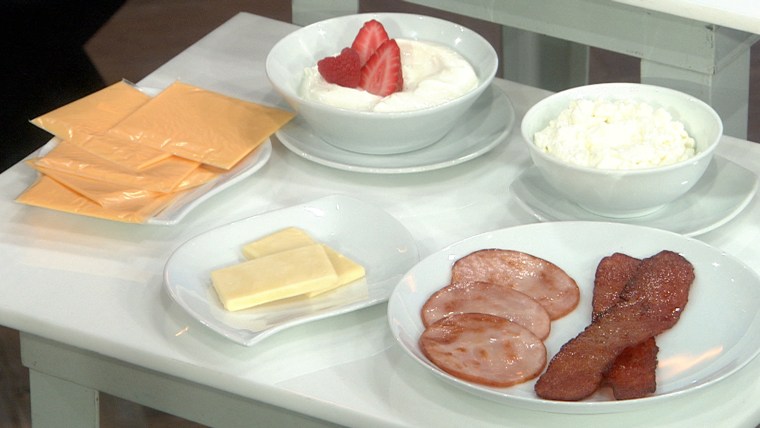 6 ounce container of non-fat/low-fat Greek yogurt (plain or flavored) topped with one optional tablespoon of chia seeds. 

Egg Sandwich
Whip together 1 whole egg + 2 egg whites, season with preferred herbs and add to a small skillet coated with oil spray and scramble.  

Toast a whole grain English muffin or sandwich thin and layer the bottom half with the tomato slice, scrambled eggs and one slice reduced-fat cheese. 

Top with a squirt of optional ketchup or a dollop of salsa and top with the second half of English muffin or sandwich thin. 

Get Joy's cheezy egg wich recipe 
Protein pancake
In a small bowl, mix together 1/2 cup quick-cooking oats + 4 egg whites + 1/2 teaspoon vanilla extract + 1 tablespoon sugar + optional 1/2 teaspoon ground cinnamon. 

Pour the mixture into a heated skillet that has been generously coated with oil spray and cook for 2-3 minutes on each side, until golden brown. 
*For a moister pancake, cover the skillet with a lid while the pancake is cooking. 
Get Joy's protein pancake recipe 
Chia Smoothie
In blender, combine 3/4 cup milk (skim/unsweetened soy/almond), 1/4 cup 100% apple juice, 3/4 cup frozen berries, 1/2 ripe banana, 1 tablespoon chia seeds and, 3-5 ice cubes until smooth and frothy. 
Get Joy's chia-smoothie recipe 
Lunch options 
6-Pack Salad 
Load your plate with a variety of unlimited vegetables + two of the following proteins; 1/2 cup beans or chickpeas, 3 ounces plain tuna, 3 egg whites, 3 ounces chicken, turkey, fish or tofu—and optional 1/4 avocado (*avoid cheese, nuts/seeds and dried fruit in your salad). 
For dressing: Toss with 2-4 tablespoons "light/low-calorie" dressing, or 2 dashes olive oil (1-2 teaspoons) and unlimited vinegar/fresh lemon. 
Soup and Veggies: 2-cups lentil, black bean or hearty minestrone soup—turkey chili and vegetarian chili work too. Couple the soup with any side vegetable.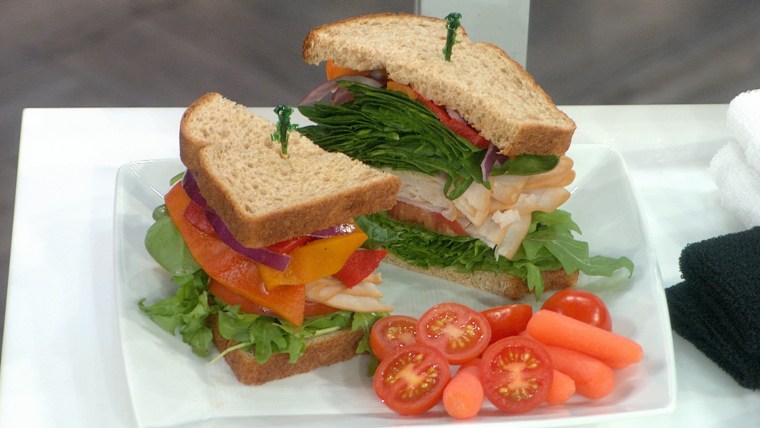 Slimdown Sandwich: 4 ounces sliced turkey or chicken + one slice reduced-fat cheese piled with preferred vegetables (i.e., lettuce, spinach, tomato, onion, roasted peppers, etc) and sandwiched between two slices whole grain bread. 

Bonus points: lose the top slice of bread or use low-calorie bread at 50 calories per slice. Spread with mustard, ketchup, lite mayo or hummus. Enjoy with crunchy carrots, bell pepper sticks, or cherry tomatoes on the side.  
Snack options (choose 1-2 each day)
One piece of fruit
Nuts, any type (one handful, 1/4 cup)
Pistachio nuts or sunflower seeds (1/2 cup in the shell—two handfuls)
Veggies with 1/4 cup hummus
1 ounce low-fat cheese
Container of nonfat/low-fat Greek yogurt, plain or flavored
Nutrition/granola bar (no more than 200 calories)
One cup hearty soup 
4 cups air-popped popcorn (or 150-calories worth of any light popcorn)
3 oz turkey breast dipped in spicy mustard
Small soft serve frozen yogurt
1 oz dark chocolate
One skinny cocktail: glass of wine, 12 oz light beer, or liquor shot mixed w/ club soda & splash of fruit juice
Unlimited celery sticks with 1 level tablespoon peanut butter
Chia Pudding: In a small pot, add 1/2 cup water, 2 teaspoons maple syrup, 1/2 teaspoon vanilla extract, 1 teaspoon unsweetened cocoa powder, and 2 tablespoons chia seeds. Cook on medium heat, stirring frequently for about 5 minutes or until the seeds absorb the water and the mixture becomes gelatinous. Transfer to a container and chill in fridge for about 2 hours before serving. Get Joy's chia pudding recipe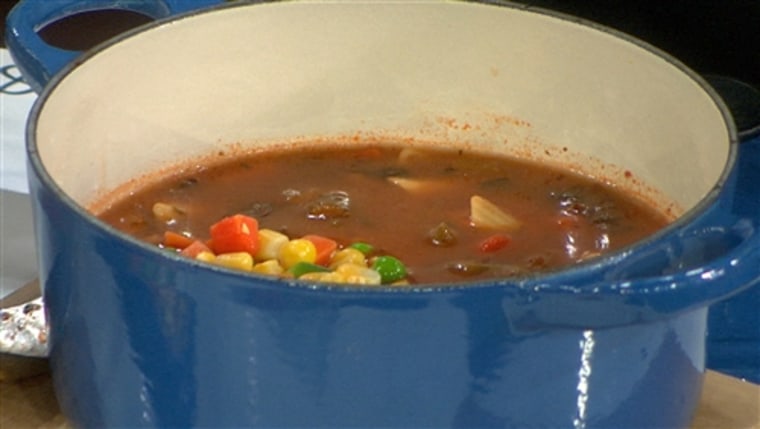 Dinner options
Follow two dinner rules to help accelerate your weight loss:   

1. Whenever possible, start dinner with a vegetable first course such as a tossed vegetable salad with 1-2 tablespoons light dressing, a bowl of my Skinny Veggie Soup, OR any plain vegetable such as a sliced cucumber or red bell pepper or a handful of cherry tomatoes or baby carrots. This will help fill you up before the main part of your meal. 
2. Whenever possible, enjoy your dinner without starch (no pasta, rice, potatoes, bread, or breading). All of the meals included below are starch-free. 

Grilled chicken Parmesan with broccoli
Enjoy 1 serving Grilled Chicken Parmesan with unlimited steamed broccoli or green beans.

Fish with Salsa and Veggies
Top 6 ounces grilled/baked/broiled fish (cod, halibut, haddock, sole, salmon, tilapia) with 1/4 cup salsa.
Enjoy with side of unlimited steamed or roasted asparagus, green beans, or Brussels sprouts.
Turkey Sausage with sautéed peppers and onions
Enjoy 1-2 servings turkey sausage with sautéed peppers and onions 

For more belly-slimming tips and recipes visit JoyBauer.com and follow Joy on Twitter, Facebook and Pinterest.