It's not every day you find a hockey player who's nearly a century old. Unless, of course, you live in Duluth, Minnesota, and know Mark Sertich.
Sertich, a former office manager, has been hitting the ice every other day since the mid-1980s when he joined a group of retired firefighters who play for fun. He was in his early 60s then.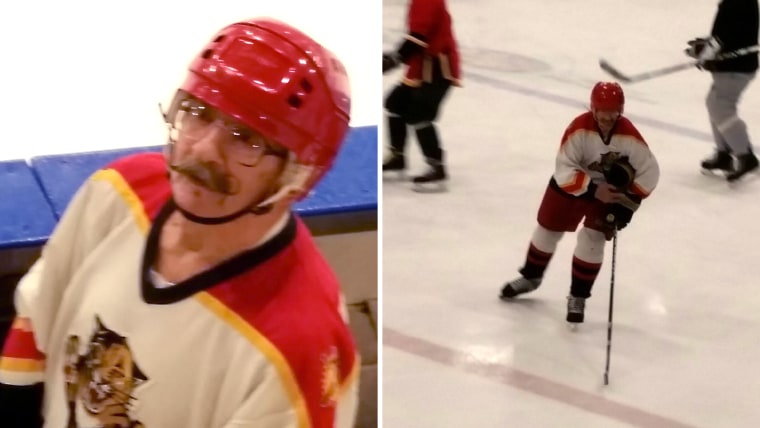 In July, his teammates threw a party to celebrate his 94th birthday.
Sertich credits a lifelong love of exercise with giving him the agility to skate with men decades younger. Growing up, the Duluth native loved hockey, but he's tried a few other sports over the years at various stages of his life.
"When I was still working, I started jogging and then I got to a point where I was able to run some marathons. So, when I reached age 59, I ran my first marathon. Then I finished five after that," Sertich recalls. "I listened to people who said, 'Oh gee, you better not be doing that anymore.' So then I got into in-line skating, and at age 75 I did my first in-line marathon. I did eleven altogether."
Read more: The simple changes you can make to live a long life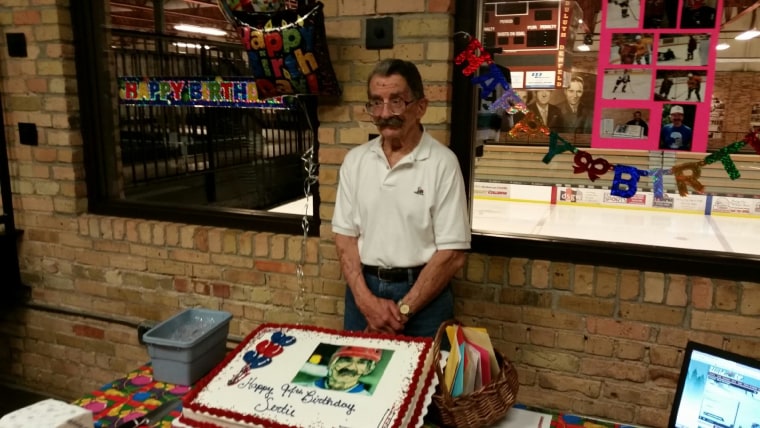 Plenty of exercise and a moderate diet has allowed Sertich to stay the same weight he was when he left for the Army — in 1942.
Aside from some hearing difficulties, he enjoys nearly perfect health, though a recent cataract surgery forced him to say off the ice for a week. "It was a tough thing to do," he says.
And of course, like all hockey players, he's had his share of injuries. Just a few months ago, weeks before he was to fly to the annual Snoopy's Senior World Hockey Tournament in Santa Rosa, California, Sertich collided with another player. He suffered two fractured ribs and a punctured lung.
Doctors told him to stay off the ice for four to six weeks. "Luckily, I've always been a quick healer. In three weeks, I was ready to go out there and play a nice tournament," he says.
Read more: How to live to 100: This town may hold the secrets of longevity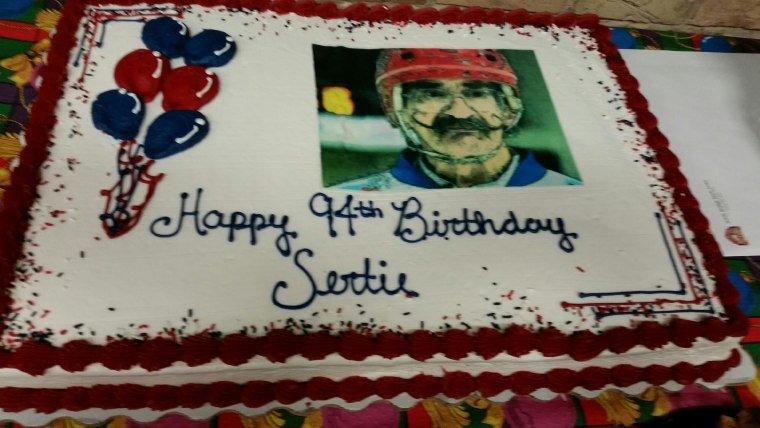 Sertich has lived alone since Virginia, his wife of 61 years, died in 2004. Though he doesn't understand all the fuss that's made about him, others close to him say he's an inspiration.
"I'm 59 years old. I'm nowhere near where he is, but there are a lot of people who can't play hockey at my age," says Dane Youngblom, the team's organizer. "But for his age — I think he's probably the only one in the whole world who plays at his level. He's not just walking around on the ice either. He's pretty agile, and he's quick-minded and quick-handed."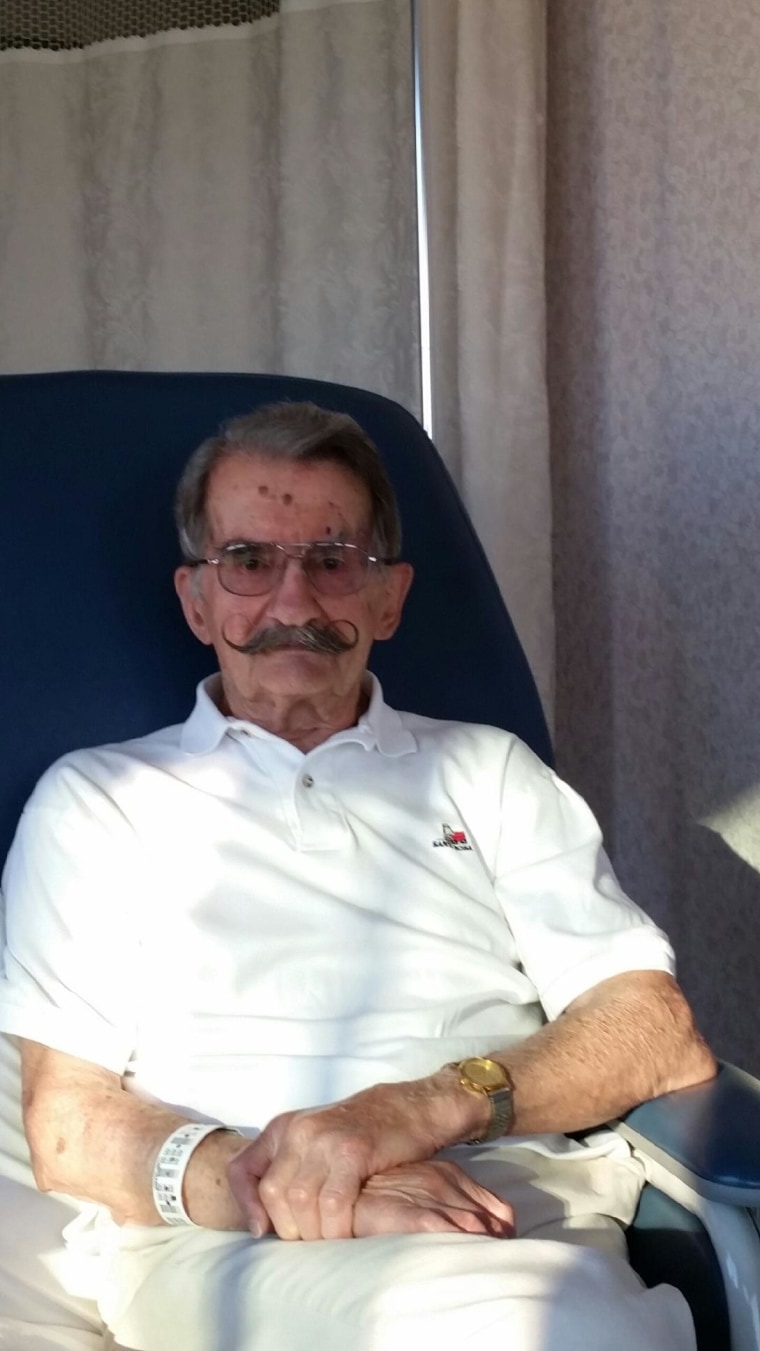 The team's youngest players are in their 20s and they look up to Sertich. "They're playing hockey with a guy who fought in World War II," Youngblom says. "It's pretty incredible."
Read more: Sardinia's Mediterranean diet: 10 foods that may lengthen your life
Sertich's own seven children — not to mention his 18 grandchildren, 35 great-grandchildren and five great-great grandchildren — are also in awe. "He's such a role model to all of us," says his eldest daughter Carole Fosness, 73.
"Everybody says to him, 'How do you do it every day, keep on going like that?' and he says, 'Well, I tell myself if I turn this motor off, I'll never get it started again,'" Fosness says, laughing.
How has Sertich stayed so fit?
There is no one route to longevity, Sertich says, but he's happy to share his own daily habits.
First, you've got to have the right mindset.
"The most important thing is you have to challenge yourself once in a while. Say 'Gee, I think I can do that. And go out and try it," he notes. The first step is opening yourself up and getting involved in activities.
Fuel your body with healthy foods.
"I do my own cooking here. Very seldom do I go out to buy my lunch or supper," Sertich says. His diet consists of mostly vegetables and fish, though he admits to enjoying the occasional hamburger. He's not one to worry about dietary guidelines. "For many years, they said that eating eggs is maybe not too good for you because of the cholesterol part. Well, that's the other thing I've been doing for as long as I can remember — having a couple of eggs for breakfast. And a couple of sausages," he says, "Now they tell us that eggs are good for us, too. So maybe I lucked out."
Enjoy snacks in moderation.
"When I first started working, I used to go out on my lunch hour to one of the stores they had downtown, and at that time for 15 or 20 cents, you could buy a pretty nice little collection of chocolate-covered peanuts," Sertich says with a laugh. "From what they tell me now, peanuts and chocolate are good for you! Well, I've been eating that forever."
Stay away from alcohol and cigarettes.
"I tried a cigarette back when I was a teenager, but I don't remember inhaling it," Sertich says. "As far as alcohol goes, I just never cared for it. Oh, I had many occasions when I was in the Army to participate, but I just kind of stayed away from it."
Sleep well. And enjoy naps.
About 5 or 6 hours of sleep a night is all Sertich needs. The team meets to play hockey at 8 a.m. "When I come back, I make a little breakfast and read the paper and I get drowsy. So I take a little half an hour nap. And I'm good for the rest of the day."