/ Source: TODAY Contributor
Do you feel like you spend your entire paycheck at the grocery store? You're not alone. Most of us walk in intending to buy just a handful of items — but leave with so much more stuff and so much less money.
This week, TODAY's financial expert Jean Chatzky and nutritionist Joy Bauer share their top tips for grocery shopping the smarter and healthier way. Here are a few of Jean's tips for saving the most cash:
1. Make a list.
It sounds old fashioned, but if you know what you're cooking that week — and you have an actual list — you'll save money because you won't buy things not on your list.
2. Pick one store — and get to know it.
The easiest way to leave the store with money still in your pocket is to shop just the perimeter and a few aisles. A study from the Marketing Science Institute found the more aisles you go down, the more unplanned purchases end up in your cart.
3. Have a snack before you go.
Don't sample. I know your mother told you this and it's true. Chewing gum and wearing headphones with your own playlist (not the store's, which is designed to get you to dawdle) will also help you tune out the triggers stores put in place to get you to buy. Also, try to go alone so that no one eggs you to buy things you don't need.
4. Anything non-perishable should be bought on sale.
Grocery stores work on cycles and every five or six weeks, things cycle on sale. For that reason, you don't have to buy anything other than true perishables when they're not on sale.
5. Be brand agnostic.
Because of the sale cycles, if you can be happy switching between brands of yogurt, hummus or types of apples, you can almost always get items on your list on sale. For example, one brand of yogurt is almost always on sale. If you don't mind switching between Chobani, Oikos, Fage, etc., you can almost always get it for a discount.
6. Things you think are perishable don't have to be.
Frozen fruits and veggies are cheaper — for example, a 12-ounce bag of fresh, microwave-in-bag string beans is $2.50 (on sale), while a 12-ounce bag of frozen microwave in bag string beans is $2.00 (on sale). If you wind up not using the frozen string beans when you were planning to, they won't go bad. That's a big savings. The average American household throws out $640 worth of food each year, according to the American Chemistry Council.
7. Download coupons to your loyalty card.
You certainly can clip coupons, but you don't have to anymore. You can download them at coupons.com, couponmom.com, or redplum.com. Make sure to keep that loyalty card in your wallet or on your key ring. Then, photograph your receipt to get cashback through Ibotta.
8. Use the self-checkout.
According to a study from IHL Consulting Group, impulse purchases among women drop 32 percent and men 16 percent when self-checkout is used instead of a staffed checkout. The primary reason for the drop, according to the study, is that self-checkout devices are not as stacked with candy, gum and other merchandise as staffed lanes at most retailers. Additionally, there is usually a shorter line at each register, removing the captive audience with the tempting impulse items in front of them.
Using Jean's tips outlined above, stock your pantry, fridge and freezer with these essential foods from Joy Bauer. You'll always have something healthy to turn to when you're feeling hungry and short on time!
Pantry: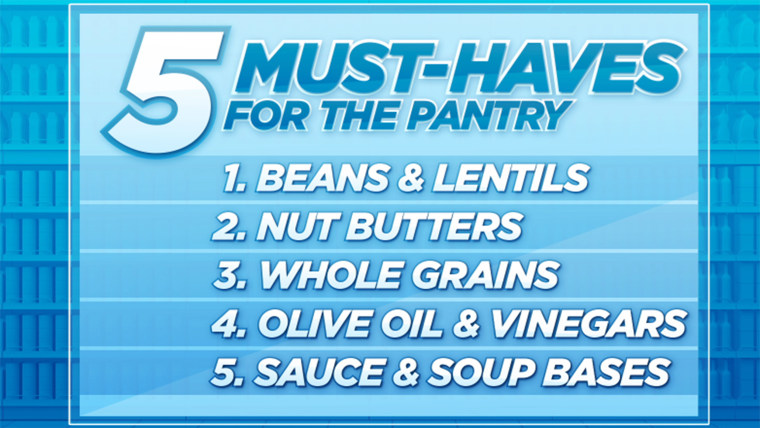 Fridge: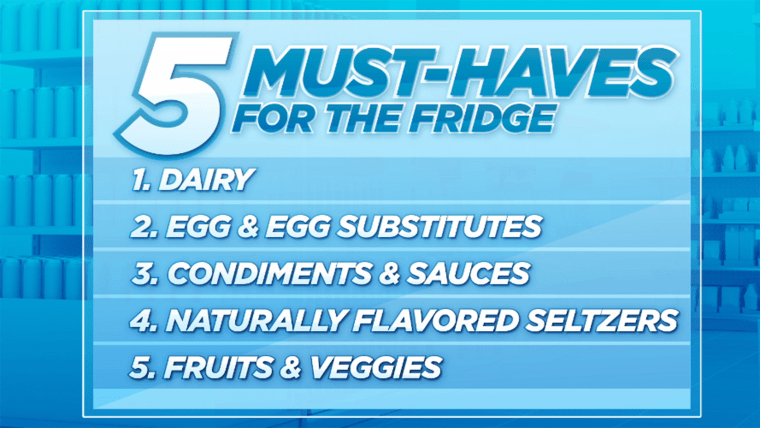 Freezer: