Today, a lot of women spend more money on their workout leggings than on their actual clothes. So it's no surprise that they want to wear them everywhere — from yoga to brunch, and then on to errands. Though living in these synthetic leggings might make you more susceptible to a host of health issues.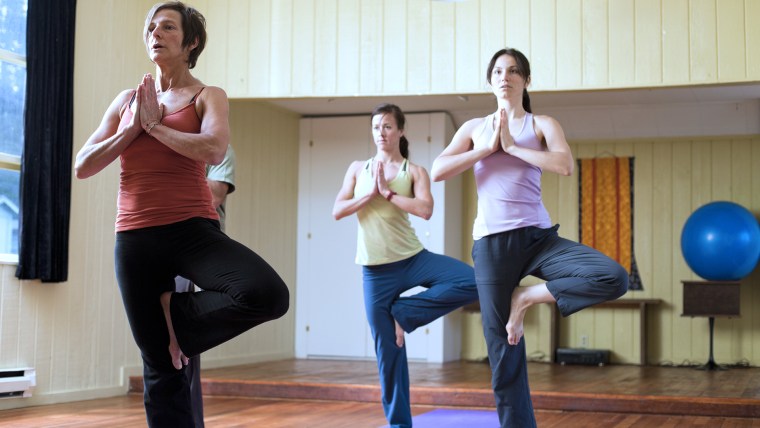 Here are a few things to keep in mind when it comes to wearing your favorite leggings:
1. You shouldn't go to brunch in them.
"People always used to shower after workouts, but now, due to the rise of athleisure clothing, they're wearing their workout clothes a lot longer than intended," said Dr. Lauren Ploch, a board-certified dermatologist at Skin Cancer Center and Georgia Dermatology in August, Georgia.
Ploch recommends bringing dry clothes to change into after your workout. If you don't have time or access to a shower — use wet wipes to clean sweaty areas of your body (groin, stomach, upper legs and anywhere else that is moist).
RELATED: Sluggish at midday? Try Kathryn Budig's 10-minute yoga routine
2. Wearing your yoga pants for an extended period of time can lead to several skin issues.
Why? The simple explanation: They prevent your sweat glands from properly draining.
"The three major skin issues I've seen from wearing your pants for too long is intertrigo, folliculitis or tinea cruris," said Ploch.
Intertrigo results in discolored, red, irritated or itchy skin, typically near the groin and inner thigh area. It's caused by friction, or chafing. "We see intertrigo in a lot of cyclists," said Ploch. To prevent intertrigo, take a shower after workouts, put on dry clothes immediately and try an anti-fungal powder.
RELATED: 'Nobody is perfect': Fitness blogger posts side-by-side pics of her bloated belly
Folliculitis is almost like acne on your hair follicles — and sweat can make them worse. If you're experiencing folliculitis, you should wear more loose fitting clothing and use an antibacterial benzoyl peroxide wash.
"Tinea cruis is jock itch — a fungal infection. This looks a little bit scalier than intertrigo, but these symptoms and conditions can overlap," Ploch elaborated. For this one, you should use an anti-fungal over-the-counter cream.
3. Wearing your pants too tight could also result in butt acne.
"When your clothes are too tight, your skin can't breathe and this can lead to acne," said Dr. Mari Jhin, a board-certified dermatologist and author of the book Asian Beauty Secrets. "The most common areas where I see this are on the back or butt."
The most simple solution: Take your pants off right after a workout and shower immediately.
RELATED: TODAY anchors try hot yoga, the sensation sweeping the US
4. It's OK to stay in your workout clothes up to an hour, but then they need to come off.
Ploch notes that we all have different thresholds for what our bodies and skin can tolerate, and we all sweat differently. Though, if it's going to take you longer than an hour to get to a shower — you should change into dry clothes and apply wet wipes to sweaty areas of your body.
5. Sometimes a shower isn't enough.
"You need to wipe the sweat off right away, even if you're hopping in the shower immediately, you should also wipe off with a medicated wash or wipe as soon as possible," advised Dr. Jhin. This is crucial for people dealing the skin issues mentioned above.
RELATED: Could your fitness tracker reveal your personal information?
6. It's only okay to re-wear yoga pants if you didn't sweat that much in them.
If you had a relatively easy fitness class and didn't sweat that much, it's OK to wear your pants again, without washing. Otherwise, washing your pants after a workout is mandatory.
7. There are products specifically designed for keep you clean after workouts.
Meet HealthyHooHoo, the brainchild of Stacy Lyon, who created the product when friends of hers were complaining about not being able to find paraben-free products to clean their private parts, especially post workout. Thus, HealthyHooHoo, natural products designed to keep your vulva and groin region clean, was born.
"Women don't realize their yoga pants are a breeding ground for bacteria and fungus," said Lyon. "The rule about sitting around in wet swimsuit also applies to sweaty, tight-fitting leggings."
Lyon spoke with many gynecologists who were seeing women with recurring vaginitis, and one of the causes they mentioned was the synthetic materials in tight-fitting clothes, like leggings and thongs.
Every woman's body is different, and maybe you can get away with wearing your yoga pants for ten hours without the symptoms mentioned above. Though, why risk it? The next time you consider rocking your sweaty pants to brunch, think again and throw a change of dry clothes into your bag instead.
For more healthy living advice, sign up for the 'One Small Thing' newsletter!