They're calling her a real-life Rapunzel, but this 6-year-old girl's long blond locks aren't trapped in a tower — they're going to help kids with cancer.
Charlie Tillotson, who lives on the southwestern English coast, had never wanted to cut her hair, which had grown to more than two and a half feet in length. But that all changed after she watched a television program about kids battling cancer.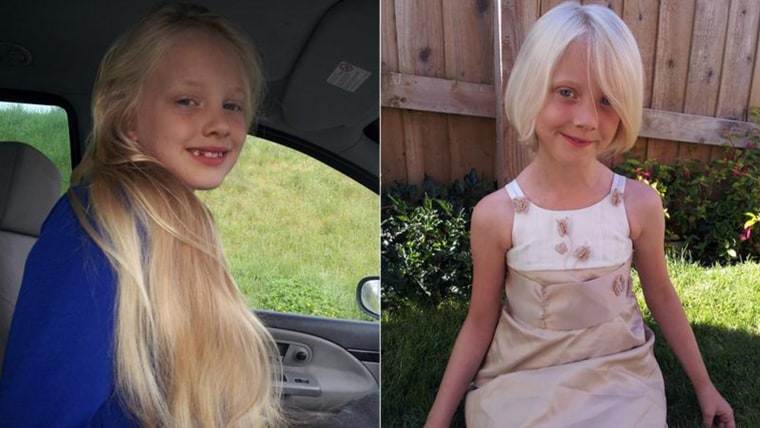 "A few weeks later she just came out and asked if I'd mind if she had all her hair chopped off and donated it to children with cancer," her father Steve Tillotson told TODAY.com. "I've always been against her having her hair cut off because she's never wanted that, but I couldn't really say no."

Tillotson asked around on Facebook, where friends pointed him to a website called JustGiving, which lets people set up fundraising drives for their favorite causes. There, he set up a page explaining his daughter's effort. 
"She has her heart set on raising £600" (about $1016) "and donating the hair so it can be made in to a wig," he wrote, explaining that his daughter's devotion to this cause was particularly notable since she had always wanted to grow her hair "as long as Rapunzel." The family also posted an adorable video of Charlie making her plea.
So far, the account has collected about 1400 pounds, or $2371, for Children With Cancer UK, a British charity. It will remain open for donations for a year.
Related: Colorful headbands help young girls battling cancer feel more confident
For Charlie, the big day came on July 14, when she paid a visit to the Upper Cut salon in her hometown of Sidmouth. There, hairdresser and family friend Rianne Woodruff chopped off nearly two feet of Charlie's hair. Word of mouth and the online campaign had attracted about 30 locals to watch.
"She was a bit nervous and I was too — I had to cut the hair in the correct way so that it could be sent off" to make the wig, Woodruff told TODAY.com. "Charlie was really, really happy, but also in a bit of shock, though I think her mum was more upset than anyone."
The little girl's long hair was donated to Little Princess Trust, an organization that makes wigs for kids with hair disorders or who have lost hair after undergoing radiation treatment for cancer, Tillotson said.
Asked what she thinks about her successful charity drive, Charlie said: "I think it's good!" She also promised to grow back her flowing locks, adding: "But then I'll cut them off again!"
Her father says he's shocked by the way Charlie's small act of selflessness has gone global.
"It's unbelievable," he said. "I just type Charlie's name into Google and it's literally worldwide now."
It's also sparked some sibling competition.
Charlie's older sister, 9-year-old Abby, "got very jealous of her and offered to have all her hair chopped off to try and raise money," Tillotson revealed. "But I don't think she could handle that during school."
Plus, there's one hitch.
"Abby's got short dark hair," he said. "We can't really do the same thing again."