/ Source: TODAY Contributor
Tank top season is just around the corner! And if you're looking to showcase sleek, toned arms on the beach this summer, you've come to the right place. We're sharing our favorite workout for sexy shoulders and beautiful biceps!
Begin with a 10-minute warm up. Go through the full sequence below one to three times through. Start with a pair of 5- or 10-pound dumbbells and work your way up from there as you build strength. Let's go!
Move 1: Alternating front raises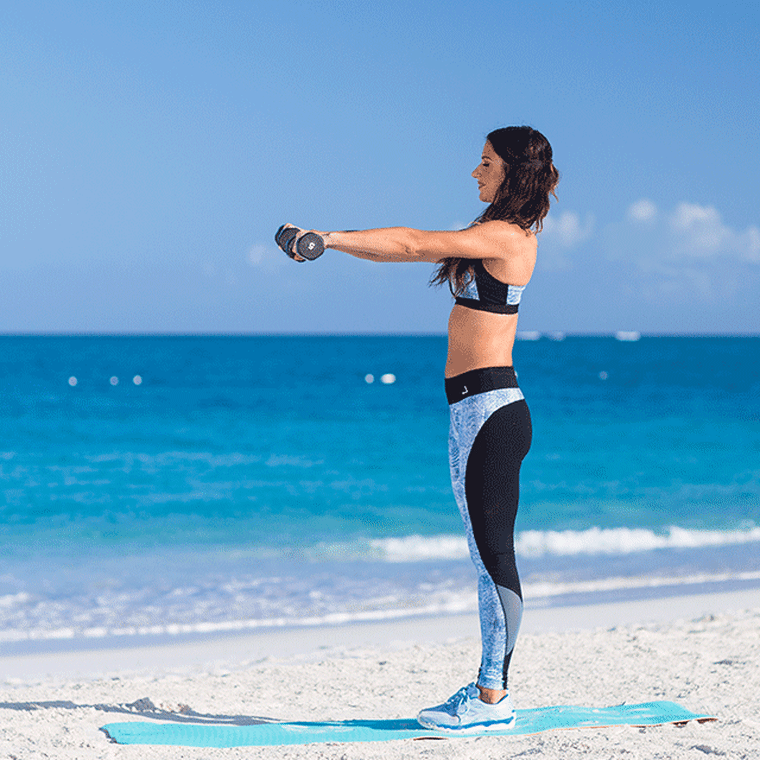 This exercise sculpts sleek shoulders and builds postural muscles.
Begin standing with feet together, dumbbells in hand. Bring both arms up so they're stretched in front of you, aligning your wrists and shoulders.
RELATED: Get ready for summer with these 3 exercises for enviable arms
Keep arms strong as you slowly raise your right arm up next to your ear. Lower and repeat this exercise with the left arm, alternating sides. Complete a total of 10 reps, five on each side.
Move 2: Upright row and press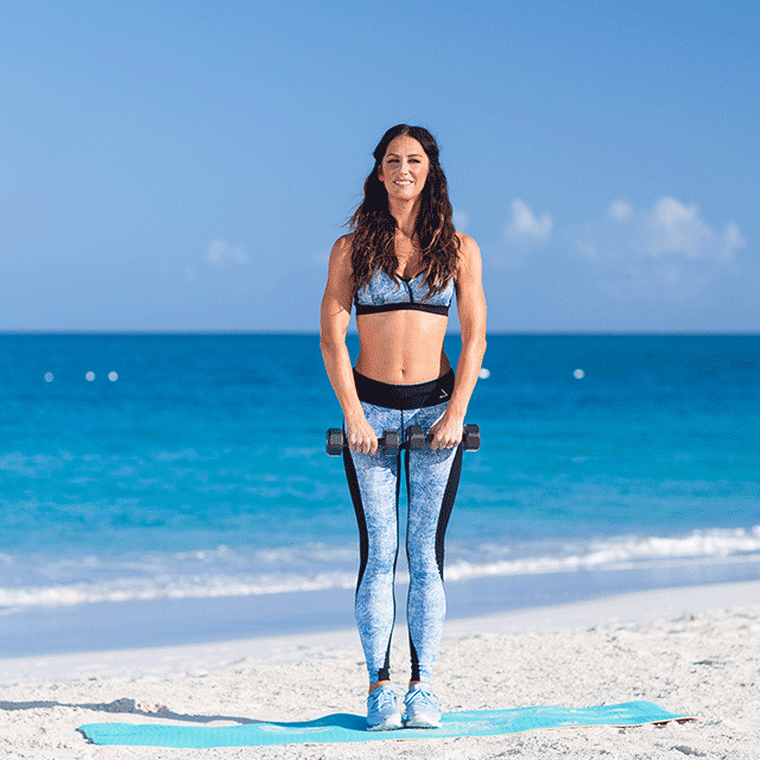 This exercise targets your triceps, shoulders and upper back.
Stand with feet together and weights in front of your thighs. Pull the weights up, bringing elbows out to sides as you raise weights up to shoulder level.
From here, rotate hands up and bring arms up into an overhead press. Complete 10 reps.
Move 3: Tricep push-up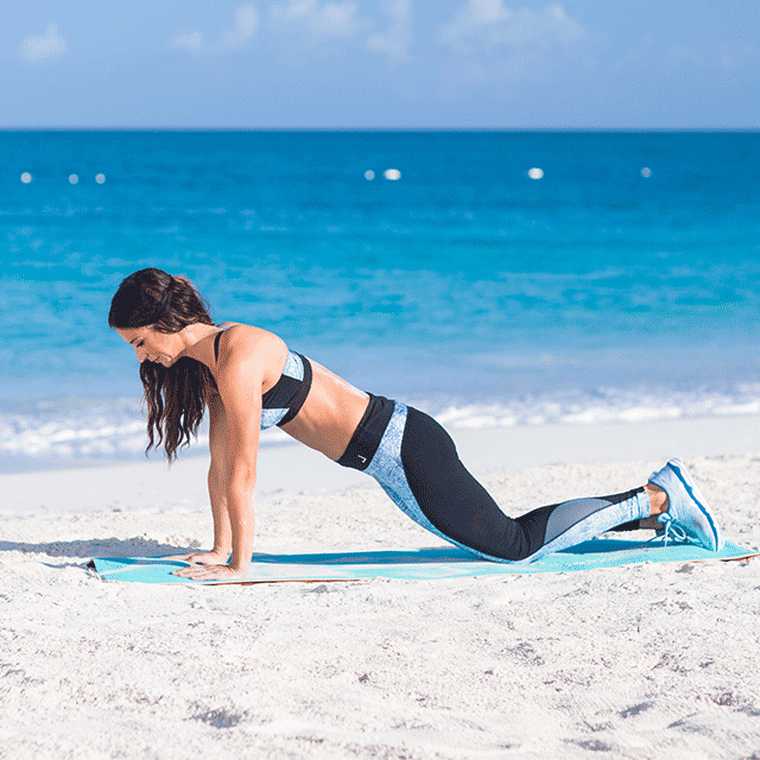 This exercise tightens triceps and targets abs.
Begin in a supported high plank position with knees on the ground. Slowly lower down toward your mat, bending your elbows back into 90-degree angles as you come down. Come back up and repeat 10 times.
RELATED: 60-second shape-up: Slimming summer drinks and arm-toning workouts
Move 4: Squat and curl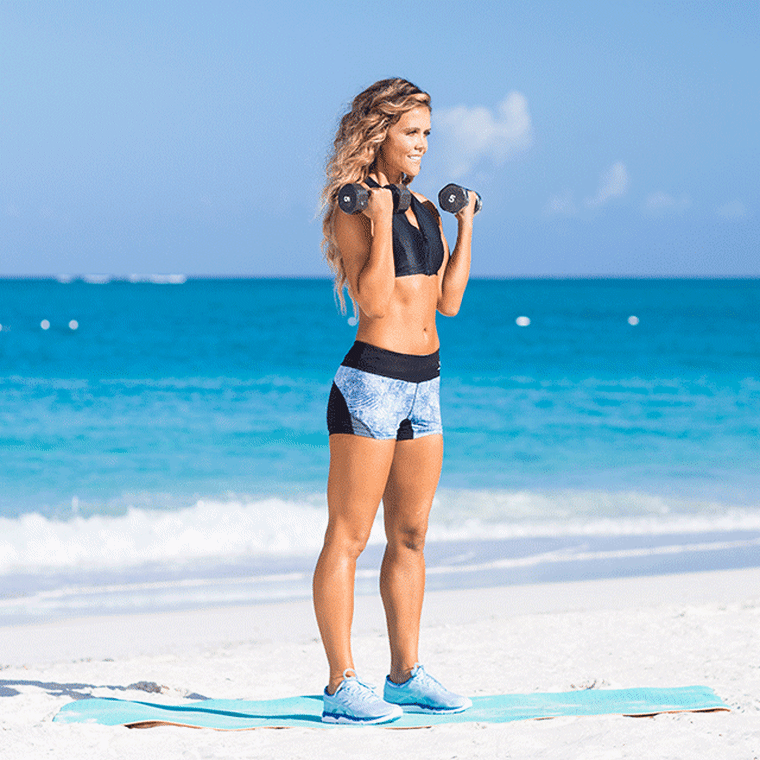 This exercise tones biceps, thighs and that booty!
Start with feet hips-width apart and weights in hand. With control, bring hands up to your shoulders to complete a bicep curl. Slowly lower before bringing you booty back and down into a squat. Make sure knees stay behind toes. Rise and repeat sequence for 10 reps.
Move 5: Bend over row and press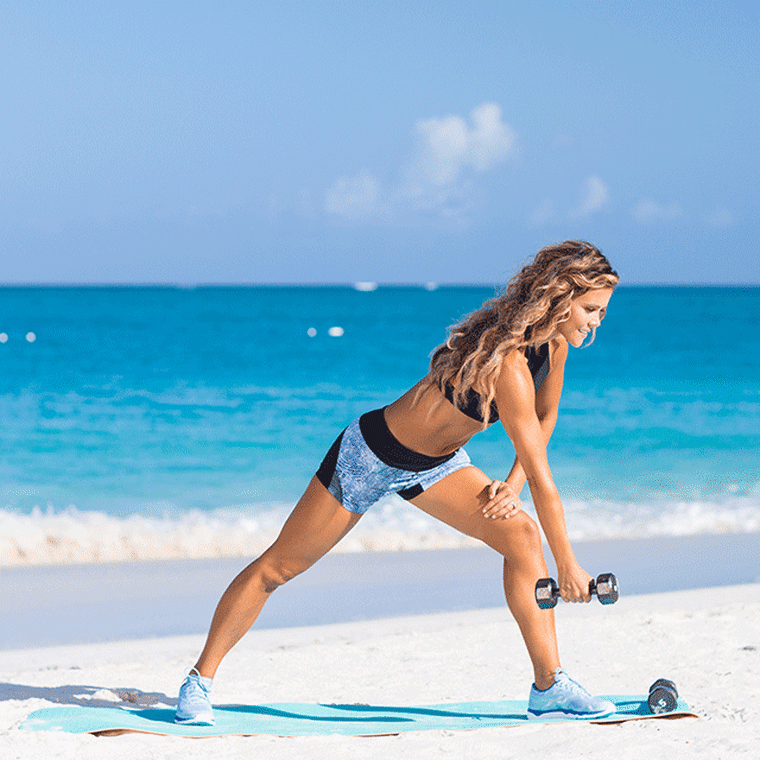 This exercise works your triceps while toning that upper back, waistline and inner thighs!
Begin in a split lunge, hinging forward with that front hand resting on your front leg for support. Gaze down at your front foot as you perform a dumbbell row.
RELATED: 4 workout moves to tone waist, arms, abs, booty
Shift gaze up as you rotate arm upwards to perform a shoulder press. Return to start and repeat to complete 10 reps. Switch sides.
Karena Dawn and Katrina Scott are the founders of Tone It Up — a fitness and lifestyle brand. They are certified personal trainers, nutritional coaches, and best friends. Karena and Katrina have taken the world by storm with their fun, quirky and energetic approach to fitness and have built a vibrant community based around friendship, accountability, motivation, and inspiration.