If you've bought a fire extinguisher to keep your family safe, check the label. There's a massive recall of fire extinguishers made by Kidde because they may not work when you need them most.
The problem is that the units can become clogged or "require excessive force to discharge" and leave you helpless during a fire emergency, the U.S. Consumer Product Safety Commission announced on Thursday.
There have been 391 reports of problems and the consequences can be fatal: One person died in a car fire in 2014 when first responders couldn't get the recalled Kidde fire extinguishers to work, the CPSC notes. In all, the agency has received reports of 16 injuries, including smoke inhalation and minor burns, and 91 reports of property damage.
The recall involves about 37.8 million Kidde fire extinguishers, plus 2.7 million in Canada. That covers 134 models of Kidde plastic handle fire extinguishers manufactured between 1973 and 2017; and eight models of Kidde push-button Pindicator fire extinguishers made between 1995 and 2017.
Visit CPSC's website for the full list and instructions on how to find the date code, model number and other information on your Kidde unit.
If you have one of the recalled units, you should immediately contact Kidde to request a free replacement. Call Kidde at (855) 271-0773 or visit the company's website for more information.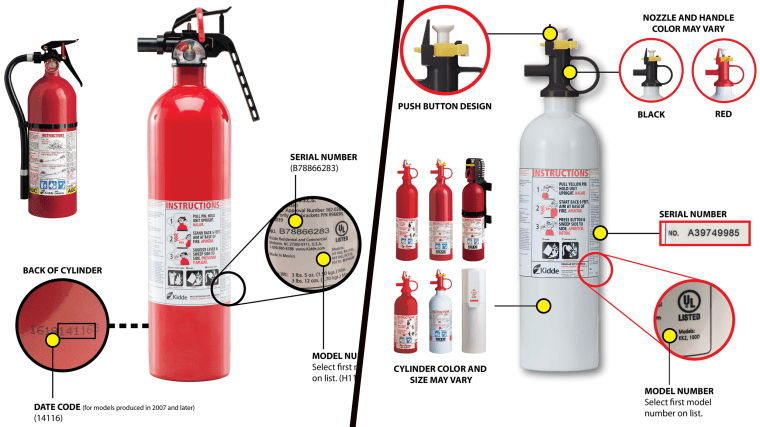 The new extinguisher will have a metal handle on it, and experts believe all the problems have been addressed in this new design, said Ann Marie Buerkle, acting chairman of the CPSC.
"This is a great opportunity for the consumer to get their fire extinguisher replaced, regardless of how old it is... to have that certainty and peace of mind," Buerkle told NBC News. "I cannot emphasize enough how it can prevent fires."
She urged consumers to act now: You don't need to provide proof of purchase for your recalled fire extinguisher and the company will mail you the replacement quickly, Buerkle said. Kidde estimates the unit will be shipped within 10 to 15 business days from the time you call. Keep your current extinguisher until the replacement arrives, Kidde advises.