If a glittery case protects an iPhone in your household you might think twice about using it. The U.S. Consumer Product Safety Commission issued a recall for the MixBin liquid glitter iPhone cases because of two dozen reports from people experiencing burns after broken cases leaked glitter onto their skin.
"One consumer reported permanent scarring from a chemical burn and another consumer reported chemical burns and swelling to her leg, face, neck, chest, upper body and hands," according to the Consumer Product Safety Commission statement.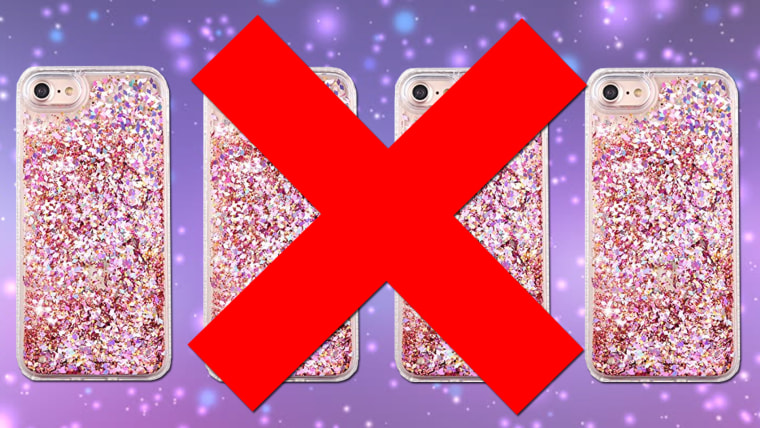 In the United States, MixBin sold about 263,000 cases, which fit iPhones 6, 6s and 7. Amazon, Henri Bendel, Victoria's Secret, Tory Burch, Nordstrom Rack and the MixBin website retailed the cases from October 2015 until July 2017, according to a statement issued on the MixBin website. MixBin did not respond to a TODAY request for comment. Of the 24 reports of burns, 19 occurred in the U.S.
"This is kind of unusual," said Dr. Adam Friedman, an associate professor of dermatology at George Washington University. "You would think that with a product like this you would not use something caustic."
While it remains unclear what the company used as liquid to suspend the glitter, Friedman said that most people who touched the substance likely experienced what's known as irritant contact dermatitis, which occurs when an irritating ingredient touches the skin.
"Irritant contact dermatitis means anyone will have a reaction," he said.
In most cases, irritant contact dermatitis causes a dark red mark that appears anywhere from a few hours to 24 hours after a person touches the caustic material.
"I see irritant contact dermatitis all the time," said Friedman said. "I personally have not seen a case [from glitter cases]."
If people touch the leaking glitter from these cases, he recommended they wash off the liquid and visit a dermatologist for a topical steroid, which will reduce inflammation. While contact dermatitis generally does not damage the epidermis enough to create permanent scarring, unchecked inflammation can create more lasting damage. He also recommended that people keep the areas moist with something like petroleum jelly and covered with a bandage.
"Any injury to the skin will heal better if it is kept moist," he said.
People who think they have a recalled case can register for a refund on the MixBin website. Do not throw out the case before registering because the application requires a picture of the case.