It's been 14 days since TODAY's Jill Martin and three of our viewers — along with the anchors and many of you at home — embarked on the #30DayDetox challenge, and it's time to check in on how everyone is doing at giving up their vices.
Related: Why Jill Martin is giving up her gadgets
For Jill, who swore off all modern gadgets on Aug. 1, saying goodbye to her smartphone and computer has been a challenge — but a rewarding one.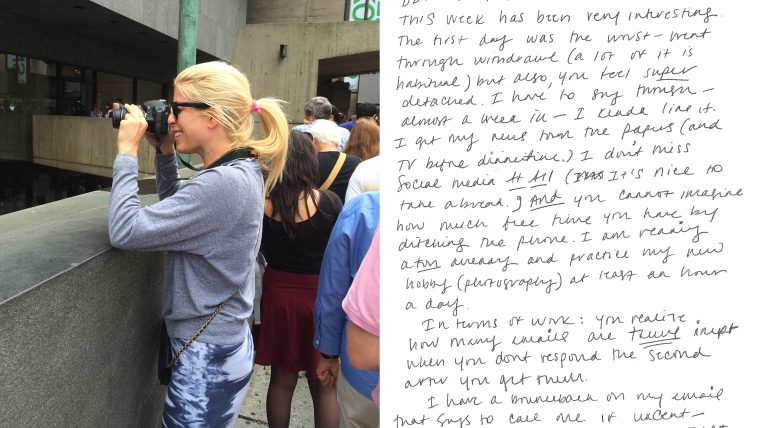 "You don't realize how much time you spend on your phone," she says. Without the distractions of email, surfing the Internet, and sending text messages, she's found herself with a lot of free time, and is spending at least an hour a day on her newfound hobby, photography.
Related: Trying to kick a habit? Try the 6 best apps to help you meet your goal
She also says her manners have improved, as have her relationships. "I see more of everything. There are parts of my neighborhood I've never noticed because I'm always looking down...Friends I usually text with I now call. What we can cover in five minutes is way more meaningful." Even her dating life is benefiting: "I met somebody new that I like, and there were no weird texting awkward conversations because he had to call me."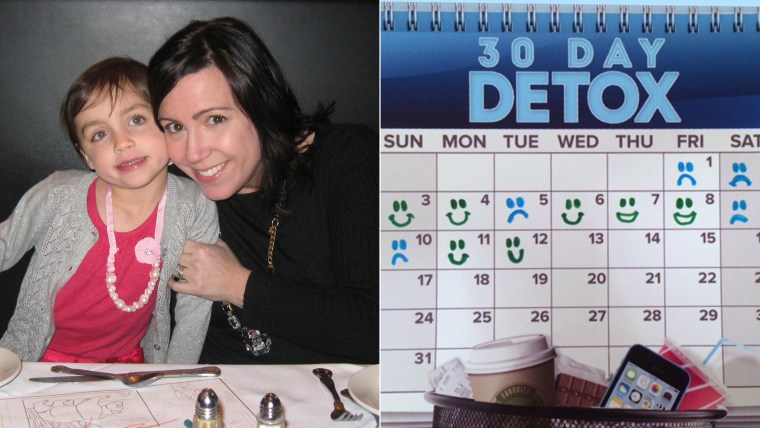 Tracy Villaume, who gave up negative self talk to set a better example for her young daughter, faced a setback over the weekend, but is determined to keep going. "I audibly said that I looked lousy," she told TODAY. "I immediately turned around, not knowing if she caught it...but I got her attention and I paid the penalty I set for myself, and I told her three nice things about the way that I thought I looked."
Since starting the detox, Tracy's realized that what she says doesn't always reflect how she feels about herself, but has simply become a habit, which has been tough to break. But she hopes this new awareness can help her make a change — one that's lasts beyond these 30 days: "I'm way more focused."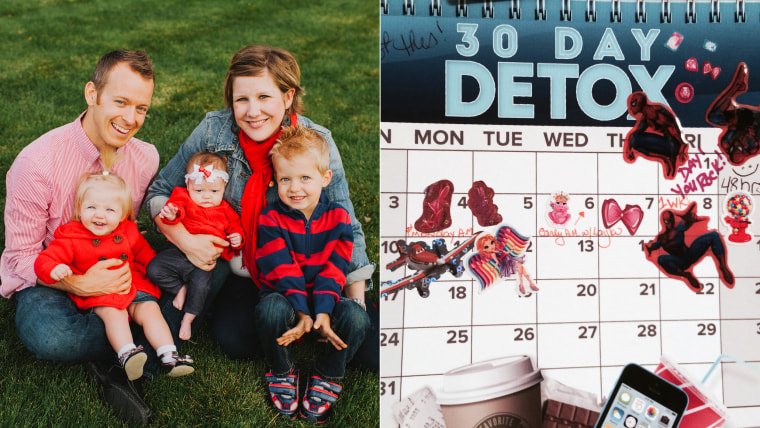 Crystal Askvig, who is two weeks into her detox from soda, told us on day one that she was "pretty much dying." The mom of three young children, ages 4, 2 and 1, used to drink up to 10 sodas a day, but has stayed strong so far despite the struggle.
"I really underestimated the difficulty of this," she says. "I really didn't realize how much I turned to soda for comfort. It really was a comfort measure for me." She says the support from friends, family and the TODAY audience has kept her motivated: "I just was really floored and surprised that people were with me on it."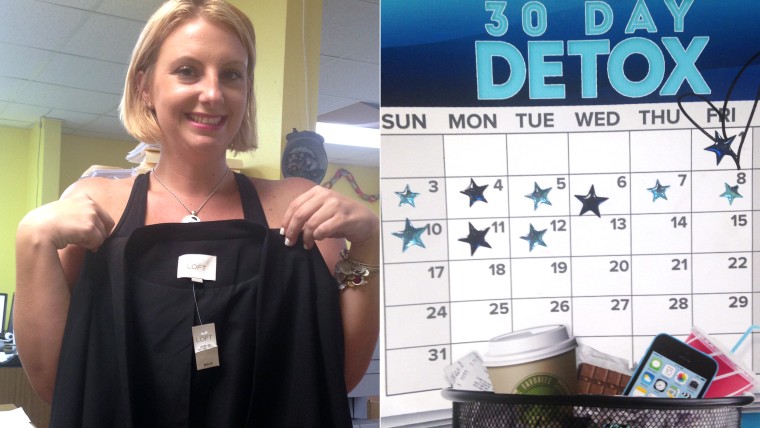 Ashlie Butler, who says she has a "shopping addiction," has managed to put the brakes on for the last two weeks. "I am absolutely clean of shopping," she says, though she has "withstood some serious temptation." When spending time with friends who wanted to go shopping, she tagged along to the mall and resisted shelling out for her favorite workout clothes, even though they were on a massive sale.
Related: See what the TODAY anchors are giving up for 30 days
Instead, she's been shopping her closet, and wearing items she forgot she'd even bought — some that still have the tags on! "I'm wearing it all," she says. "So it's actually been kind of fun!" The reward so far has been her credit card bill, which right now is at a zero balance. "It feels pretty good," she says. "I just hope that I can stick to it and do everything!"

As for the anchors:
Matt Lauer came clean that he's clipped up once so far. "I was doing great with my detox, giving up ice cream for the month of August until last Thursday, when I was paid a visit by the devil Klondike," he admitted. "I apologize, I'm back on track, it'll never happen again."

Natalie Morales also admitted she's cheated when it comes to her shopping detox: "I confess, I did have one little breakdown," she said. "But I needed to for work...I have a good excuse I think. What do you think?"

Kathie Lee and Hoda were also busted for breaking the rules. "I ate those fantastic little miniature Reubens," KLG, who is supposed to be giving up bread, admitted. "I have cheated," Hoda revealed, "but not a lot!"
Willie Geist is putting them to shame, sticking to his vow to give up bread and pasta. "I held strong," he said, of dinners with his family.
And Jill says that while she does miss the occasional funny text message or great email, her life these past two weeks has been simpler. "I have no nonsense in my life right now," she says. "Email feeds miscommunication, and there's no miscommunication when you speak to somebody."

The former Twitter powerhouse doesn't miss social media "for one second," though she does feel disconnected at times. When the news broke this week that Robin Williams had died, for example, she didn't find out for hours, until someone mentioned it in conversation — at which point she was shocked. "The news breaking makes me a little bit uneasy," she says. "I'm walking around, and I have no idea if anything has happened in the last two hours."
That being said, while the experience has been a little isolating, it has also been liberating. "I'm way more relaxed. I'm calmer," she says. "My manners are better than ever...I'll get bumped into on the street all the time [by people staring at their phones] and I laugh, because I was that girl!"
For those attempting a tech detox, however, beware that though you want to travel back in time, the world may not be able to help you. Adjusting to things like life without Google Maps and having to call "411" to find directions has been tricky, and when Jill tried to send TODAY a diary entry from the road, she ran into another problem when a staffer in her hotel's office center couldn't operate the fax machine.
"He was too young," she says. "He didn't know how it worked."