In our dating app-saturated society, finding a date isn't the hard part — actually making it to the second date is. If you're replaying the evening in your head over and over trying to figure out what went wrong, we can help. Two matchmakers share the most common reasons people don't get asked out on a second date.
1. You got too drunk.
Most matchmakers insist on a two-drink maximum for a reason. "You can only make a first impression once," says NYC matchmaker and cofounder of [http://www.projectsoulmate.com]Project Soulmate, Lori Zaslow. "You don't want to cloud your judgement, reveal too much about yourself on the first date, or make a bad decision and move too fast," Zaslow says.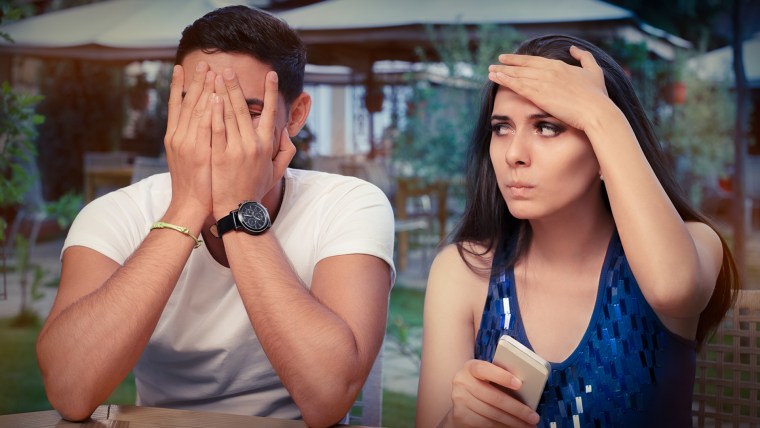 2. You came on too strong.
While there are some exceptions, such as when one person makes an obvious joke and the other joins in, "Talking about your future with the person is a surefire way to scare them off," says Zaslow. Avoid too much serious talk about marriage, kids, and commitment and simply use the first date to get to know one another.
3. You texted too much.
"If you ask too many questions before the date, you may run out of small talk," explains Zaslow. Likewise, avoid too many follow-up texts after the first date, and give him or her just enough breathing room to get excited to see you again.
Related: 15 simple tips for dating after divorce
4. You were rude.
"Sometimes people aren't friendly to the coat check attendant, waiters, bus boys, or the Uber driver," explains NYC matchmaker [www.janisspindelmatchmaker.com]Carly Spindel. That won't go unnoticed by your date. "If you're the tiniest bit disrespectful to anyone, your date might not want to want to see you again," Spindel says. So on a date (as in life!) treat everyone with respect.
5. You didn't have a stimulating conversation.
Do you tend to be overly polite and stick to safe topics? Spindel says you need to show your smart, inquisitive side, too. If the conversation leaves your date feeling bored, "Your chance of being asked out again is slim to none," says Spindel. Come out of your shell a bit and steer the conversation to things you feel passionate and knowledgeable about.
6. You rambled on a lot.
Many people tend to fear the "awkward silence" so much that they blabber on endlessly to fill the void. Spindel says that's a no-no. "You want to talk, but also make sure you can pause to take a breath," Spindel says. In other words, remember not to fill the conversation with a lot of "fluff" and ask questions about your date to get to know him or her, too.
7. You got too political.
"Nothing is more controversial right now than politics," says Zaslow. "Keep the heated discussions to a minimum on the first few dates. You don't want to judge someone based off of who they voted for before you get to know them as a person."
Related: Is he breadcrumbing you? These are definite clues
8. You cyber-stalked them.
If you met your date on an app, it's totally fine to check up on a few things they told you or get the green light from a mutual Facebook friend before meeting. But, "You don't have to know their whole life history," stresses Zaslow. Not only will it make the interactions feel less genuine if you arrive loaded up with info found online, but you might also have gotten the wrong impression of him or her. "It is best to go into the date without a preconceived judgement," Zaslow says.
Case in point: The guy with 1,000 party pictures might actually be dying to settle down and have kids, and the woman with an Instagram page full of cheesy quotes might be very outgoing, funny, and cool.
9. You showed too much skin.
You want to look attractive, of course, but, "You don't want to wear anything too revealing," Zaslow stresses. "You want to leave something to the imagination and keep your date wondering about your body." Give the impression you're confident and looking for more than just a sexual connection.
10. You came straight from work.
Just as dressing overly sexy can be an issue, not looking date-ready at all can also be a turnoff. "If you look like you didn't put any effort into your appearance, the physical attraction isn't going to be there," says Spindel. So even if you're rushing straight from the office to your date, at least change your work pants for a cute pair of skinny jeans, and swap out your comfy flats for a cute pair of ankle boots. Same goes for men. If all else fails, at least spray on a (tiny!) bit of a great-smelling cologne.
11. You talked about your ex.
Unless you have children or there's a valid reason to bring your ex up, avoid ex talk altogether. "The past is the past so leave it there. No extra explanation needed," says Spindel.
Related: Do you have a narcissist in your life? These traits can be telltale signs
12. You overshared.
"Verbal diarrhea is telling too much too soon," says Spindel. On a first date, you don't need to give the long version of how you and Susannah at work became frenemies, or talk about how, at one point, you owned three cats in a studio apartment. "Everyone has a past and everyone has some baggage, but save the TMI details for a fourth date," says Spindel.
13. You showed up late.
"Keeping your date waiting on a first date is sending the message that you are not serious about dating and don't respect their time," says Zaslow. "If you are going to be late, make sure you call!" Even better, or in extreme cases, Zaslow says, "Call the restaurant and have a drink waiting for your date before you arrive."
14. You weren't present.
"Pay attention to your date and give them your undivided attention. That means put your phone away, and keep your eyes on your date, not wandering around the room. You want to show your date you care about what they are saying," says Zaslow.
15. You didn't keep it clean.
Sex talk is a no-no. "Don't make a sexual joke, a play on words, or anything of the sort. Let the pun opportunity pass right by," says Zaslow. Otherwise, you might make the other person uncomfortable and give the impression you're just angling for a hookup, even if you're not.
Final thought: Even if you've done 14 out of 15 things on this list, don't beat yourself up! They're common mistakes for a reason (they happen to us all), and a few bad dates don't mean that your next one won't be memorable. Remember this list, work on your confidence, and keep the faith. Both matchmakers stress that if you keep loving yourself and focus on being your best, you'll eventually find your match.