Little Victor "Vito" Skaro of Waconia, Minnesota, who turns 15 months old on Christmas Day, has been nicknamed "Valiant Vito" for embodying the spirit of a superhero while battling his brain tumor.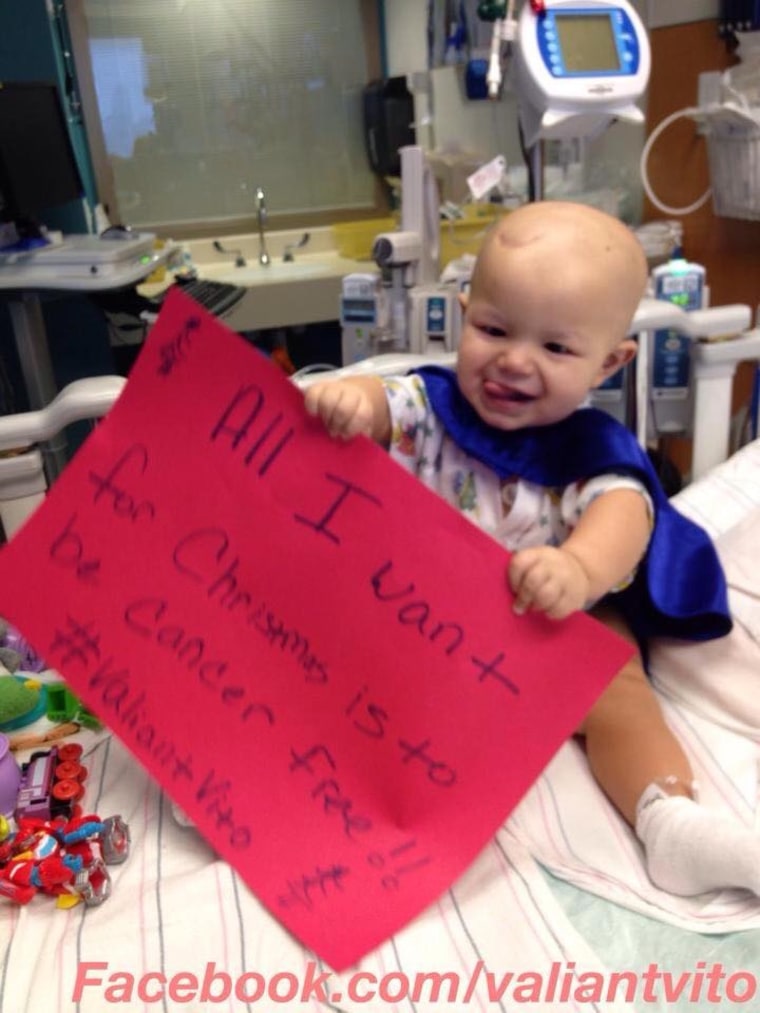 While receiving treatment at the Minneapolis branch of Children's Hospital of Minnesota, Vito recently was photographed in a Superman cape while holding a sign that reads, "All I want for Christmas is to be cancer free!! #ValiantVito." His family is hoping his message of hope will inspire well-wishers to send him holiday cheer in the form of prayers, Christmas cards and donations to cover his medical bills.

"It's a battle no child should ever have to face," Vito's mom, Nicole, told TODAY.com.

Symptoms started emerging in August, when Vito overcame a cold but remained lethargic, unable to sit upright without falling to his side. His condition worsened, and a series of tests revealed that Vito had medulloblastoma, a large brain tumor. "Words can never explain the despair that fall over you at that moment," Nicole wrote on her Facebook Community Page, Valiant Vito. "It's a moment and feeling of helplessness I wouldn't wish on my worst enemy."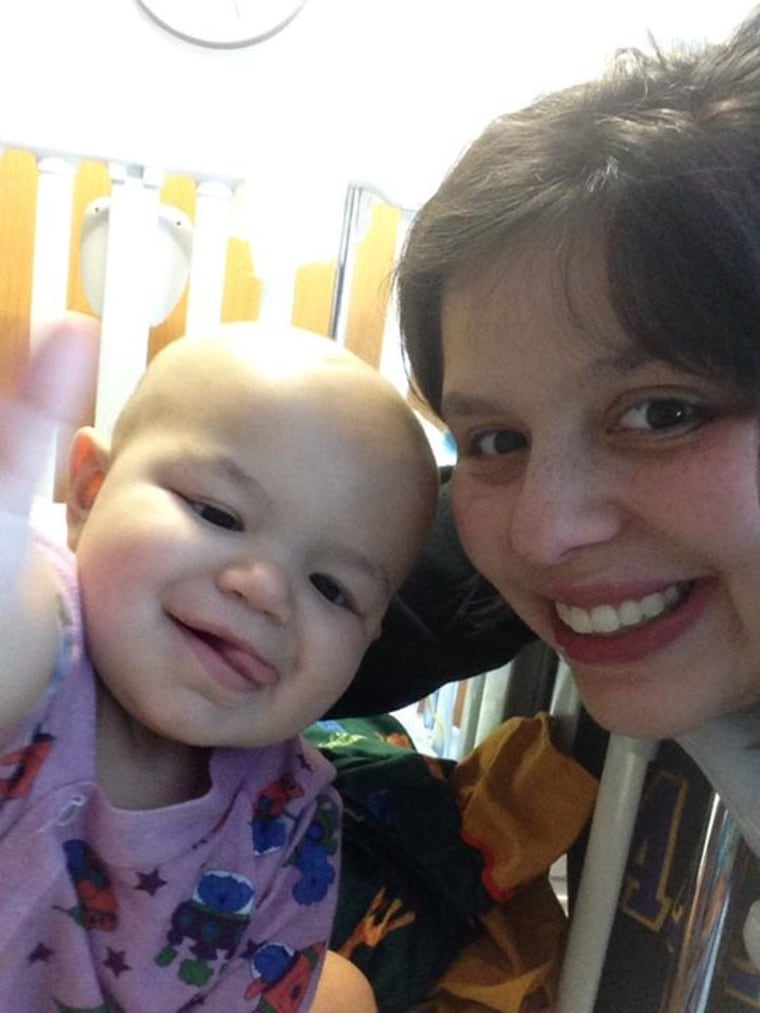 The American Brain Tumor Association says medulloblastoma can be particularly tough on young children. "With current therapies, 70 percent to 80 percent of children with average-risk medulloblastoma can be expected to be alive and free of disease five years from diagnosis," reads a section of its website. "Outcome for infants is poorer, but for those infants with localized disease at the time of diagnosis, survival rates in the 30- to 50-percent range are being seen."
Fighting cancer is hard enough, but other factors have made the situation even tougher. Nicole and her husband, Matthew, also have to take care of Vito's three siblings: Dominic, 8; Vinny, 2; and Lucas, 2 months old. And because Matthew serves as a technical sergeant in the Air Force, he can't always be around to help. Thankfully, in addition to their Waconia neighbors volunteering time and services, Matthew's colleagues in the armed forces have been donating their own leave hours so that he can be home to chip in.

And then there are the medical bills. Kelly Alcala, a family friend, created the "Valiant Vito" GoFundMe page to raise money for the Skaro family. "We want to help them out because, yes, they have insurance, but so much is not covered," she said. "To this date, [Matthew's] insurance, just since August, has been billed $953,000."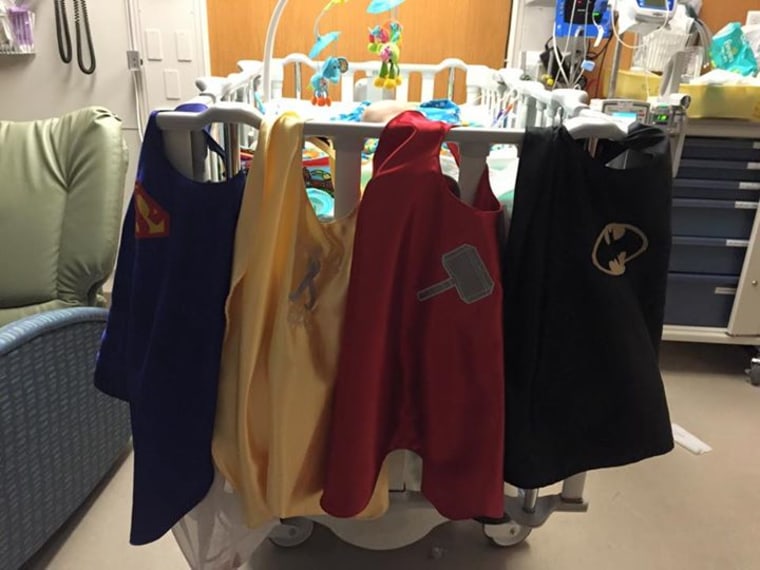 But despite this adversity and occasional medical setbacks, Nicole has been astounded by Vito's attitude. "He just smiles," she told TODAY.com. "Emotionally, you go through everything with this. As a parent, you'll have a tough day, where you're like, 'Oh, my gosh, are we going to get through all this?' And you just look down, and he smiles, and you just know he's going through chemo — literally poison, going through his veins — and he's smiling through it. It's like, 'If you're smiling, I can't be miserable.'"
Vito's collection of capes, made by local seamstress Kristi Fritsvold, began as Christmas gifts for him and his older brothers. "We have the three original capes: Captain America, Superman and Batman," Nicole said. "Captain America is for my oldest, [Dominic], because he's always looking out for the little guy; Superman for my 2-year-old, [Vinny], because he can be really cocky; and Batman for Vito, because even when Vito was a little baby, he was this really old soul."

But all three — and a new Thor cape — since have become symbols of Vito's strength and bravery in the face of danger, thanks to his oldest sibling looking out for the little guy. "When Vito got sick, my oldest [son Dominic said], 'I'm giving my cape to Vito, because he has superhero powers,'" Nicole said.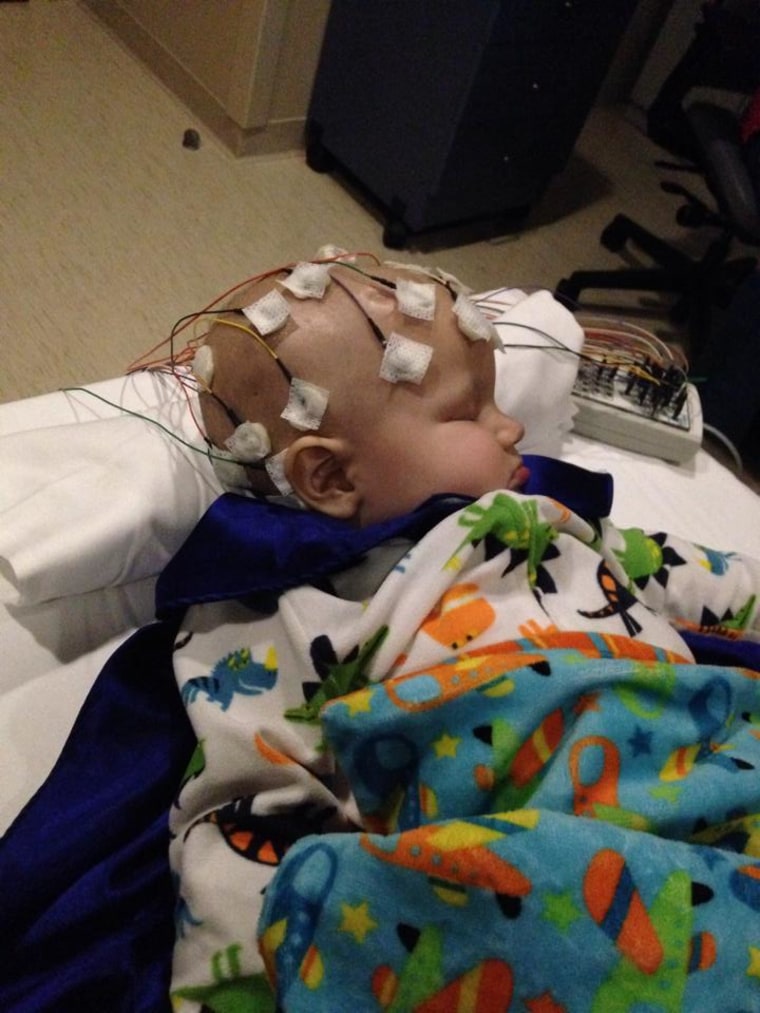 Nicole said she's confident Vito will beat cancer, noting that Dominic has overcome an eye disorder and Vinny has dealt with seizures. "He comes from a long lineage of strong boys," she said.

The family has been moved by the public's response, which has amounted to more than $3,300 in GoFundMe donations toward the $50,000 goal as of Tuesday afternoon.

"It actually leaves me speechless, and I'm not someone who's ever speechless," Nicole said. "It's overwhelming, because I know other families are going through this at the same time. You want to help everyone."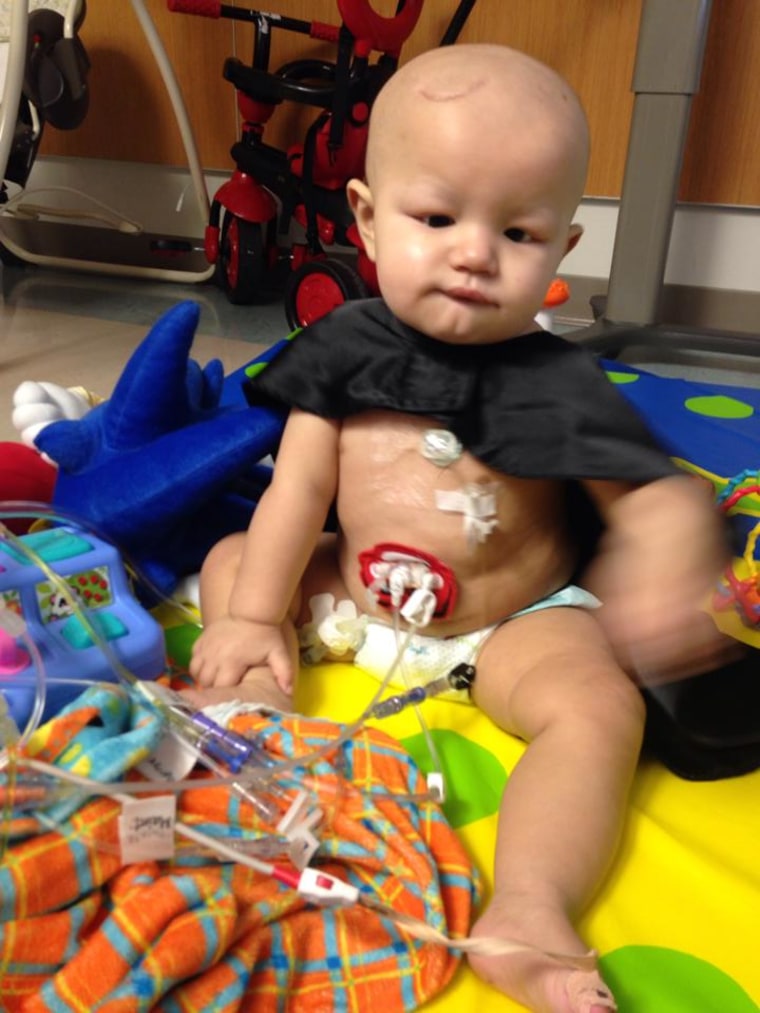 Well-wishers who want to donate to Vito's cause can do so through his GoFundMe page. Those who want to send him good tidings can mail a card or letter to Valiant Vito, P.O. Box 293, Waconia, Minnesota, 55387.
"We really want prayers for Vito, and prayers for any kid who's going through this," Nicole said. "We want people to step up if they hear about a kid in their town who's going through a health crisis to go and help them — even if it's just dropping off a meal; you don't need to ask them. We wouldn't have survived the way we have without people who helped us out."

Follow TODAY.com writer Chris Serico on Twitter.