Twins Ballenie and Bellanie Camacho may be only 11 months old but already they are true fighters.
The baby girls, born conjoined at the lower back, were successfully separated on Jan. 17 in an almost 22-hour surgery at Maria Fareri Children's Hospital in Valhalla, New York.
"Things went really well," Dr. Samir Pandya, one of the lead general surgeons at Maria Fareri Children's Hospital told TODAY, which was given exclusive access to the girls and their family ahead of the separation procedure. "We are very happy with how everything was choreographed and coordinated and worked out in the operating room."
The "herculean effort", as described by Pandya, involved numerous medical teams and nurses, including neurosurgeons, orthopedic, urological, gastrointestinal, pediatric and plastic surgeons. Conjoined twins occur in an estimated 1 in 200,000 births, but twins joined at the hip — called pygopagus — are extremely rare.
The girls are recovering quickly and were moved out of the pediatric intensive care unit.
After three months of preparation and previous surgeries, the fear, excitement and sleepless nights waiting for the separation are over.
"It was always a dream," said mother Laurilin Celadilla Marte, 24, told TODAY about the separation. "I would pray and dream that it would come together and now it has."
Related: Twin boys formerly joined at the head make 'stunning' recovery after 9 weeks
'Pride, gratitude and just elation'
To prepare for the complex surgery — the first separation procedure performed at the New York hospital —the medical teams went through multiple practice sessions in the operating room, as well as using 3-D models constructed from CAT scans and MRIs of the little girls' lower body, pediatric surgeon Dr. Whitney McBride told TODAY. It's believed to be the first time that some of the surgical work was performed using laparoscopic techniques, which gave surgeons a clearer image of how the digestive tracts were joined ahead of the surgery.
At the moment of separation, the medical teams paused briefly before breaking into applause.
"It was an overwhelming sensation that I don't think any one of us is going to experience again," Pandya said. "There was pride, gratitude and just elation that we were able to achieve this for them."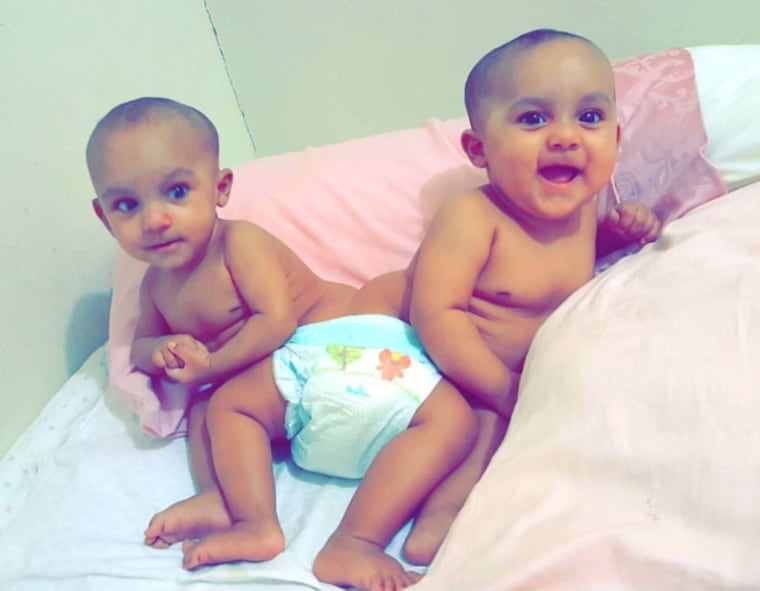 The identical twin girls, who were born in Moca, Dominican Republic, surprised their parents and the doctor, who delivered them via C-section. Laurilin knew she was expecting twins, but did not realize the babies were conjoined.
"In that moment when the doctor had them in his hands, he said, 'Blessed be God, they are Siamese twins," mother Laurilin said. "I said, 'well, God, they are yours.' "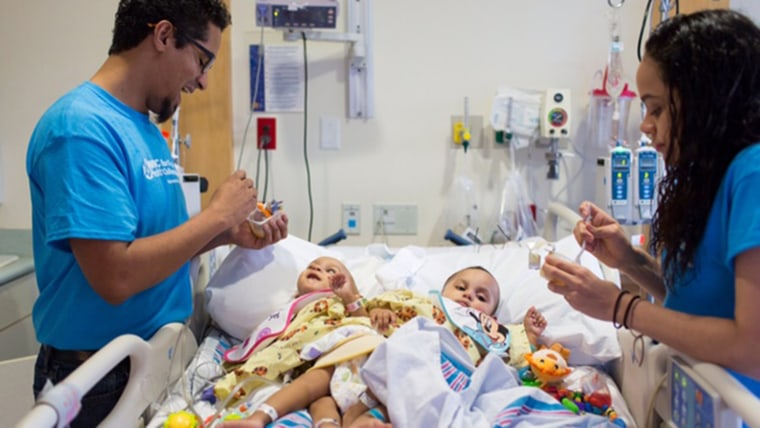 The initial shock turned to fear for their health after learning the smaller girl, Ballenie (pronounced like ballerina), had a congenital heart condition. Doctors warned them that she might die.
"The girls were worse every day," their father Marino Camacho told TODAY. Finally, a cardiologist told him that if he didn't take them to a different hospital, the family might lose both the girls. Eventually, they were brought to the Maria Fareri Children's Hospital, where the family has been preparing for the mammoth procedure for the last three months.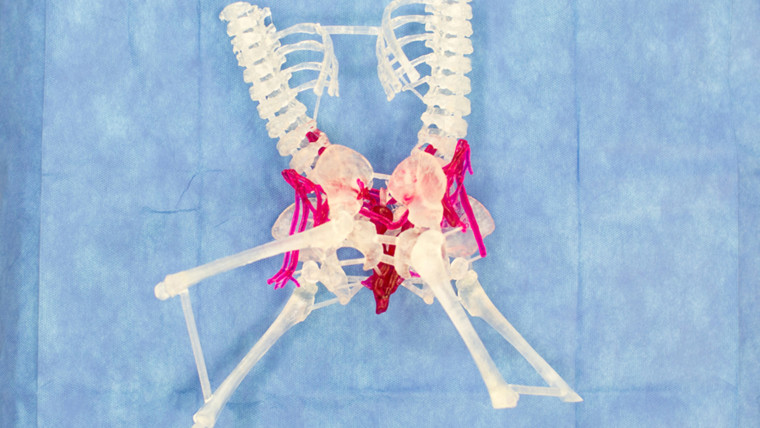 As is typical for conjoined babies, one twin is larger and stronger. That's Bellanie, who her mother says is very active, observant and "very joyful."
"She wants to touch everything," said Laurilin. "She's very demanding, she wants everything. If the little one has a toy, she'll take it from her."
The "little one" Ballenie is calmer and quieter. Her parents call her "little butterfly".
"She doesn't laugh a lot," said her father, Marino. "But when she does, she's beautiful."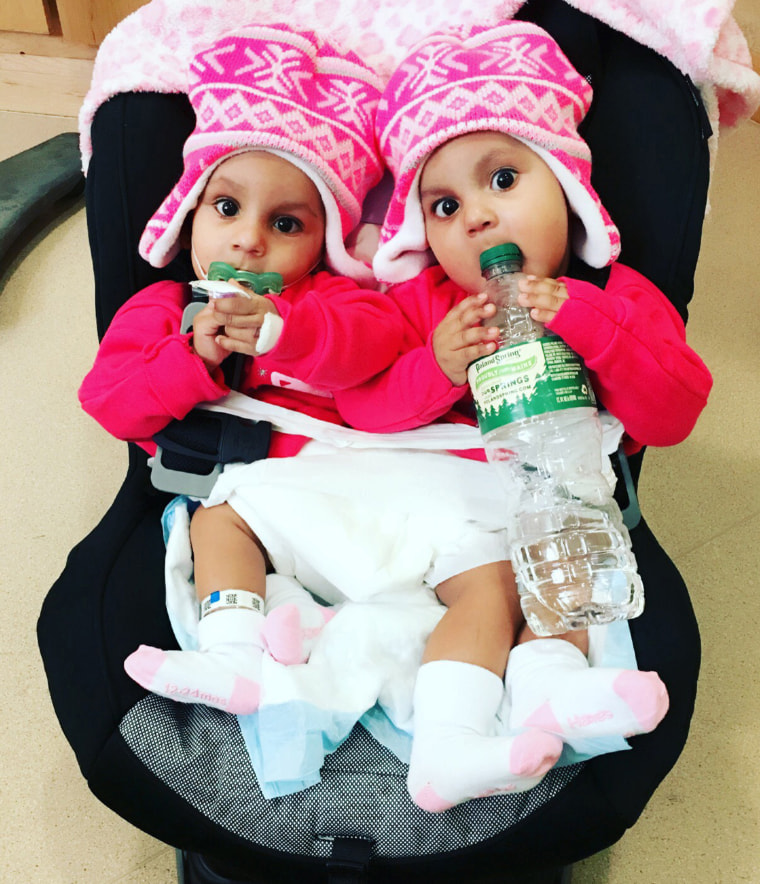 If there are no complications, the girls and their parents could be home within a couple of months.
The family has started a gofundme to help cover care for the girls as they grow.
Related: Formerly conjoined twins can't take their eyes off each other in 1st reunion
'Time will give a better picture'
Now that they are no longer literally joined at the hip, the doctors are optimistic about their futures. They'll be able to live independently — but beyond that is unclear.
"Will they be able to walk? We'll have to see," said Pandya. As far as other bodily functions, "time will give us a better picture."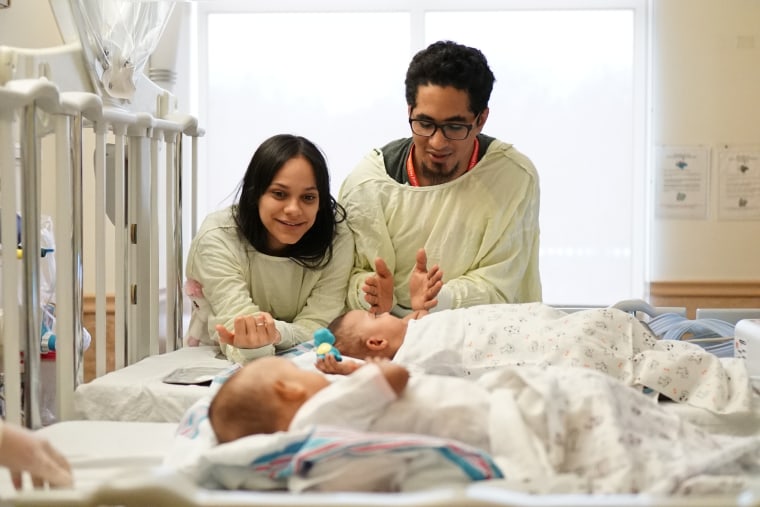 The girls will celebrate their first birthday on Feb. 4 in the hospital. But they could be home within a few months, joining their "big" sister Lina Bel, who is 2 and half-sister Sheily, 10.
"The first thing we'll do is go to the beach," said Marino.
It's been a challenging and often painful journey, but Laurilin has a dream for her baby girls.
"I want to see my daughters healthy and independent," Laurilin said. " I want them to go to school, for them to play freely. Even if it's in a wheelchair, anything, but with their freedom and independence."