Zucchini is as versatile as it is popular. Enjoy it raw in salads, sautéed, grilled, baked or fried. Zucchini can even be shredded and used to make muffins, cakes or breads. Read on for advice on shopping, prepping and cooking zucchini.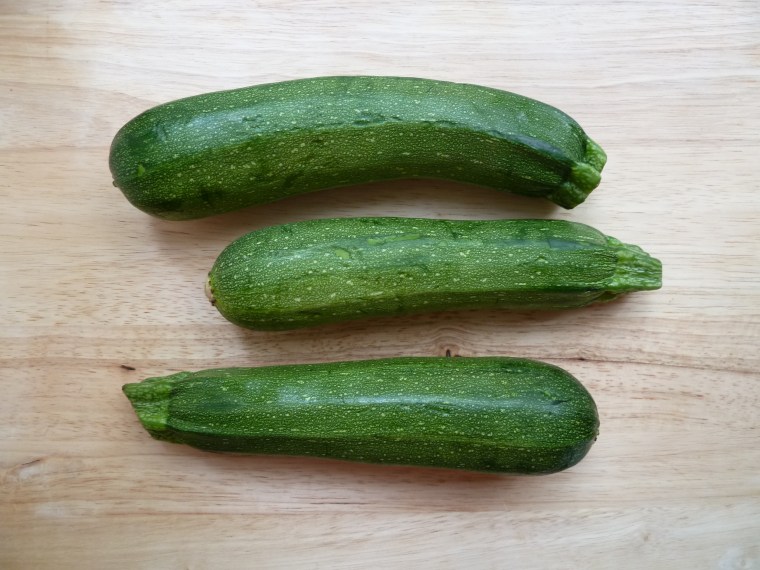 How to shop for zucchini
Zucchini comes in different colors, including dark and light green and yellow. Whatever the hue, seek out vibrantly colored squash with shiny, unblemished skin.
Larger zucchini can be watery or bitter, so look for small to medium ones that are no more than 8 inches long.
Make sure zucchini is firm, especially near the stems.
Check out our summer produce guide for more tips and recipes
How to store zucchini
Zucchini should be kept in the vegetable drawer of the refrigerator and will last for 3-5 days. Avoid storing zucchini in plastic, which can trap moisture and make the skin slimy. Either leave zucchini loose or place it in a paper bag.
How to prepare zucchini
Zucchini skin can be sticky or slimy, so be sure to thoroughly wash it before using.
With a few exceptions (stuffing and baking zucchini halves, for example), cut the stem off zucchini and trim about ¼ inch off the opposite end.
Zucchini Recipes
Grilled salmon and zucchini skewers, watermelon limeade for a light summer meal
Zucchini noodles with pesto and cheesy zucchini rice
Roasted chicken thighs over barley-zucchini risotto
Zucchini, tomatoes and goat cheese breakfast burrito
Another easy way to enjoy fresh zucchini
Sautéed Zucchini and Tomatoes
In a large skillet, heat 2 tablespoons olive oil over medium heat. Add 2-3 minced garlic cloves and sauté until softened, about 2 minutes. Add 2 medium zucchini, cut into chunks, and sauté 4-5 minutes. Add about 1 pint of cherry or grape tomatoes, halved, and sauté until the zucchini is tender but still crisp, 2-3 minutes. Add torn fresh mozzarella and basil and season to taste with salt and pepper.