Do not adjust your screen. You're not hallucinating. This amazing rainbow bagel is real and it's stuffed with cotton candy and cream cheese flavored with rainbow sprinkle cake. Yes, really.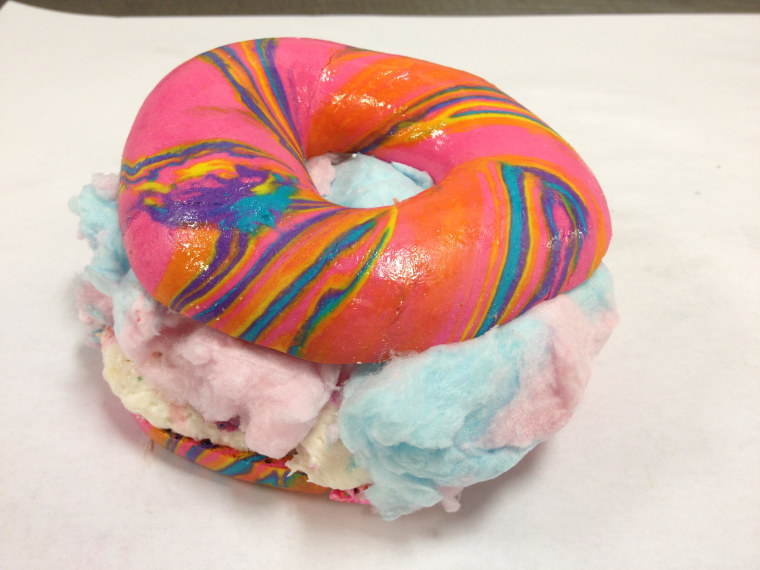 After seeing photos of this out-of-control sandwich that have inundated Instagram feeds recently, I had to go to the source, The Bagel Store in Brooklyn, New York. As I took the subway over the Williamsburg Bridge, I looked out over the East River and wondered if it would taste the way that I imagined: like a unicorn that swallowed a princess that swallowed a rainbow that swallowed a castle. You get the picture.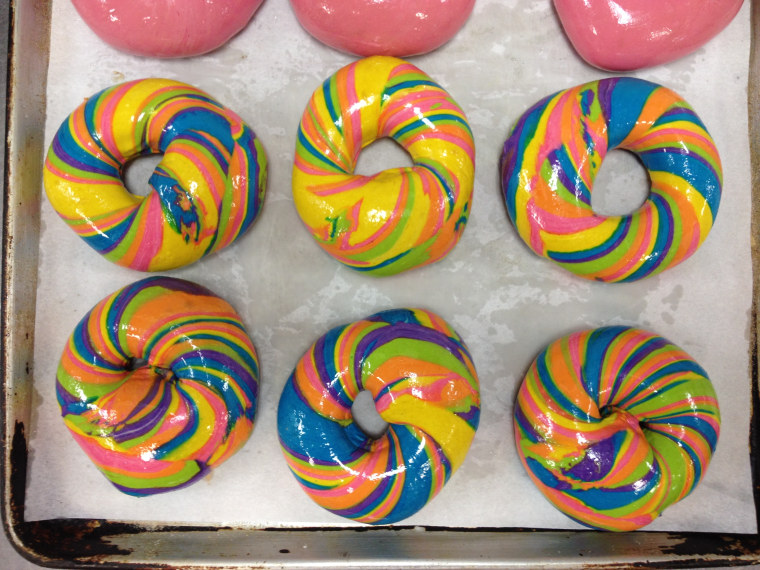 Impossible to miss, as soon as I arrived at the shop I zeroed in on the technicolor Rainbow Bagels. First, I swore several times. Just being honest. They look like Play-Doh, I thought. I've sampled my fair share of Play-Doh as a child (everyone does that right?) and hoped that's where the resemblance ended. The first bite reminded me of one of my favorite childhood fruit-flavored breakfast cereals, Fruit Loops.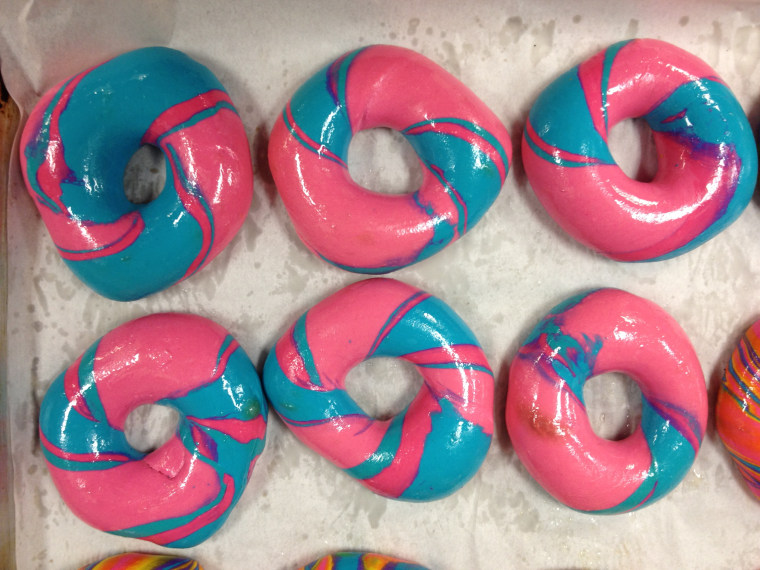 Then, I had to know if this gorgeous bi-colored Cotton Candy Bagel actually tasted like the amusement park treat. The flavor was spot on.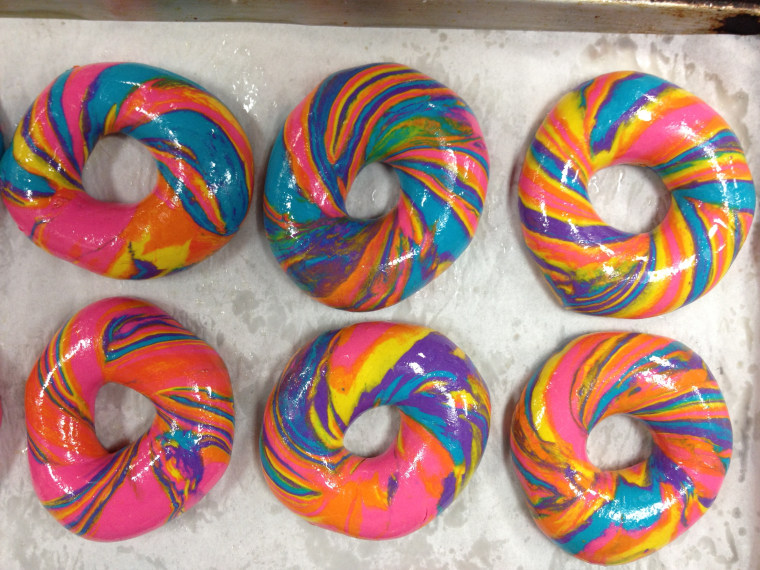 Owner-baker Scot Rossillo, aka The Bagel Artist, guided me to a variation of the classic, called Psychedelic Rainbow Bagels that have a similar berry-like flavor. They're Rossillo's personal favorites because they have even more vivid swirls and veins of color. "These are the most most groovy ones," he said.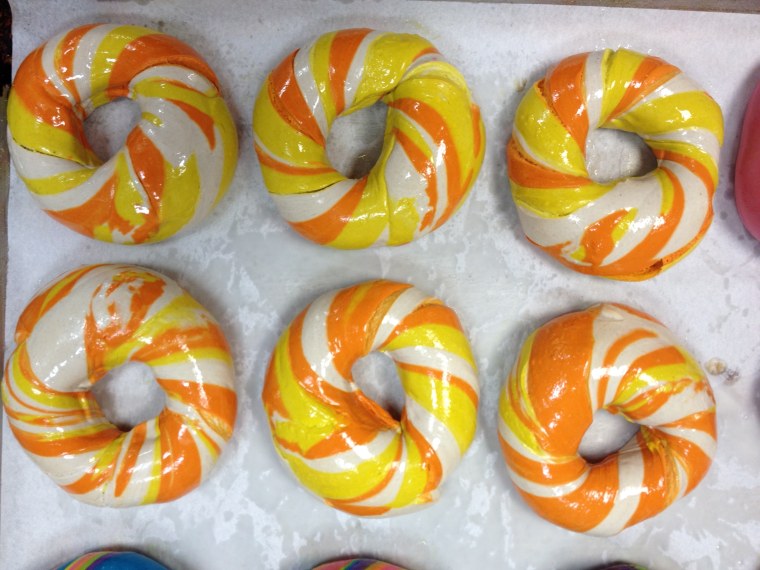 It takes five hours of consistent hands-on time to make a batch of 100 of the intricately designed multi-colored bagels. In that same amount of time, the shop can make 1,000 traditional bagels (which are really delicious by the way—I especially loved the satisfying chew and flavor of the onion version). But bagels are Rossillo's canvas and like any other artist, time is not a factor when it comes to creating a masterpiece. Up until all hours of the night, he's constantly coming up with new seasonal versions like these vanilla-flavored Candy Corn Bagels for Halloween.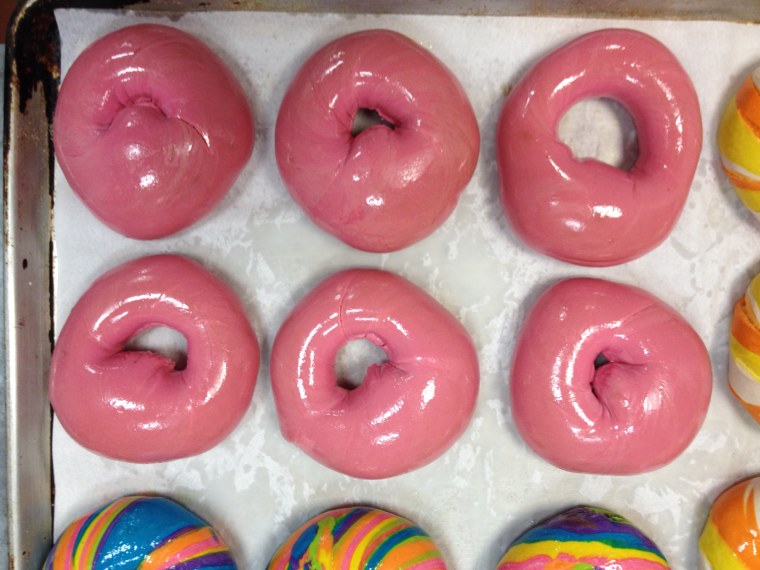 These pretty pink ones will be available through the end of October for breast cancer awareness month. They have a light and pleasant vanilla flavor.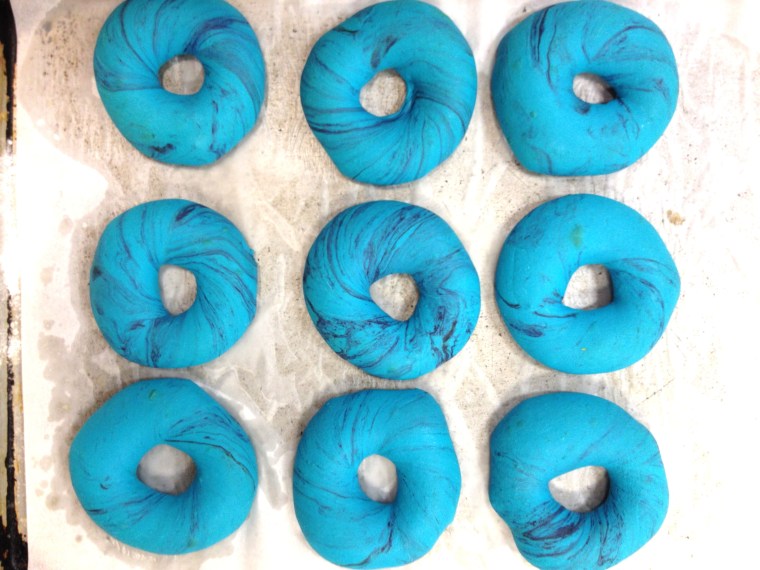 The shop will ship bagels anywhere in the U.S. and Rossillo will create custom designed colored bagels for anyone, like these Blue Healing Bagels that are a special request by Kathy Wakile from "The Real Housewives of New Jersey" and just happened to be at the shop.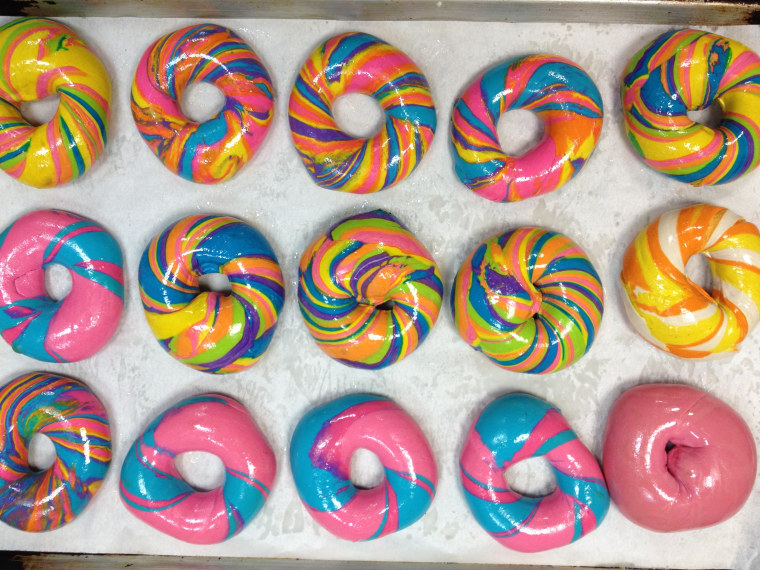 Now back to my mission: tasting that stunning technicolor bagel sandwich.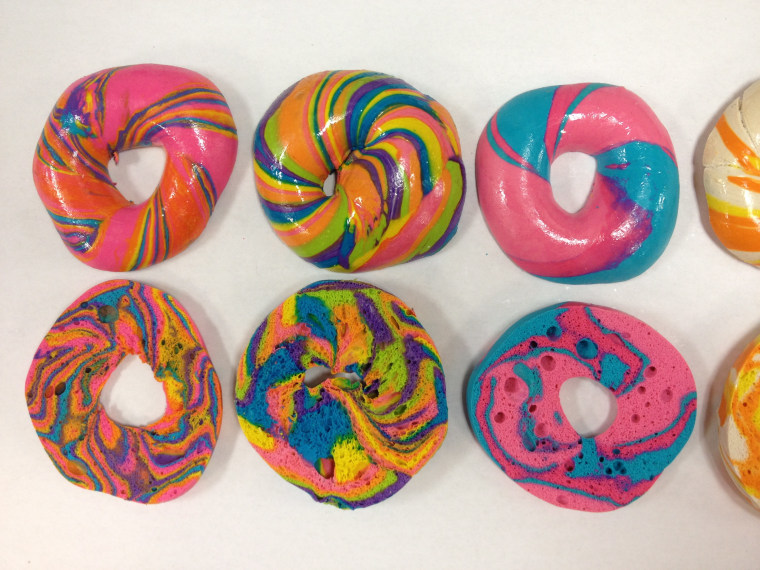 Step one: slice open those beauties and there's a kaleidoscope of shapes and colors.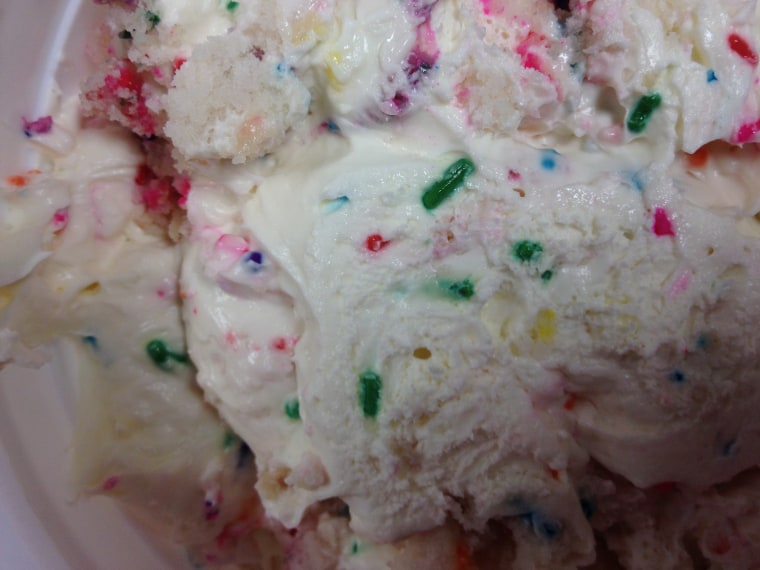 Now for the toppings. This is no ordinary cream cheese. Rossillo bakes a rainbow sprinkle-filled white cake (reminiscent of Pillsbury's Funfetti), lets it cool and then carefully blends it into a cream cheese frosting so there are still bits of cake, cream cheese and sprinkles in every bite.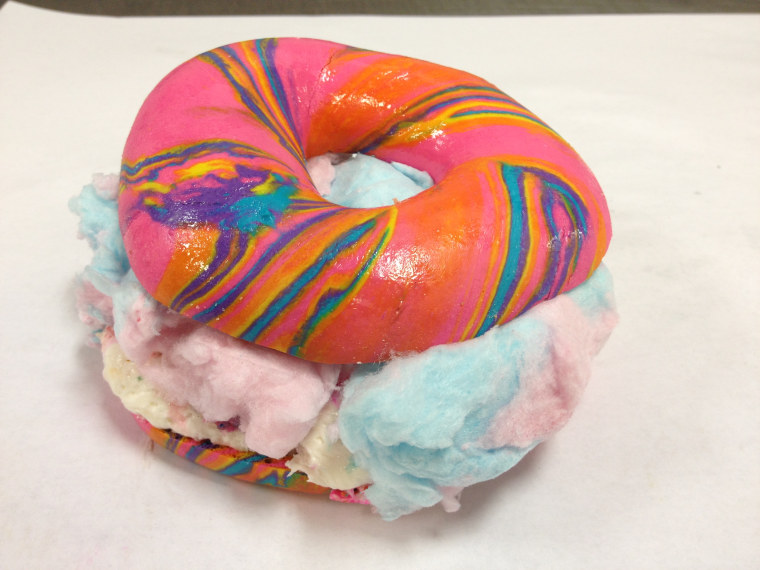 A generous layer of pink and blue cotton candy is the finishing touch. Okay, time for the true test. The first bite.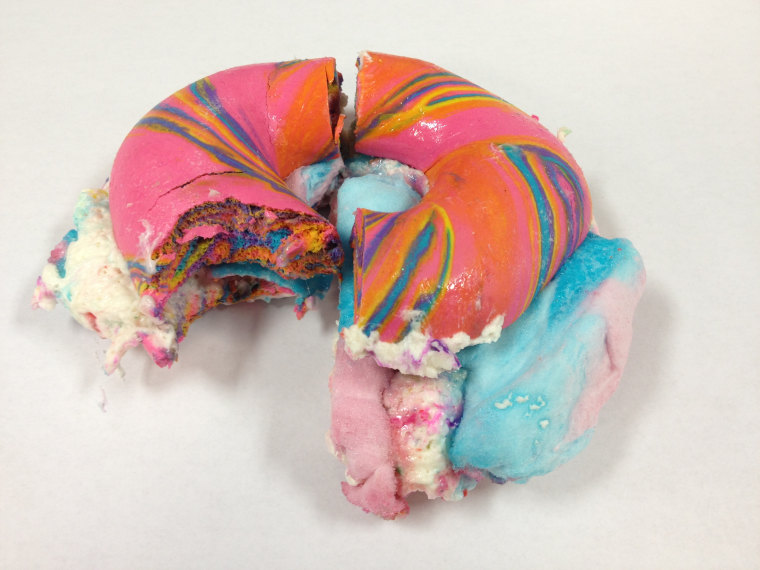 This is every little (and big) girl's dream: a rainbow dessert sandwich that tastes like a mashup of your favorite childhood birthday cake, your go-to childhood breakfast cereal and delicate and fluffy cotton candy.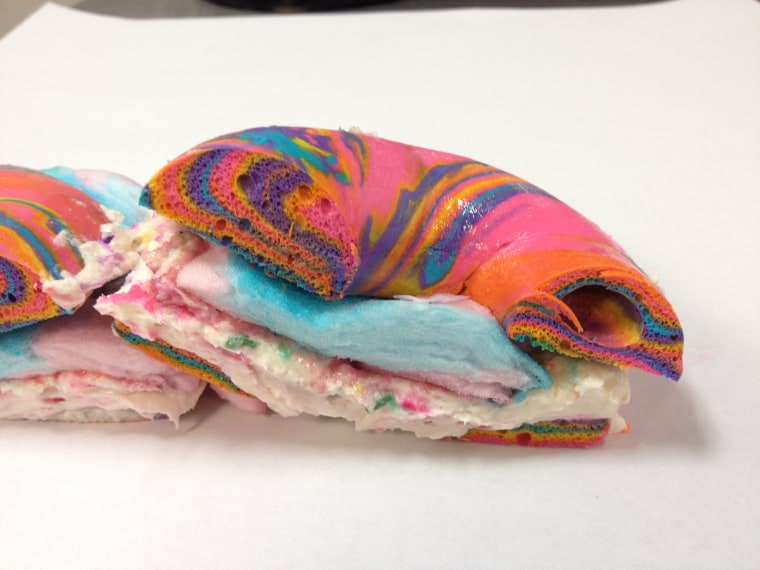 Split in half, the sandwich forms two multi-colored arcs that even resemble the shape of a rainbow. The only thing missing is fairy dust, but I wouldn't be surprised if Rossillo whips up a batch by next week.