When preparing for the holidays, a savvy host or hostess knows it's wise to make enough food so guests can have seconds and even thirds. But unless we're serving a small army, our dishes probably aren't going to break any world records.
However, if you're a large green man known for hawking veggies, creating a record-breaking dish is basically second nature. On Thursday, a new Guinness World Records title was set in New York City for the largest ever green bean casserole.
The champion? Canned and frozen veggie purveyor Green Giant.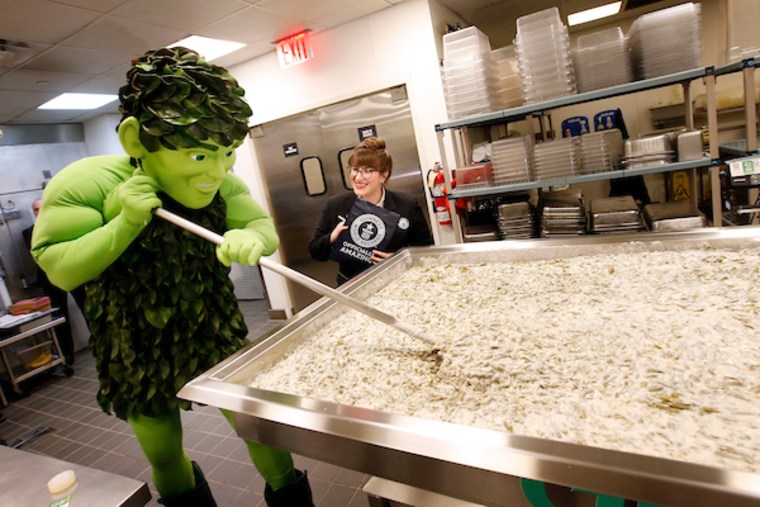 The casserole, a larger-than-life version of the classic Thanksgiving side dish, clocked in at 637 pounds and was cooked up by Green Giant and Stella 34 Trattoria chefs at Macy's Herald Square. After it was weighed and measured, the record-setting casserole was immediately donated to New York City's Citymeals on Wheels program and will help feed nearly 2,000 elderly residents who are unable to leave their homes.
"We wanted to celebrate our inaugural year in the Macy's Thanksgiving Day Parade by baking up some excitement while helping so many people in this incredible city," Jordan Greenberg, Green Giant's vice president, said in a statement.
He added that the company "has been a staple in Thanksgiving feasts for more than 100 years."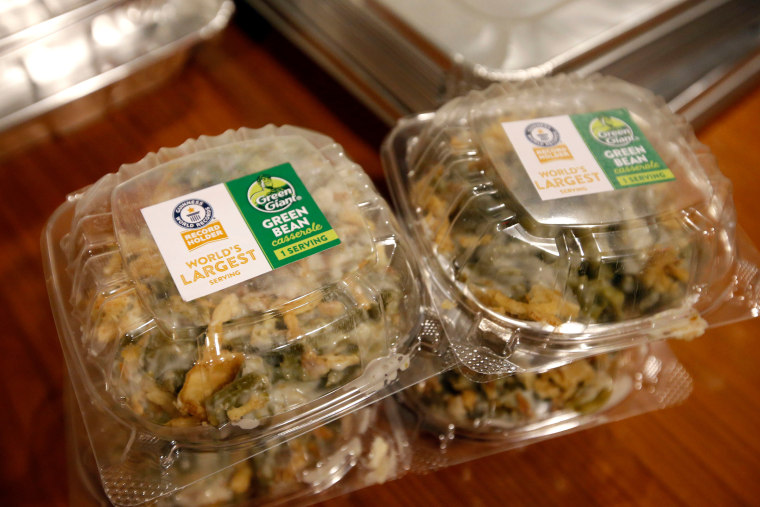 In total, the dish was comprised of 780 cans of Green Giant Cut Green Beans, 53 cans of cream of mushroom soup, 32 quarts of milk and 65 pounds of French fried onions. And you thought your grandma's recipe was decadent!
Green Giant actually set the first official Guinness World Record with the giant creamy casserole but a company representative told TODAY Food that officials estimate that the second largest green bean casserole ever made weighed just 551 pounds.
Since green bean casseroles are one of the all-time most popular Thanksgiving sides, this record-breaking event was well timed for the season. It was also a pretty logical choice: Imagine trying to find one super-large turkey that could feed 2,000 people? Now that's a challenge!
Regardless of the casserole's size, however, people are always pretty excited about the dish this time of year.
If you don't have plans to make a giant green bean casserole this Thanksgiving, there's always these new green bean casserole-flavored Pringles.
Or just stick to the classic with these tips on how to take your casserole to the next level.