To everyone out there who eats Nutella straight out of the jar with a spoon: You might want to consider a trip to Chicago.
The city is getting an official Nutella Cafe — yes, a literal shrine to the cocoa-hazelnut spread — opening at the end of the month.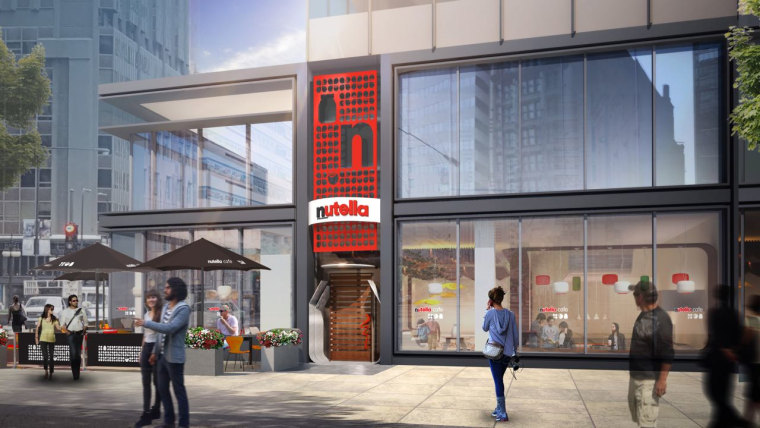 The menu sounds more civilized than the way we often enjoy our Nutella (see aforementioned spoon and jar).
You'll be able to order warm, grilled baguettes with Nutella, fresh-roasted, hazelnut-and-blueberry granola with yogurt and Nutella and Italian specialties like "panzanella" fruit salad, according the company.
Shockingly, there will also be "a number of dishes available without the famous hazelnut spread," including savory paninis and salads. Huh? What? Why?! Can we get at least get a side of Nutella to dip our sandwiches in?
Here is a tease from the cafe's Facebook page:
Funnily enough, the city, which is clearly hazelnut spread-obsessed, already has a Nutella counter inside Eataly, the food hall co-owned by Mario Batali.
This new café, though, located across from Chicago's Millennium Park, will be the first restaurant owned and operated by Nutella's parent company, Ferrero.
"We wanted to create a world of Nutella for our fans that could truly capture the essence of the brand — not just in the dishes that will be served, but in the full experience from the moment you step into the space," Noah Szporn, head of marketing for Nutella North America, said in a statement.
We can't help but hope there is a vat of Nutella that you can swim in, Willy Wonka-style, but we're assuming that's not what he meant.
The Nutella Cafe (189 North Michigan Ave.) will be permanent, the company said, and will open May 31 at 10 a.m. Chef Rocco DiSpirito will be there for the grand opening, and the first 400 visitors will receive a free menu item and a "chance for other special surprises," the company added.
Though we're not sure if all that fanfare is really necessary — they had us at Nutella.
RELATED