Everyone knows to watch out for flying balls and bats at a baseball game, but you might not think about the dangers of hot dogs shooting into the stands — yes, we said hot dogs.
One Philadelphia Phillies fan learned this lesson the hard way when the team's mascot, the bright green Phanatic, used a food cannon to launch free hot dogs into the stands on Monday night.
Unfortunately, one of the franks hit her smack dab in the face.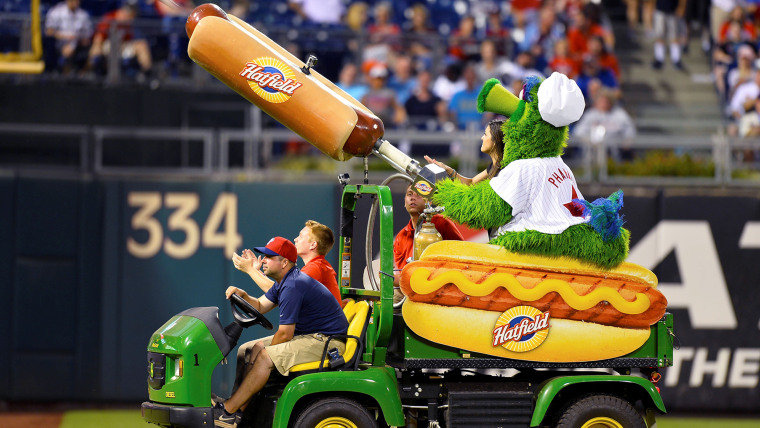 "I guess it was just the force of it — it just came down so fast," Kathy McVay recalled to NBC10. "[It] hit my face, knocked off my glasses, and the next thing I knew I was bleeding and we were going to first aid."
McVay went to a local hospital to make sure she didn't have a concussion. Thankfully, she didn't have one but she sustain some serious bruising on her face and a small hematoma in her eye from the injury.
The Phillies reached out to McVay to apologize after the incident.
Despite the bruising, McVay is keeping her spirits up and even seems amused by the situation. "When I tell my brothers, they started laughing," she said. "At least it's funny and a story I can tell people."
Bonnie Clark, Vice President of Communications for the baseball team, told TODAY Food that this was an unfortunate situation and is definitely a rare occurrence. However, the stadium won't be shelving the forceful food launcher this season.
"At this time, there are no new plans in place to modify the Phanatic's hot dog launcher interaction with fans, but we continually look for ways to improve upon safety at the ballpark," Clark said.
As for what fans can do to stay safe, McVay has some words of advice. "My only thing is to warn people, just to be careful," she said.
Flying hot dogs aren't necessarily something you might be on the lookout for at a baseball game, but as you can see, they can certainly do some damage.