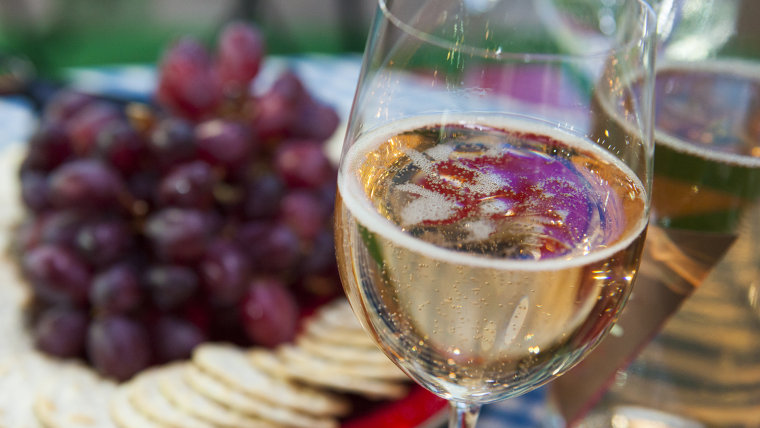 Whether you're drinking red, white or rose wine this summer, sip on it in style! Ray Isle, executive wine editor for Food & Wine magazine, shares his picks for wines and accoutrement for drinking it in style at the beach, backyard or at the pool.
Beach
UncommonGoods Wine Sack, $69.95
This is the perfect carrier for your boxed wine when you're heading to the beach. You can take the bag out of a standard 3-liter box wine (they all have a bag inside-that's what holds the wine), then put it directly into the wine sack. It snaps into place. The nice thing is there's also room for a couple of cold packs, which is really useful in warm weather. Plus, it looks much cooler than carrying a box of wine. Recommended: Duca Del Frassino Pinot Grigio/Garganega. $20 for 3 liters.
Related: 6 great ideas for making wine, beer and booze portable this summer
Bandit Pinot Grigio, $9
Bandit's Pinot Grigio 1-liter Tetra Pak is an alternative to a big boxed wine that's easily transportable, biodegradable, and the perfect beach-friendly package. This is a fresh, bright, peachy white wine.
Backyard
2012 Underwood Pinot Noir, $6
This is a peppery Pinot from Oregon which comes in a can, and looks like a beer can. You can buy the same wine in a bottle, but it costs more.
UniqueSolutionz Wine Glass Holder, $9.99
Lots of beach chairs have a place for your soda or beer can, but where do you put your wine glass? The Wine Hook is an outdoor chair stemmed glass holder that easily slides on the arm of most outdoor chairs (patio, Adirondack). The hook fits on anything up to 1 inch and is available on Etsy.
Nino Franco Faive Rosé Brut, $23
Prosecco is still immensely popular and to capitalize on that, Prosecco producers are now making rosés as well. So we have Nino Franco's pale pink, berry-scented version is the perfect summer aperitif.
Pool
Silicone Wine Glasses by CUSAN, $14.50 for pack of 2
These silicone glasses are perfect for an outdoor party because they won't break, and after the event you can roll them up and put them in your pocket. They are microwave, oven, freezer, and dishwasher safe.
2014 Château d'Or et De'Gueules Les Cimels Rosé, $29 (for magnum)
Serving rosés in magnums is a cool trend this year. The big bottles give some excitement to things, and they're ideal for a party. The bottle is twice the usual sized bottle.
2013 Fiction Red Wine, $10
One of these tall-boy cans equals 2/3 of a bottle. It's a big, juicy, tasty red made from Zinfandel and other grapes in California and has a very cool package!