It cooks quickly, requires minimal preparation, and tastes delicious…so it's no wonder shrimp tops the list of the ten most-consumed seafoods in the U.S.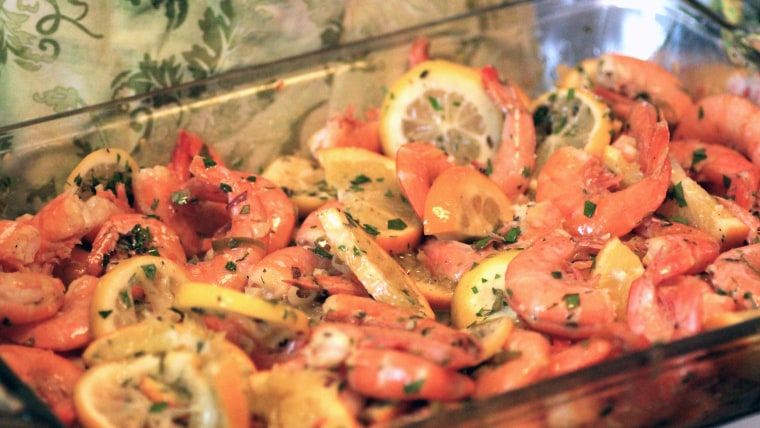 But you might be throwing out the most flavorful part of the shrimp: the shells. Not that I expect you to eat them, but when left on for the cooking process, shrimp shells contribute a depth of flavor that's somewhere between toasty and briny. Cooking unpeeled shrimp is the thing that will really make that shrimp flavor pop, and to reap the benefits, the only thing you need to do is…nothing. It's not always practical to cook shrimp unpeeled—let's say your in-laws are particularly formal--but it makes a hands-on, fun dinner when you can get away with it.
Celebrate summer with a shrimp boil and fried pickles from SORTEDFood
Still not sold on the advantages of shrimp shells? Consider:
I have yet to meet a person who does not despise the prep task of peeling raw shrimp. This gets you out of it.
It's becoming more common to find shell-on shrimp that's already been de-veined (in fact, where I live, that's all I can find), so that makes the equally dreaded task of de-veining the shrimp unnecessary. (I only bother to de-vein shrimp if its digestive tract is especially thick and dark, anyway.)
Shrimp cooked in their shells have a plumper texture, and they don't seem to go from perfectly cooked to overcooked as quickly.
Kids who are not terribly picky love to peel shrimp at the table. It gets them more engaged in their food, and perhaps more likely to try new things.
I grew up vacationing on a small island off the South Carolina coast, and every summer we'd gorge ourselves on boiled shrimp, peeling them right there at the table. It's still the way I prefer to enjoy shrimp. About once every year I invite some similarly inclined friends over and make a big dish of over-the-top New Orleans barbecue shrimp. Barbecue is a misnomer here, because there's no grill, smoke, or sticky-sweet sauce involved in this classic recipe. It's really just a piquant, buttery sauce aromatic with garlic, herbs, and citrus. In a restaurant, your order would probably be sautéed, but to feed a crowd it's easy to bake it in a dish in the oven and present it at the table. The garlicky, swamped-in-butter shrimp are irresistible, and the shrimp shells give the sauce an especially enticing shrimpy essence that you just wouldn't have otherwise.
People need to get their hands dirty when they eat sometimes—just make sure to supply lots of napkins. Everyone helps themselves from the same big dish and chats as they linger over their food, savoring the shrimp they peeled on the spot. If that's too communal for your tastes, plate the shrimp over hot white rice, and make sure to get lots of the buttery sauce on there. And hey, if the idea of serving unpeeled shrimp gives you the willies, don't sweat it. You can freeze them to make shrimp stock later or, yes, just throw them away. No one will know you're missing out but you.