Chef and health food advocate Jamie Oliver is used to being a buzzkill for snack-loving school children. His latest move may cause them the biggest bummer of all.
A new report from the Jamie Oliver Food Foundation, in conjunction with Sheffield University in the UK, suggests that bake sales are overused as an idea for school fundraisers.
"The culture of high fat and sugary foods used as rewards, in fundraising and in celebrations, is creating social and physical environments that contradict children's food education," the report said.
According to the report, 86 percent of secondary school teachers and 85 percent of primary schoolteachers in the UK used bake sales to raise money, while six in 10 teachers said cakes and other sweets were eaten during class celebrations. And parents aren't happy about it; the report found that 75 percent thought these types of foods should be offered only once a term or less.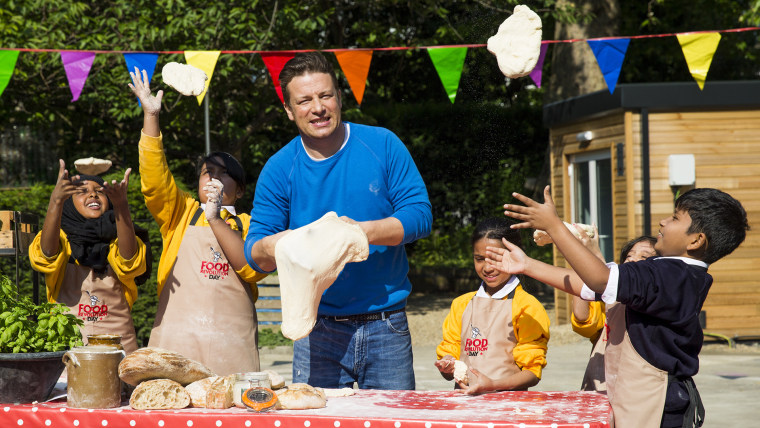 "The frequency of cake sales and the number of items a child can buy are the issues," Sheffield University's Dr. Caroline Hart, who was involved with the study, told TODAY Food via email. "There is an over-reliance on selling cakes, sweets, chocolate, ice cream etc. as a means of making cash quick for schools. This creates unhealthy habits in children and fails to promote a healthy eating ethos."
Hart added that bake sales, giving sweets as rewards and celebrating birthday parties with sugary treats are part of an exemption loophole in the food standards for schools in England, which were introduced in 2014. And with one-third of English schoolchildren battling obesity, these activities are only fueling the problem.
There are mixed messages being sent to kids: First, they should recognize how to eat healthily. But second, a treat or a prize appears to almost always be sugary, salty or fat-heavy. One school offered doughnuts to grades that had 100 percent attendance over the course of a month; another school gave out Domino's and KFC to students as encouragement to study over the weekend.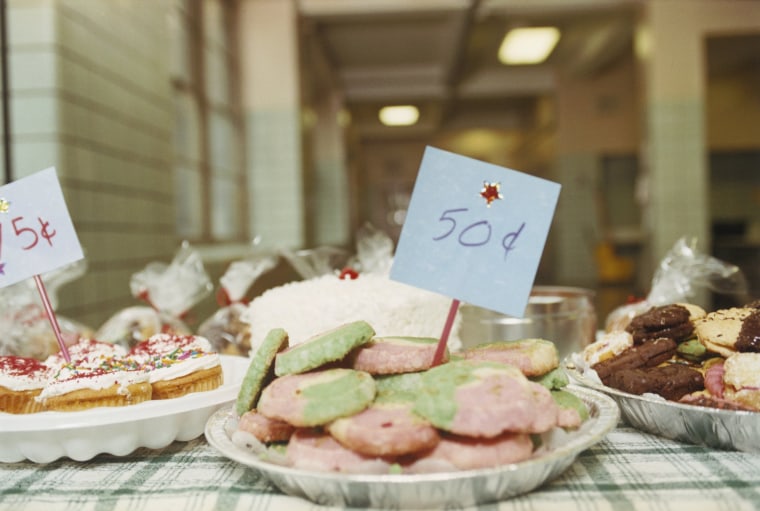 The report also noted that even when salads are offered in schools, it can be harder to reach and placed inconveniently for students, "nestled between other items set back on the main serving areas or in a separate place away from the main queue."
The report includes a wide-ranging look at various issues around food offerings and food education at schools in the UK. "Our research found that the food standards are both inadequate in addressing current unhealthy food practices in schools and in addition, in any case, they are at best only partially implemented," said Dr. Hart.
Oliver's mission has been a long uphill battle; in 2005 the man who was made famous by his show "The Naked Chef" turned to school meals, running the kitchen at a primary school and starting a campaign in Britain to improve the nutrition of lunches. "Jamie Oliver's Food Revolution" came to the U.S. in 2010 as he visited two of the country's most unhealthy cities.
But while his healthy efforts have often been directed at children and school food offerings, kids overwhelmingly preferred institutional fare when it comes to lunch. Meanwhile, a study published in The Lancet earlier this month reported that globally, rates of childhood obesity have skyrocketed, increasing tenfold from 1975-2016.
Oliver does still believe there is hope to get youngsters to change their ways.
In a foreword to the report, Oliver wrote, "We've found that there's a massive difference between the schools that are doing a great job at delivering food education and those that are struggling. We are alarmed at the concerns raised about the food available, particularly in secondary schools.
"But at the same time," he added, "we are really motivated by the teachers, pupils and parents asking for a healthier school environment."
Follow Randee Dawn on Twitter.