Blake Lively uses booze for just about everything but drinking. Hosting a mixology class in celebration of her new line of mixers, Betty Buzz, the 34 year-old actor says she puts St. Germain in her whipped cream and marinates her taco meat in tequila — but her real-life drinking habits are a world away from those of the wild-child "Gossip Girl" character that made her mega-famous.
"I don't drink because I don't like the effects of alcohol, but I like being social," Lively said, twirling the rim of her glass over a plate of crushed candy canes as she assembles a hot-pink "make-out drink." That was her motivation for developing a line of mixers complex enough to stand on their own in nonalcoholic concoctions that can be just as exciting as traditional cocktails.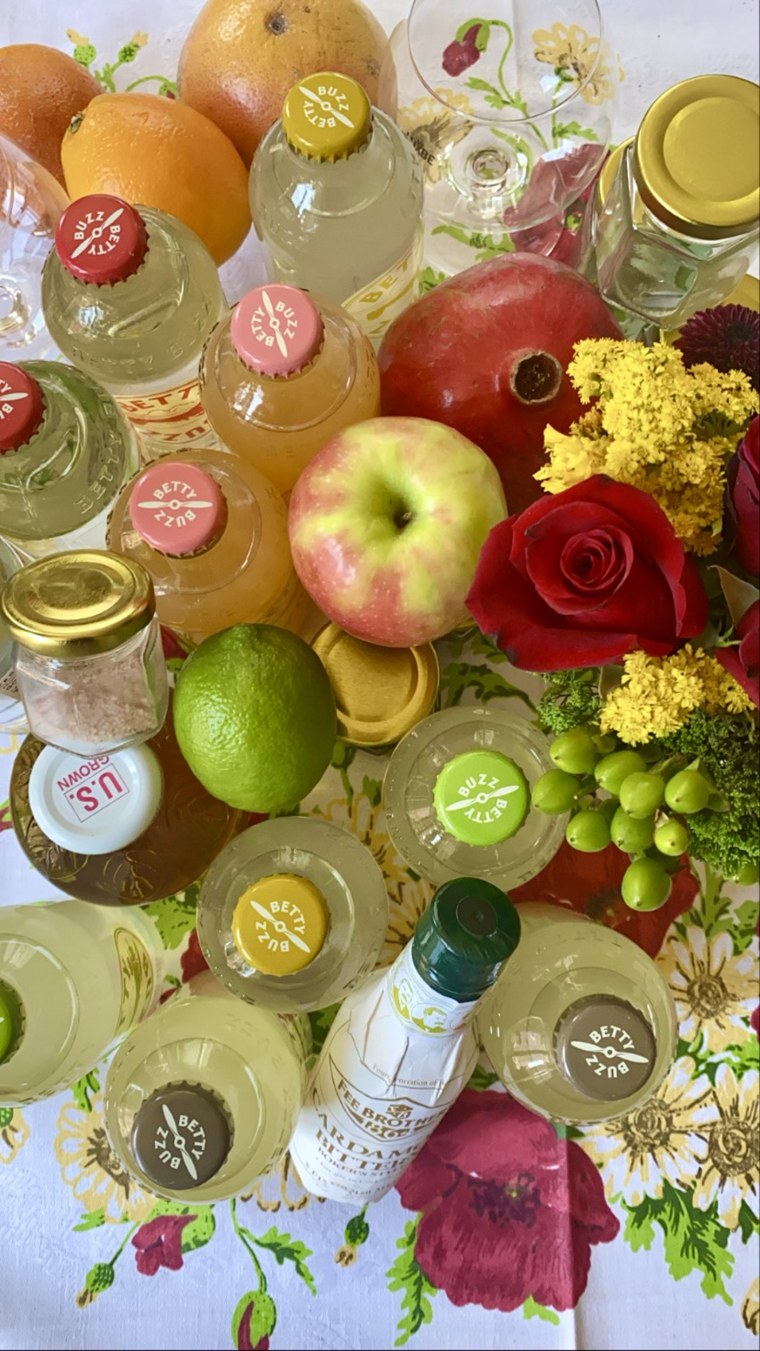 Today, she's playing with the other elements that make a beverage feel festive and fun, whether or not it's alcoholic: fancy ice, glasses rimmed with everything from pink salt to crushed candy canes and garnishes — thinly sliced fruit, dried lavender flowers (rejected for smelling "like socks"), the cinnamon stick she says she rinses off and reuses when her husband Ryan Reynolds finishes his cocktail.
While Reynolds is famously the face of Aviation Gin, Lively's been on the booze-free bandwagon for a long time; she recalls exactly one bar in New York City, Little Branch, where the bartender would make her a mocktail when she came with the "Gossip Girl" crew over a decade ago.
The head bartender there, Chris Vola, who has been at the ritzy Manhattan cocktail lounge for 13 years, recalled that a mocktail menu they experimented with at their sister bar Middle Branch back in 2012 was not exactly a smash hit. "It was kind of a waste of space on the menu at that time," Vola told TODAY Food. "It didn't really change how many people ordered those types of drinks and bartenders didn't like making them for maybe half the price of a cocktail."
The booze-free bandwagon
But that was then. Today, Vola himself periodically takes a month off of booze "to refuel and detox a little bit." And among millennials, Lively is no longer alone in her desire for better boozeless drink options. Taking note, young entrepreneurs have begun filling a growing niche.
According to The New York Times, the nonalcoholic beverage market is going to be worth an estimated $1.6 trillion by 2026. And millennials play no small part in the demand. For example, Forbes reported that millennial consumers make up the largest segment, 42%, of no- and low-alcohol beer drinkers in America, helping drive explosive growth that is expected to reach $16.65 billion by the end of this year. Alcohol-free wine is playing catch-up, too, but for millennial tastemakers, the siren call right now is coming from the booze-free cocktail game.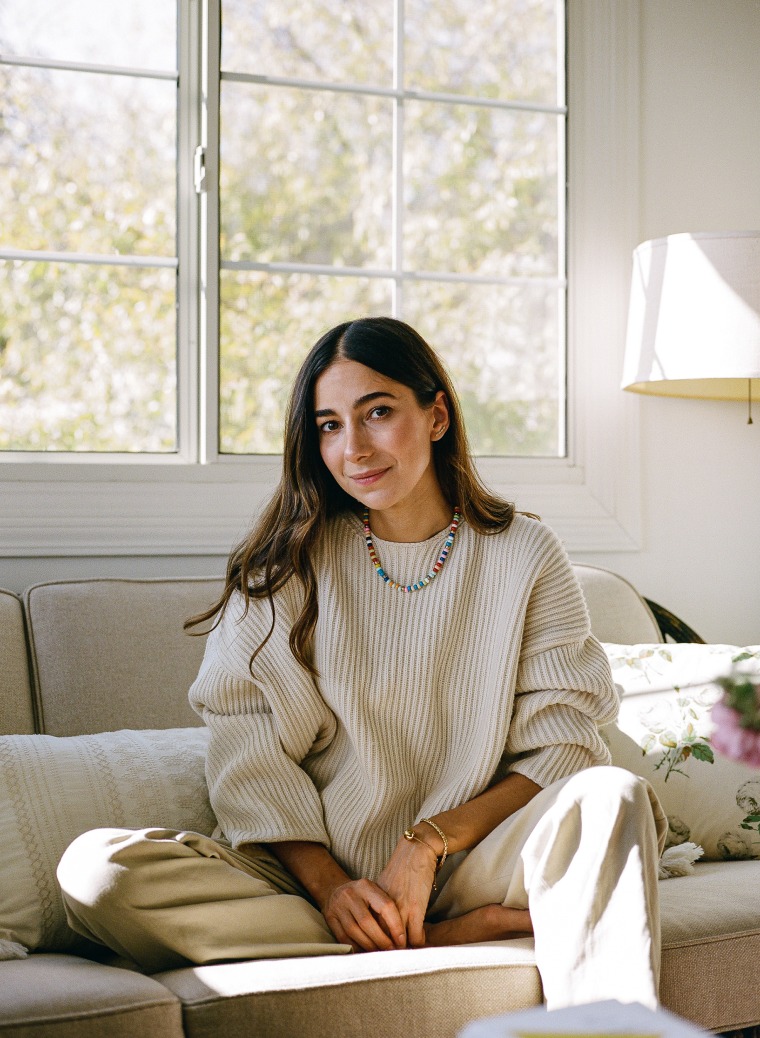 Like Lively, Ghia founder Melanie Masarin, 30, says her company, which makes a popular nonalcoholic aperitif, evolved out of a personal need. "I was trying to figure out my digestion and understand my body better. One day, I realized six months had gone by since my last drink. I decided not to ask myself the question at every meal whether or not I was going to drink and just fully opt out," she told TODAY. "I was never a big drinker but I loved the taste of it and the occasion. It makes things celebratory, and that's what I was missing when I stopped drinking. So Ghia started out of the desire to have a better option when I was out."
Masarin knew exactly what she wanted her concoction to taste like. "When I was drinking, I loved a Campari, amaro, and I really wanted it to have different notes, something with bitterness and a drying effect, some tannic and herbal notes, that you could mix and spritz with. I really believe if you try to replicate something alcoholic but without alcohol, you're not going to get a result that is satisfying."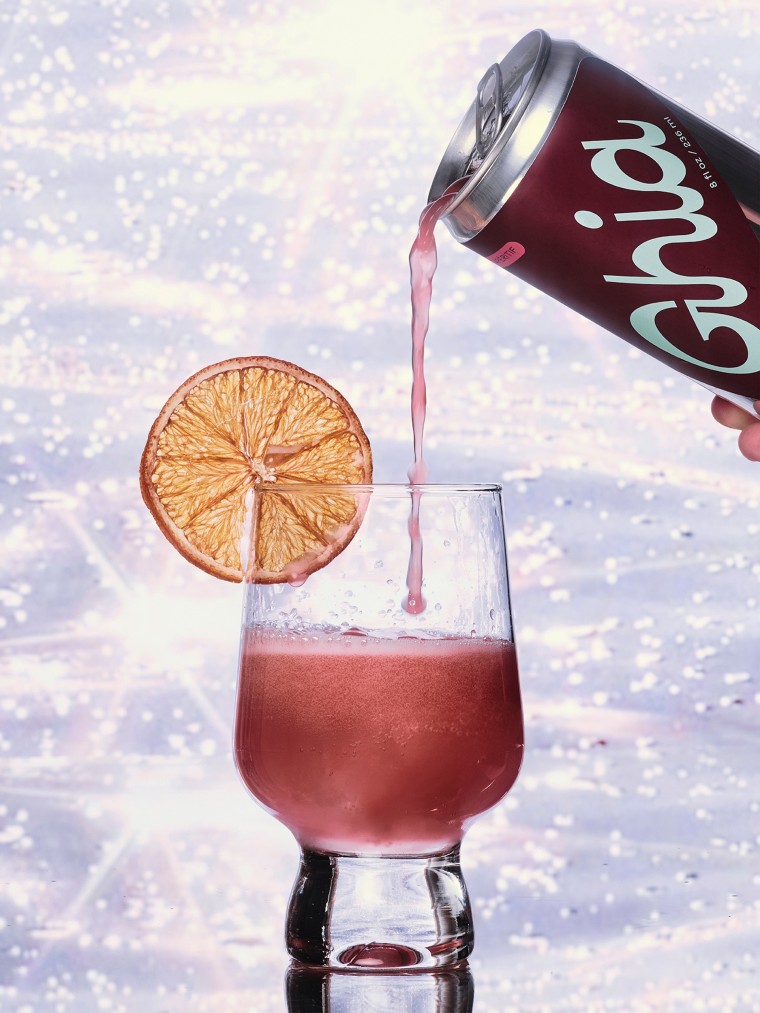 Booze alternatives like Ghia are catching on, but they are still outliers. Alcohol sales skyrocketed during the pandemic and the American Psychological Association reported that nearly one in four American adults is drinking more to cope with the stress. On Grubhub, margaritas were the fifth most popular order of 2021, behind cheeseburgers, tacos, chicken salad and pizza. Nevertheless, alcohol use can contribute to weight gain and disrupted sleep, both of which have been widespread. And if the pandemic pushed some drinkers to consume more, plenty of others have grown more health-conscious.
Masarin believes trends like Dry January and Sober October have had a significant impact in popularizing the idea of a sober, or at least sober-curious, lifestyle. "What it does for people is give them a label that they can use as a shield. It's an excuse not to drink because it's still expected by default that people will be drinking alcohol," she said. "Meantime, something like 66% of millennials are trying to cut down on their drinking. I don't know about sobriety with a capital S, but most of our customers want to drink less during the week and have a better option."
I hope that soon, pushing an alcoholic drink will be like pushing a cigarette on someone.
Melanie Masarin, founder of Ghia
Frustrated in her search for tantalizing but zero-proof drinks, Masarin found a potential business opportunity. "Because there was so little supply, there was no demand. Things are changing really quickly but five years ago when you're opting out of drinking at dinner, there's a lot of pressure: 'You're so boring, just have one drink.' I hope that soon, pushing an alcoholic drink will be like pushing a cigarette on someone, where it's just not socially acceptable. We're not there yet," she admits. "But once I became more confident in saying, 'I'm not going to drink,' I would notice another person at the dinner table opt out. So it's an invitation. People can order a drink without having to be questioned by their friends, or be very incognito at a wine bar."
Having felt excluded from drinking culture, many purveyors of nonalcoholic drinks now make it a point to be as inclusive as possible. "There's a spectrum of betterness that goes in a bunch of different directions and this is one of them," Masarin said. "People often tell us when they stop drinking, they have a renewed compassion for vegan people, because you get the same questioning."
Flavor comes first
When she started working on Ghia in 2018, Masarin tapped her personal network for ideas and feedback. She says friends who drank it at the beginning just to support her quickly found themselves "hooked," commenting on how pleasantly different it was to feel clear-headed after a dinner party or night out. "We're flavor-forward — our primary goal is to make something delicious," she said. "But having a category really helps us make this better-known, get supermarket aisles dedicated to it, educate bartenders about the growing market for nonalcoholic drinks. It's very expensive to be the only one in a space. We want to show up in more places as the world reopens."
Curious Elixirs founder John Wiseman, 41, shares that same mission. "The first priority of our drinks is to make something that is complex and delicious, that kind of unfolds in your mouth and has a beginning, a middle, and an end," he told TODAY. "That's why we call it 'Curious,' because we want something where people are trying to pick apart the flavors."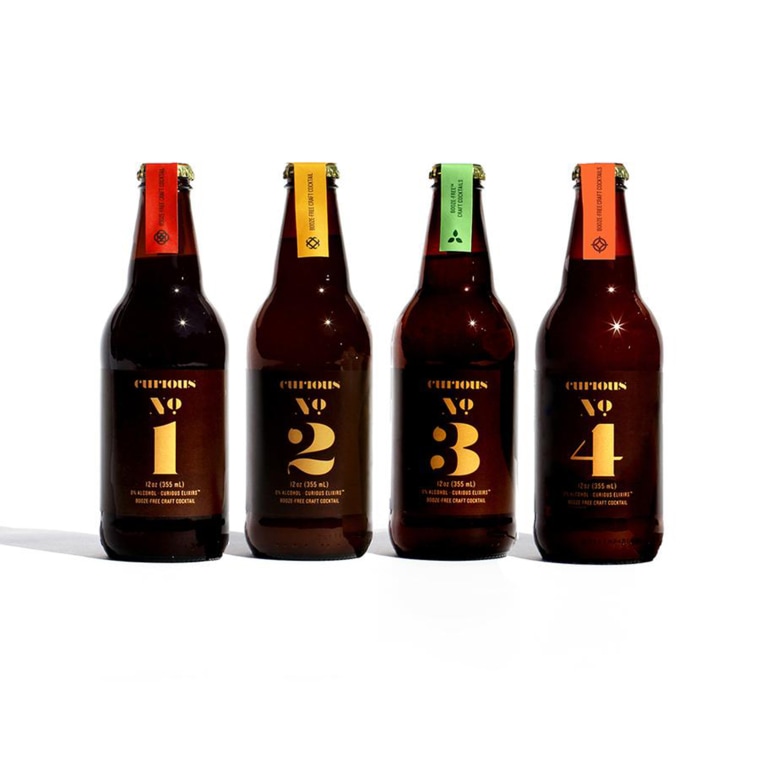 These days, Wiseman drinks "a little bit," but a decade ago, he drank quite a bit. The third employee at Thrillist, he has been in the hospitality and service industry since he was a teenager and considers himself a lover of bar and nightlife culture.
"There was a night back in 2012 where I had 20 cocktails. I wasn't even hungover the next day. Alcohol had so acclimatized in my system that I wasn't even— I was a little foggy. I should've been wrecked the next day. That's when the tinkering began. There are 75 million American adults who don't drink at all, and the top 10% of drinkers drink 75% of the alcohol. I was in that 10%." Wiseman was freaked out enough to start cutting back. "What I did first was give up alcohol Sundays, Mondays and Tuesdays. Three years into my sober-curious journey, I was like, 'You know what, I think there's a business here.'"
Wiseman apprenticed with food scientists and began ordering translations of Russian and Chinese texts as he taught himself about everything from Ayurvedic herbs to adaptogens. He wanted a product that would help mimic alcohol's effect on the body in certain ways. "One of the secret missions of Curious is to explore more of these ingredients," he said. "We see them as bolsters for the body. There's shatavari, that is traditionally used in love potions; gentian, which we use for a touch of bitterness, creates this flushed feeling, similar to the first 20 minutes of alcohol. Rhodiola, a classic adaptogen, made its first appearance in medical literature in 66 A.D. It's a mood lifter and helps balance cortisol in the body. They're amazing herbs."
By 2015, Wiseman had articulated his concept for Curious Elixirs. The field was not exactly crowded. "There was zero competition. With a sober friend, when we'd go out to lunch in Manhattan, in those days there was nothing for us. I can't have another seltzer. I want something that is crafted and delicious. There was nothing nonalcoholic that was adult. I don't want a Shirley Temple, I want a negroni without booze."
We're trying to show that life can be as fun, or even more fun, when you're not drinking.
John Wiseman, founder of Curious Elixirs
Curious Elixirs, which are sold direct-to-consumer, now has customers in every state. "It's really heartening to see probably a hundred companies doing this," Wiseman said. "If we helped inspire people to drink a little bit less, be a little bit kinder to their bodies and have a damn good time doing it, we welcome the competition." Like Masarin, Wiseman says that some people just want a grown-up-looking drink in their hand while they're socializing. "It'll fit in, no one will need to know the difference. Some people are out, loud and proud about it, but either way, you just need better options. We're a judgment-free brand. We're trying to show that life can be as fun, or even more fun, when you're not drinking."
Nonalcoholic drinks can come in very handy both for nondrinkers and for bartenders who are supposed to avoid over-serving their guests. "When you're standing there with a very elegant-looking cocktail in your hand and people are assuming you're doing what everyone else is doing and you're being social and civilized and polite, the conversation doesn't need to be fueled by (Bacardi) 151 rum and a couple of Jägermeisters," said cocktail historian and bartender Jim Hewes. Hewes has worked at the Round Robin Bar at InterContinental The Willard, just down the street from the White House, for 35 years. At the so-called "Oval Office of bars," he has waited on every living president.
Better bar behavior
According to Hewes, embracing the growing demand for nonalcoholic options at bars is simply good business. "It's to the advantage of someone in the hotel or restaurant world to be able to satisfy the want of their guest, and it also opens up a whole new avenue of revenue and profitability. All you need is a leader of the pack. If somebody walks in with a group of people and says, 'I'll have an Intercontinental 75 made with Fever Tree tonic,' the bartender knows it's a nonalcoholic drink, and then the others go, 'I'll have what she's having.' We want to make people feel comfortable whether or not they're drinking booze. And that stigma if you're not drinking, I think a lot of that is going away."
Hewes has noticed a huge shift particularly in business groups at the bar. "In the old days, it was a big deal to go out with your boss. Nowadays, they go out and they're hesitant to be the first one to order a drink. Everyone's rolling their eyes looking at you if you order a double shot of Jameson and a PBR. The days of being the dancing fool at the Christmas party with the lampshade on their head, those days are gone. What they do at home is one thing, but in public? Nobody wants to be around that person."
Hewes predicts it won't be long before the major liquor companies get on board. "That will cause a tidal wave, so instead of having 50 martinis at one establishment that are basically the same, having 10 or 20 martinis and just as many nonalcoholic cocktails that are legitimized by their flavors and their style."
The days of being the dancing fool at the Christmas party with the lampshade on their head, those days are gone.
Jim Hewes, cocktail historian and bartender
Flavor and style came up constantly in conversation with Wiseman, Masarin and Lively. Squinting at a slice of pomegranate she was holding up to the light in her mixology class, Lively talked about fighting for legitimacy in the space as a nondrinker. She says her team wondered if coming out with a line of mixers would be like "pushing a boulder up a hill." But since Betty Buzz is crafted to work in drinks with or without alcohol, she relied on flavors like Meyer lemon and sparkling grapefruit to speak for themselves. "I thought it would be a market for drinkers, and now so many nondrinkers are embracing this. It makes it social and fun for everyone."
The fun factor is huge for Wiseman, too. "I'm really encouraged by how much momentum there is right now," he said. "Life can be more whimsical (without alcohol). Some of the best nights happen when you least expect it."