It's not usually recommended to start your day off with booze — but what if you don't actually drink it?
A cocktail-loving couple in Loveland, Colorado has developed a new deodorant that isn't made with soap or aluminum-containing compounds. Instead, it's made with a very unusual antimicrobial ingredient: whiskey. And it's called Pit Liquor.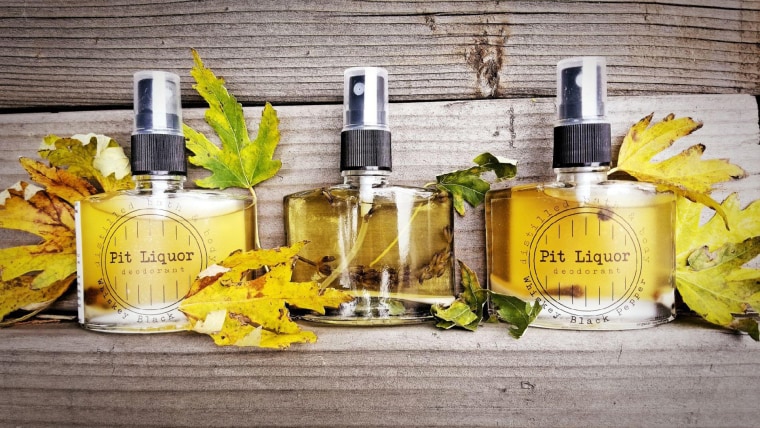 Seeking an alternative to chemical-laden deodorants, Erica Feucht, a 33-year-old editor, and her husband Jason, a 35-year-old IT manager, came up with the idea to use an alcohol-based product in the same vein as hand sanitizers. They felt that many so called "natural" deodorants were inactive, so to make their product more unique and fun, they decided to use whiskey.
"Jason spent about 10 months doing the research for this deodorant before beginning to make any," Erica told TODAY Food. She added that he spoke briefly to their doctor about the idea but decided to do further research himself, and even read up on medical deodorant textbooks.
"I think Jason's research is what makes this the best deodorant out there," she added. "I don't know any other brand that has put so much thought into the things that they have in their deodorant. He's basically a walking medical expert on underarms."
So what, exactly, is in this concoction? Pit Liquor contains high proof alcohol (above 136 overproof in the final product) along with a proprietary extract made with teas that also have antimicrobial properties. "We also use salt which will keep you a little more dry and unfriendly to bacteria," the Pit Liquor team explains on the product's Kickstarter page. And finally, there's arrowroot powder, which the makers claim helps with dryness and also keeps you free from odor-causing bacteria all day.
But the couple insists Pit Liquor works. They told TODAY Food they've used the spray deodorant themselves for a year and then conducted trials with 50 friends before continuing to work on it for another six months. They're now hoping to raise $12,000 on Kickstarter to launch it into a full-fledged business — and they've already met their goal with two weeks left in the campaign.
Of course, having a cocktail after work is one thing, but you might be wondering if you'll smell like whiskey all day if you wear it. The deodorant scents are Whiskey Lavender, Whiskey Vanilla and Whiskey Black Pepper, but Erica insists it will not leave you reeking like plain liquor. However, there is a warning on the Kickstarter page that reads, "While the liquor smell will dissipate quickly, those with a nose really accustomed to it [such as bartenders] might still detect it for a little while."
And if you're thinking this could be a good way to have a stash of alcohol in your medicine cabinet, not so fast.
Even though it's made of liquor and completely edible, Pit Liquor isn't meant to be imbibed. In fact, they made it taste bad to prevent people from taking a swig, since that is not the product's intended purpose.
Want to give this whiskey-based deodorant a try? The company says Kickstarter backers will start receiving product samples in February 2018.