Don't panic, but Starbucks stores across the country are closing early today, so lovers of the coffee chain will need to get their fix early.
On Tuesday, the Seattle-based coffee giant will close 8,000 of its company-owned stores to undergo diversity training.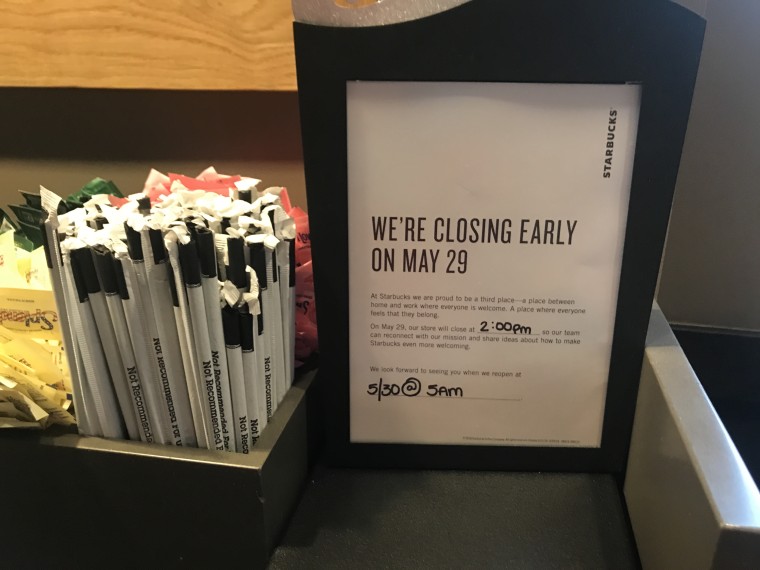 Why is this happening?
After an incident of alleged racial discrimination at a Philadelphia store, which resulted in several protests against the company, Starbucks wants to spend a few hours educating its employees (which it calls partners) about racial bias.
After the incident in which two black men were arrested for sitting in the coffee shop without making a purchase, the world's largest coffee chain has since officially declared that no purchase is necessary for any customer to sit in one of its stores.
What will employees be doing?
During the closure, more than 175,000 Starbucks employees will have a "conversation and learning session on race, bias and the building of a diverse welcoming company" according to a preview of the curriculum released by the company.
The program includes comments by Howard Schultz, founder and chairman; Kevin Johnson, president and CEO; as well as board members, store manager and even artist and activist, Common. "It won't be perfect," a Starbucks video about the training says, "but we're all in this together."
What time is Starbucks closing?
Most stores are closing for the day around 2 p.m. or 2:30 p.m. local time, they'll be reopening in the morning on May 30 at their usual hours. The best way to find out exactly when your local store is closing is to check the exact hours for each Starbucks location on the company's store locator page.
So where can I get some coffee?
Concerned about getting an afternoon pick-me-up? Don't worry, there's plenty of coffee to be had from coast to coast.
Starbucks is only closing 8,000 or so company-owned stores; however, stores operated by major grocery stores, hotels, universities or airports, about 7,000 locations, will likely remain open throughout the day. So if you really need an original Frappuccino fix, try the nearest Target or grocery store that has a Starbucks.
In the absence of an in-store Starbucks, Dunkin' Donuts has thousands of East Coast locations, with many open well into the evening. Here's a Dunkin' Donuts store finder. On the West Coast, try Peet's or Dutch Bros. Also, try visiting a locally-owned or black-owned coffee shop to support small business owners.
This is actually not the first time Starbucks has closed all of its stores. In 2008, it shuttered its doors for three hours for company training.