Think roasting a Thanksgiving turkey is for the birds? No worries, we've sourced 10 purveyors who provide precooked, heat-and-eat turkeys. All you need to do is order early and sleep in.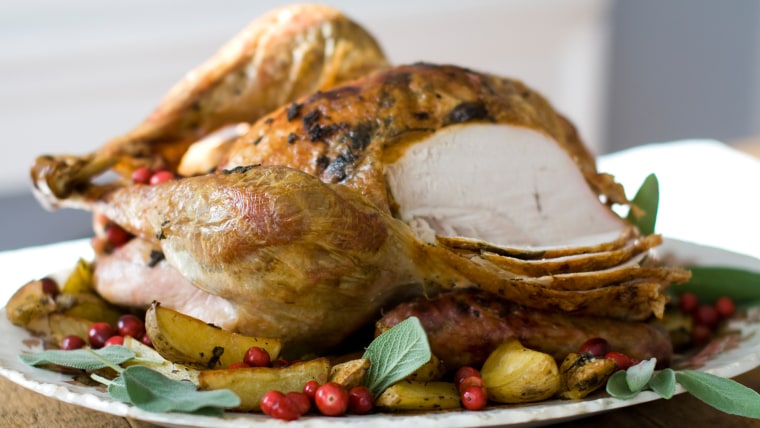 This organic mecca offers a whole roasted, brined bird or a meal-for-four including a natural boneless, skin-on breast (for maximum moistness and flavor) from sources like Diestel , a fourth-generation family farm committed to slow growth, no antibiotic or growth hormone turkeys. Classic sides include mashed potatoes, cranberry relish, gravy and stuffing. For more information, visit Whole Foods.
Tiki-themed Trader Joe's has assembled three options: A whole roasted turkey, a turkey breast with home-style cornbread stuffing or a boneless turkey breast seasoned, seared, rotisserie-roasted and finished sous-vide style (in an airtight plastic bag in a water bath) for maximum moisture and flavor distribution. Order in store only; for more information, visit Trader's Joe's.
Costco sells 6 million pounds of precooked turkey breast a year—375,000 pounds of which are hawked around Thanksgiving. Reared at a farmer-owned cooperative in southwest Michigan, the birds are specially seasoned and available only through a Costco warehouse. For more information, visit Costco.
Mix and match a whole roasted Butterball turkey, roasted turkey breast or a ready-to-serve piping hot bird with choices like mac and cheese and sweet potato casserole to edamame and wild rice salad. Plus, store staff will be on hand to guide dazed shoppers. Says spokeswoman Ruth Comer, "We know what you ordered, even if you don't." For more information, visit Hy-Vee.
Market Fit-focused Sprouts sells The Natural Turkey Meal and Boneless Turkey Breast Meal with traditionally indulgent sides like mashed potatoes, cornbread stuffing, broccoli au gratin, home-style gravy and cranberry sauce. Craving more carbs? Both meal choices come with a dozen Hawaiian, white or wheat dinner rolls. For more information, visit Sprouts.
A la carte items include a medium or large freshly-baked turkey and a host of homey add-ons like chestnut stuffing and sweet potato mousse. Launched in 1969, Stew Leonard's is serious about service; their motto is even displayed in each store: "The customer is always right. If the customer is ever wrong, re-read rule #1." For more information, visit Stew Leonard's.
Opened in 1951, the Gelsons cater to southern Californians with three roasted turkey options: Jumbo, regular-sized or reduced-sodium birds paired with sides dishes like cornbread stuffing, mashed potatoes, vegetable medley, turkey gravy, cranberry sauce, gingered yam souffle and (whew) dinner rolls. For more information, visit Gelson's.
Known for gourmet fare, The Fresh Market prepares a whole roasted turkey with classic herb stuffing, Yukon Gold whipped potatoes, home-style turkey gravy, cranberry relish and one dozen soft yeast rolls. For larger gatherings, the deluxe meal includes all the fixings, plus smoky bacon green beans, corn souffle and petite spiral ham. For more information, visit The Fresh Market.
Southern giant Publix stocks their private label turkeys for Thanksgiving and provides plenty of hearty meal combos to suit every taste. Buyers may choose standby sides, both savory and sweet, like mashed potatoes and gravy and—what else?—pie. For more information, visit Publix.
Southern-based Harris Teeter offers decidedly traditional Thanksgiving fare with an a la carte menu that features a whole Butterball turkey or a boneless breast combined with time-honored sides like fresh cornbread dressing, cranberry relish and boldly-named green bean supreme. For more information, visit Harris Teeter.
A version of this story originally appeared on iVillage.