The wait is over. All-pink Starburst packs are finally in stores. Like, right this second. But only for a month. (Are you out the door yet?)
Chances are, even if you're not a fan of the cult-favorite pink candies, you know someone who is: Starburst's parent company, Wrigley, decided to finally release a pink-only bag due to overwhelming demand.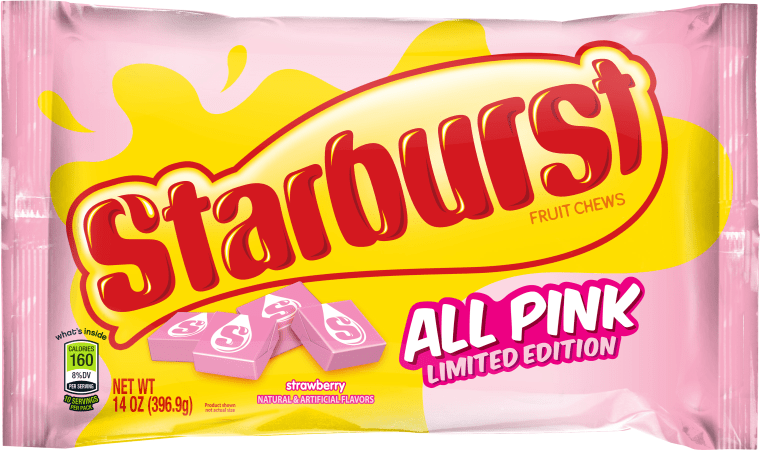 "Believe it or not, over half of all references to Starburst on social media are about pink Starburst," a Wrigley spokesperson told TODAY Food.
The company has seen everything: relationship memes, #blessed photos when someone gets a double-pink chew in a fun-size pack, and just general pink-Starburst mania.
The cult favoritism surrounding the pink candies didn't go unnoticed: "Everyone has a favorite Starburst flavor, but pink has certainly risen to the top," the spokesperson added. We figured it was time to reward our fans!"

The all-pink packages are available in select stores nationwide, including Walmart, Walgreens, Target, Kroger, Meijer, H-E-B and Amazon.
A 14-ounce bag is $3.19, while the 2-ounce sticks are 99 cents (about the same price as original Starburst flavors).
RELATED: OREO reveals first candy bars and they're amazing
Though there are defenders of the other three original colors (red/cherry, orange, yellow/lemon), pink, aka strawberry, seems to have won over most fans for its most true-to-life fruit taste.
There's a Pink Starburst Frappuccino you can order off the Starbucks "secret menu." Food bloggers mix up Pink Starburst martinis. Oh yes, and cupcakes.
Beyond that, though, the pink Starburst has broken the barrier of being just another snack craze. It's become a full-blown cultural compliment in its own right to be called "a pink Starburst," achieving a Stuart Smalley-level of self-esteem iconography:
Not bad for a little pink square of taffy.
This post was originally published on Mar. 3, 2017 and has been updated.