I came across a recipe the other day that called for a bunch of anise and I realized that I didn't know what a bunch of anise actually looked like. My only experience with anise was adding it in its powdered form to biscotti. I took a trip to the grocery store to see if I could find anise among the herbs, when I spotted a sign marked "anise/fennel" hanging above the bulbous vegetable I had been familiar with for years. In my Italian-American family, slices of raw fennel were always present at the holiday dinner table as a palate cleanser between our numerous courses. We called it finuke, which I now know was slang for finocchio or Florence fennel, the white, bulbous plant that most of us think of as fennel. But were fennel and anise one and the same?
No, although in the U.S. they are often marketed as such, as they were in my supermarket. While anise and fennel both have a licorice-like flavor, they come from different plants. You'll often find anise in seed form, either whole or ground, while you can buy fennel as a seed, leaves, or as the aforementioned finocchio, whose fronds, greens and bulb are all edible. (Another form of anise, star anise, is unrelated.)
While raw fennel bulb adds a delightful crunch to salad, it's equally delicious sautéed, as in this recipe from Maria Zoitas, the chef behind the yummy prepared foods at Westside Market in New York City. I also like that this recipe calls for entire bunches of herbs, since I usually end up throwing out herbs that have gone bad before I've had a chance to use them. This salad is great with grilled fish, though the quinoa provides enough protein to make for a standalone meal.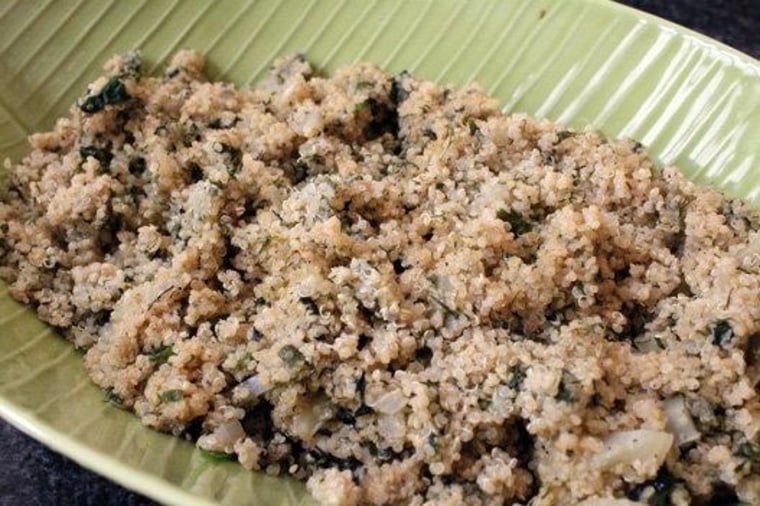 Spinach Quinoa Mediterraneo
3 cups uncooked quinoa
1 bunch parsley, chopped
1 bunch dill, chopped
1 bunch fennel, bulbous part only, chopped (click here for a tutorial on chopping fennel)
1 bunch scallions, sliced
1 Spanish onion, chopped
4 cups spinach
2 tablespoons olive oil
2 teaspoons Kosher salt
2 teaspoons black pepper
6 cups water
In a large, heavy bottomed skillet, saute onion, scallions, fennel, salt, pepper and herbs in olive oil over medium heat until the onion and fennel begin to soften. Add water and cook for five minutes. Add quinoa, cover, reduce to a simmer, and cook for 15 minutes or until most of the water is absorbed. Add spinach and cook just until wilted. Serve warm or at room temperature.
Get more tips and recipes for seasonal eats atMade By Michelle.
More from TODAY Food: