If you frequent farmers markets or are a member of a CSA (Community Supported Agriculture) you've probably seen a plethora of garlic scapes in recent weeks. The scapes are long, curly green shoots that sort of look like an onion -- the kind of vegetable that's pretty to look at, even if you might not know exactly what to do with it. I first heard about scapes last summer when I came upon a recipe for scape pesto on Dorie Greenspan's blog. I bought a bunch of scapes the next time I was at the greenmarket and tried my hand at making my own pesto. Yum!
Scapes have a distinctive, garlicky taste, because they're a part of the garlic plant. The scapes grow out of the top of the plant, almost like a flower. Scapes are frequently discarded by gardeners who are more interested in the garlic bulb, which is unfortunate because scapes are not only edible, but versatile. They can be chopped up and used in frittatas or dips, or ground into a paste for pasta and tapenades, which is what I did again this year. I adapted Dorie's recipe a bit to suit my pesto preference, and you should do the same. But do so quickly—scapes have a very short season and won't be available for much longer.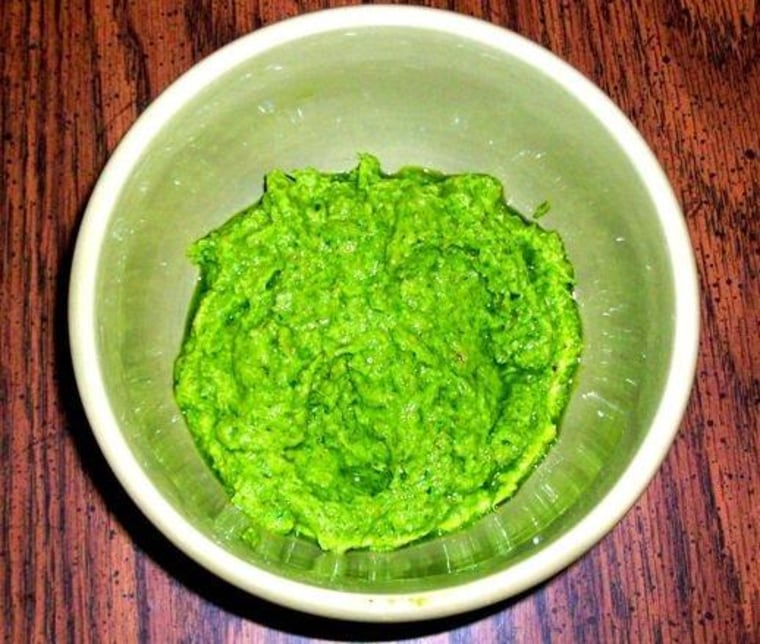 Garlic scape pesto (adapted from DorieGreenspan.com)
8 garlic scapes, finely chopped
½ cup grated Pecorino Romano cheese
1/3 cup walnuts
¼ cup basil
½ cup olive oil
Sea salt
Note: These are guidelines for quantities. Add more of one or all to achieve your desired taste and consistency.
Combine all ingredients in a food processor to taste and texture. Add to pasta or use as a tapenade with crusty bread.
Get more tips and recipes for seasonal eats at Made By Michelle.