One of the best parts of the weekend (especially this glorious three-day jackpot) is chowing down on delicious eats. We wanted to know what the TODAY family was craving, so we asked, and ended up with this little gem with TODAY financial expert David Bach:
"What I'm craving is a plate of nachos and a margarita. I'm known for my Bachos Nachos. So, my plan tonight is to make a massive Bachos platter, and share it with the family. I also make a mean margarita, with Petron Silver and Contreau, shaken and cold!"
What? Bachos? Who knew that this money master was also a hero of happy hour cuisine? Like chips, we couldn't stop at just this one tidbit. David was kind enough to share with us the legend of Bachos, and how we can get it on the party.
"Ask my boys what's daddy's favorite food is, and they will both say nachos! I always joke that I want to travel around the country doing a nacho show, where I'll taste and discover the greatest nachos in every city. I started making them in high school, and pretty much ended many college and post-college nights making nacho platters for friends. At some point, my friends just started referring to them as Bachos, and the tradition became legend. A typical platter of Bachos is made up of restaurant-style tortilla chips, massive amounts of cheese, jalapenos, salsa and/or fresh tomatoes, black beans, guacamole (if available) and then more cheese! Heat it in the oven, or if needed quickly, a microwave. The key to good Bachos is layering the cheese on the plate, then chips, then more cheese. Mix in the beans, jalapenos, salsa, cheese and add more chips. Then cover it all again with more cheese, and add guacamole on top...yummmmmm!"
"Yum!" is right, David. But one can't survive on Bachos alone. Here's inspiration by some of our other food-loving family members:
Tamron Hall: "I have recently taken a few cooking classes so this week was all practice, practice, practice. This weekend is all about eating out. I am craving steak and my new favorite mushrooms! Oh, and did I mention chocolate?  The craving for molten chocolate cake never goes away."
Al Roker: "Rack of lamb, duck breast and wild rice with roasted brussels sprouts."
Peter Alexander: "Sadly, no cooking on the campaign trail. I'm craving a nice salmon and, how 'bout some roasted brussels sprouts. As for what I'll actually eat? I'm always open to recommendations -- en route to Salt Lake City for TODAY."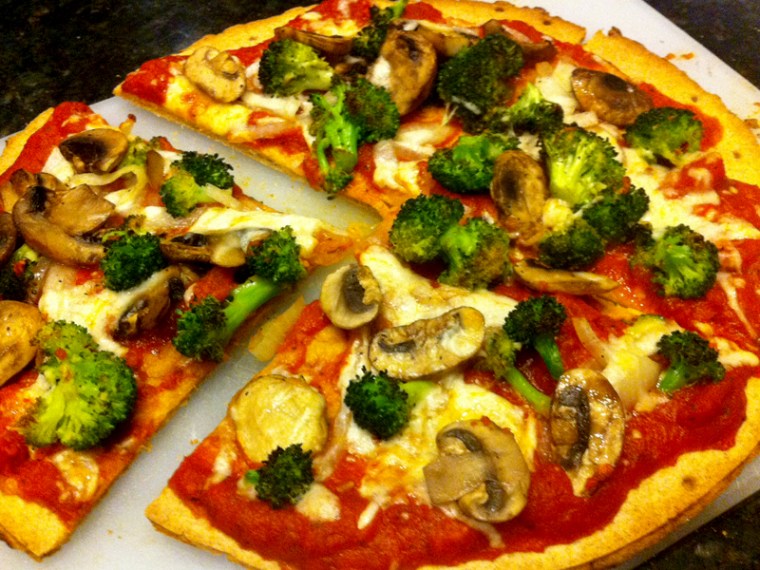 Joy Bauer: "I'm craving (and making) whole wheat vegetable pizza with my kids. I top a whole wheat crust with tomato sauce, sauteed broccoli, mushrooms, onions and lots of part skim mozzarella cheese. YUM! With a glass of Cabernet."
Vidya Rao is a food editor at TODAY.com. She already satisfied her craving, destroying a box of assorted macarons.