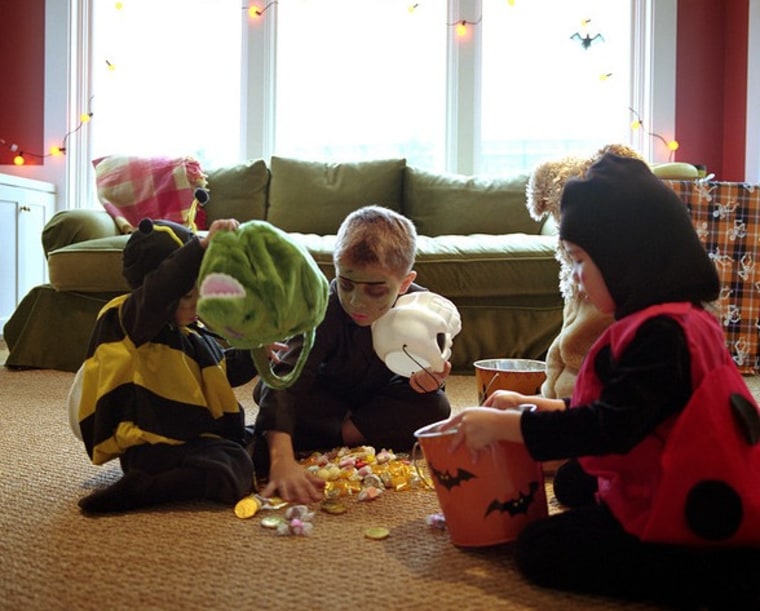 Ah, Halloween. We all remember the post-trick-or-treating high, the adrenaline rush we'd get as soon as we got home and emptied out our hard-won collection. The anticipation – and a sense of endless possibility – was at its peak just before the candy hit the floor.
After rifling through our stash, the candy would end up in two piles: good and bad. Good might be bartered for "better" if gullible siblings or friends fell for it. Bad couldn't even be given away and ended up in the trash or in mom's office the next day, only to pass on the sense of dissatisfaction to her co-workers.
Americans spend a whopping $2 billion on candy, and most of it is bought in the lead up to Halloween. After getting into a heated debate about candy corn, the most reviled candy in the TODAY.com office, we discovered that it's actually the top-selling candy. Serious Eats even calls it "the most polarizing candy of all. The fruitcake of Halloween; it just never goes away."
We decided to poll some of our readers on Facebook, and at present count, got more than 800 responses regarding the candy they enjoyed least. Numerous people hated candy corn, but another one fared even worse: Mary Janes or other brands of the peanut butter and molasses flavored taffy kisses that are often wrapped in black and orange for the holiday. Here's what some of you had to say:



There were other candies readers consistently ranked as being horrible, including Tootsie Rolls, black licorice, Necco wafers, and Good 'n Plenty. Many others broadly stated that "hard candy" just didn't cut it.
And of course, getting fruit was a definite downer – even President Obama worried about the first lady's decision to add dried fruit to White House goodie bags. 
"Halloween's coming up, and she's been giving – for the last few years – the kids – fruit and raisins in their bags," President Obama said on "The Tonight Show" last week. "And I said 'the White House is going to get egged if this keeps up. You need to throw some candy in there ... put in a couple Reese's Pieces or something.'"
Several readers remember getting raisins or even apples. One put it best:

And, while you think you're doing a favor giving out toothbrushes, most kids don't appreciate your foresight, so best to stick to the candy!

Here's what TODAY staffers had to say about their picks for the best and worst candy. Take our poll and share your thoughts in the comments below. Hurry, you still have time to get the treats that won't get you tricked! 
I loved Reese's pieces (especially the adorably small bite size ones), but I was always disgusted with candy corn. I imagined it's what fairy puke tasted like. It had only one functional use: biting off the top tiers -- thereby leaving the white part -- and pretending they were baby teeth. -Rina Raphael
Twizzlers. Can't stand them (then OR now). They taste like strips of red patent leather. -Alex Smith
When I was a kid, I LOVED (and still do) Three Musketeers. It's creamy, chocolaty and delicious! Plus it has a cool name, so what wasn't to love? I hated Almond Joy. I couldn't stand the coconut texture. It's grown on me since I was a kid, but still definitely not one of my favorites! -Lisa Granshaw
Best candy is Smarties. Worst candy is Tootsie Rolls. Tootsie Pops are a close second, since all the work you do just leads to a Tootsie Roll at the end. My grandmother used to give out gum, a whole package of Stella D'Oro breadsticks and dollar bills, so if there was an "other" category for best Halloween haul, I'd say gum, a whole package of Stella D'Oro breadsticks and dollar bills. That was awesome. -Amy DiLuna
LOVED: Anything chocolate.  Specifically, Reeses, Snickers and Butterfingers…but really anything chocolate got a big ol' thumbs-up from me.  (My Halloween costumes would literally have chocolate stains on the by the end of the night). HATED: Waxy candy, like those wax bottles or wax lips.  Go figure, they taste like WAX! --Katie Quinn