Looking for a great recipe for dinner tonight? How about letting the weather help you decide what to cook? The popular food website Epicurious — which just relaunched with a new look — can help you find the perfect recipe based on the weather in your neck of the woods, whether it's blustery or balmy. To get a recipe tailored to your forecast, tweet your location using #OrangeRoom anytime this morning and @Epicurious might send you a recipe link.
And if you happen to be in Cleveland, Orlando, or Portland, Oregon, your food forecast is ready now, and chef and Epicurious contributor Camille Becerra is on TODAY demonstrating how to make the dishes. Cleveland will be partly cloudy with a high of 28 and a low of 21 on Feb 3, so the Epicurious Food Forecast calls for a hearty, slow-cooking dish of chipotle braised chicken. In Portland, a rainy 49 calls for cozy, warm comfort food like pork chops stuffed with mozzarella. The forecast for lucky Orlando is warm and sunny, with a high of 68 and low of 52. Epicurious suggests a light but flavor-packed pasta with shrimp, tomato and arugula. See below for all the recipes.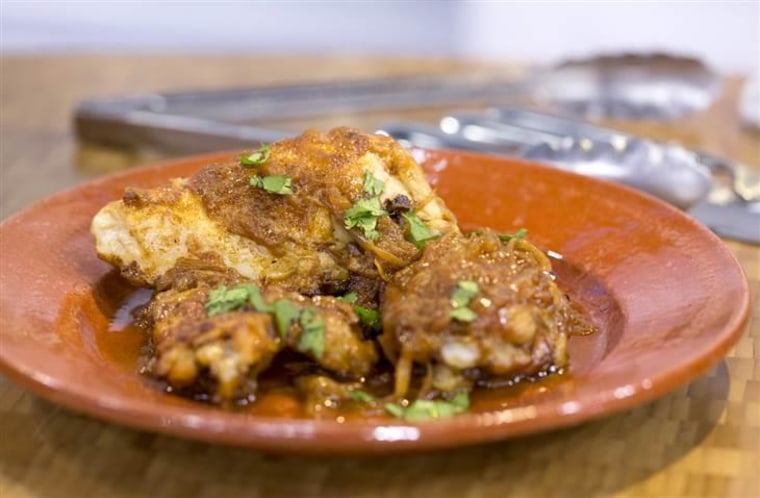 Chipotle Braised ChickenYield: Makes 4 servingsActive Time: 30 minutesTotal Time: 1 1/4 hours
Ingredients:
1 large onion, halved lengthwise, then thinly sliced lengthwise
2 garlic cloves, minced
1 Turkish or 1/2 California bay leaf
1 tablespoon unsalted butter
1 1/2 tablespoons olive oil, divided
3 pounds chicken parts
1 teaspoon chipotle chile powder
1 cup water
1 tablespoon fresh lime juice
1/4 cup chopped cilantro
Accompaniment:lime wedges
Cook onion, garlic, and bay leaf in butter and 1/2 tablespoon oil with 1/8 teaspoon salt in a 12-inch heavy skillet over medium heat, stirring occasionally, until onion is beginning to brown, about 10 minutes. Transfer to a plate.
Pat chicken dry and season with 1 teaspoon salt. Brown chicken in remaining tablespoon oil in 2 batches, 5 to 6 minutes per batch, transferring to a plate as browned.
Discard all but 2 tablespoons fat from skillet, then stir in chile powder and onion mixture and cook, stirring, 1 minute. Stir in water and bring to a simmer, scraping up brown bits.
Add chicken and cook, covered, over low heat, turning chicken once, until just cooked through, 25 to 30 minutes. Transfer chicken and onions with a slotted spoon to a platter. Skim off and discard fat from sauce, then boil until slightly thickened. Stir in lime juice and cilantro and spoon sauce over chicken.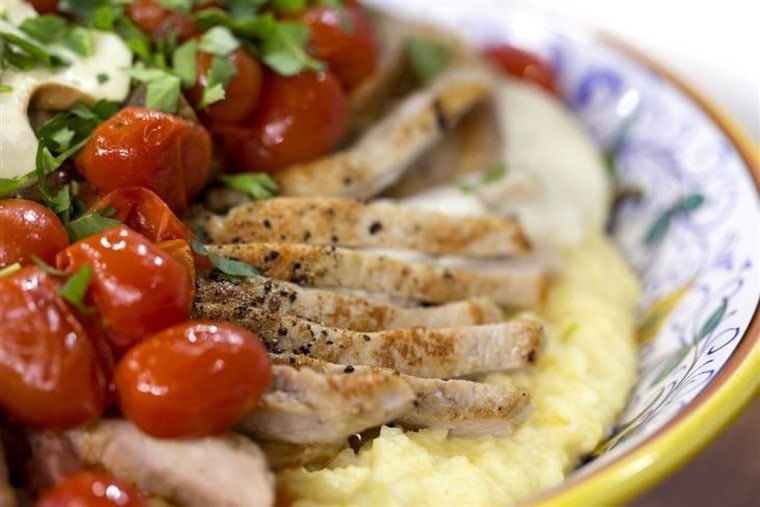 Mozzarella-Stuffed Pork Chops with Polenta and TomatoesServes: 4Active Time: 20 minutesTotal Time: 22 minutes
Ingredients:
1 cup quick-cooking polenta
Four 1-inch thick bone-in pork chops (about 2 1/2 pounds total)
Four 1/4-inch thick slices smoked mozzarella (about 3 1/2 ounces)
1/4 cup plus 1 tablespoon extra-virgin olive oil, divided
2 1/2 teaspoons kosher salt, divided
1 1/4 teaspoons freshly ground black pepper, divided
4 garlic cloves, smashed
2 pints grape tomatoes (about 3 1/2 cups)
1/2 cup low-sodium chicken or vegetable broth
3 tablespoons unsalted butter, divided
1/2 cup milk
Chopped flat-leaf parsley, for sprinkling
Special Equipment:toothpicks
Preheat broiler on high and set oven rack 4 inches from heat. Line broiler pan or rimmed baking sheet with foil.
In a medium saucepan, prepare polenta according to package directions.
While polenta is cooking, prepare the pork chops. Place chops flat on cutting board and, using a sharp paring knife, make a horizontal slit 3 to 4 inches deep and 3 to 4 inches long in the side of each chop. Stuff a piece of mozzarella inside each chop, press the pork closed, and secure with a toothpick.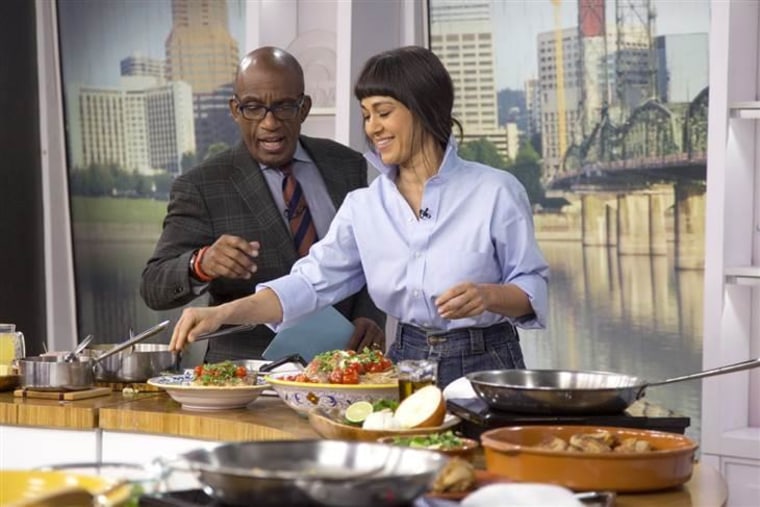 Rub the chops with 1 tablespoon oil, season with 1 teaspoon salt and 1/2 teaspoon pepper, and place on the foil-lined pan. Broil until cooked through, about 5 minutes per side.
Meanwhile, in a large skillet over medium-high heat, warm remaining 1/4 cup oil. Add garlic, tomatoes, and broth. Cover and cook until tomatoes softened and just beginning to burst, 5 to 6 minutes. Remove cover and discard garlic. Stir in 1 tablespoon butter, 1/2 teaspoon salt, and 1/4 teaspoon pepper. Taste and adjust seasoning.
When the polenta is cooked, whisk in enough milk to thin the polenta to your desired consistency. Taste and adjust seasoning. Serve pork chops over polenta, topped with tomato pan sauce and parsley.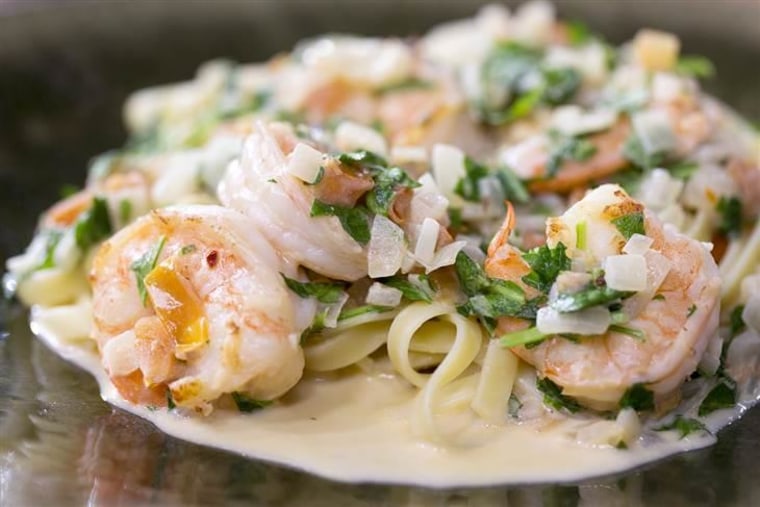 Pasta with Shrimp, Tomato, and ArugulaYield: Serves 2
Ingredients
2 tablespoons olive oil
1/2 pound shrimp (about 12), shelled and deveined
2 large garlic cloves, minced
1/4 teaspoon dried hot pepper flakes, or to taste
1 onion, chopped fine (about 3/4 cup)
4 plum tomatoes, chopped (about 1 cup)
1/2 cup dry white wine
1/2 cup chicken broth
1/4 cup heavy cream
1 bunch of arugula, the stems discarded and the leaves washed well, spun dry, and chopped
3 tablespoons minced fresh parsley leaves (preferably flat-leafed)
1/2 pound fettuccine or spaghetti
In a heavy skillet heat the oil over moderately high heat until it is hot but not smoking, in it sauté the shrimp, the garlic, and the pepper flakes, stirring, for 1 to 2 minutes, or until the shrimp are pink and almost cooked through, and transfer the shrimp with a slotted spoon to a bowl. To the skillet add the onion, the tomatoes, and salt and pepper to taste and cook the mixture over moderate heat, stirring, until the vegetables are softened. Add the wine and boil the mixture until the wine is reduced by half. Add the broth, boil the mixture until the liquid is reduced by half, and stir in the cream. Simmer the sauce until it is thickened slightly, stir in the arugula and the shrimp, and simmer the sauce for 1 minutes, or until the shrimp are cooked through. Stir in the parsley and salt and pepper to taste and keep the sauce warm, covered. In a kettle of boiling salted water cook the pasta until it is al dente, drain it well, and in a bowl toss it with the sauce.