Resisting temptation at a fast-food restaurant and ordering a salad instead of a burger is a tough thing to do. Eating a that burger may come with the expectation that tummy troubles could happen — but many people think they're in the clear if they order something lighter, such as a salad.
However, last week more than 61 people reported becoming ill and noted that they had eaten McDonald's salads.
McDonald's voluntarily stopped selling salads at 3,000 stores in 14 states "out of an abundance of caution," according to a statement from the company. But what new measures, if any, are fast-food restaurants taking to help prevent against foodborne illnesses, especially when it comes to leafy greens?
Fresh produce is particularly susceptible to foodborne illness because it does not go through a process like cooking that would kill pathogens, a Food and Drug Administration (FDA) spokesperson told TODAY Food.
Romaine lettuce was linked to an E.coli outbreak this winter, but in the case of McDonald's salads, the FDA said it is investigating an outbreak of cyclospora, a parasite that can cause intestinal illness, after people in seven states, mostly in the Midwest, reported eating McDonald's salads. The affected states include Iowa, Illinois, Minnesota, Missouri, Nebraska, South Dakota and Wisconsin.
Cyclospora is different than E. coli and salmonella, which are bacteria, a spokesperson for the FDA told TODAY Food. The parasite is generally transmitted when infected feces contaminate food or water and is unlikely to be passed between people. There was also a recent outbreak of cyclospora linked to Del Monte vegetable trays, but so far the agency has not found any links between the two. The FDA is continuing to investigate how the parasite made its way onto McDonald's salads.
Since physicians don't routinely check for cyclospora when evaluating a patient for foodborne illness, according to an FDA spokesperson, anyone who has symptoms of cyclosporiasis, which include explosive diarrhea, stomach cramps, nausea, vomiting and flu-like symptons, and who may have eaten McDonald's salads in these states should see a health care provider and ask them to check for the illness.
McDonald's said it is working to switch to another lettuce blend supplier, but would not comment further to TODAY Food about its current food-safety practices with salads.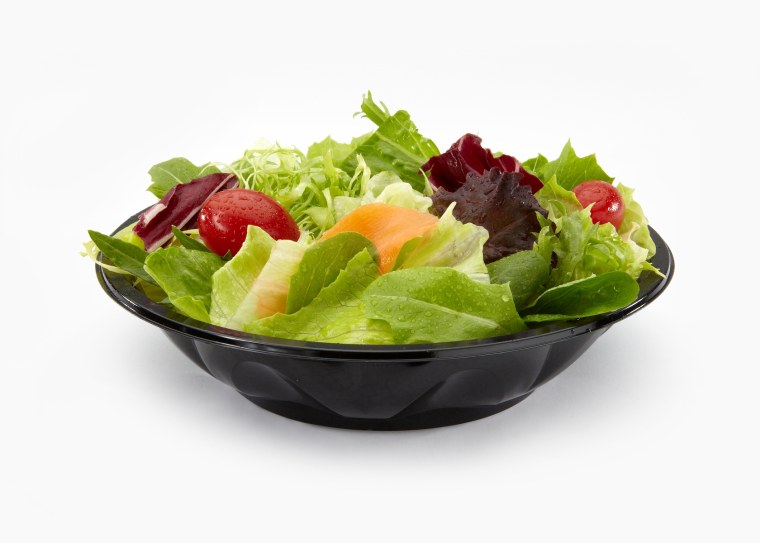 A spokesperson for Domino's, which added salads to its menu in 2016, told TODAY Food that it took several years to figure out how to include them on the chain's menu in the safest and best way. "Our salad supplier takes rigorous steps to ensure their products are fresh and clean when they are packaged to ensure spoilage does not occur," he said.
He further explained that salads arrive at their stores pre-packaged and sealed and are never opened by anyone other than customers.
Chipotle's reputation is still recovering from several outbreaks of E. coli poisoning a few years ago. "Not only do we need to work closely with our suppliers to ensure that the ingredients we buy are safe, but we also need to make sure that once those ingredients reach our restaurants, they are handled and prepared in the safest way possible," the company stated on its site. The Mexican Grill chain has put several new food safety measures in place since the outbreaks and the company claims it is being more transparent about its food safety practices.
TODAY Food reached out to McDonald's, Panera Bread and Chick-fil-A, but the companies did not respond to inquiries about their food safety practices regarding salads.
Currently, there isn't a lot that the average person can do to avoid being infected with these pathogens when dining out, an FDA spokesperson told TODAY Food. These pathogens have been in the environment for hundreds of thousands of years and bacteria especially thrive in the warm weather of summer. Since they're not visible to the eye, and have no taste or smell, there's no way to know before taking a bite, the FDA spokesperson said.
Restaurants, however, should ensure employees always wash their hands, utensils and surfaces with hot, soapy water before and after handling food to help prevent the spread of these pathogens, according to the FDA. The agency said it will be working with McDonald's once the source is determined to review the company's current sanitation practices.
If a consumer is worried about potential outbreaks, the spokesman recommended subscribing to the FDA and Centers for Disease Control warnings of illness outbreaks for information on the latest updates and to report any suspected foodborne illness to a health care provider.
Maybe that well-done burger doesn't look so bad after all — although, perhaps, it's best to make one at home.