Move over, corn on the cob: There's a new dish in town and it's robust enough to get promoted from side to main.
Corn ribs, quartered pieces of corn on the cob that are either deep-fried or air-fried, are popping up all over TikTok, so of course, we had to give them a try.
After watching plenty of videos of home cooks chop their way through corn on the cob, coat the pieces in oil or butter and air-frying them until curly, I got out a knife and a cutting board and went to work.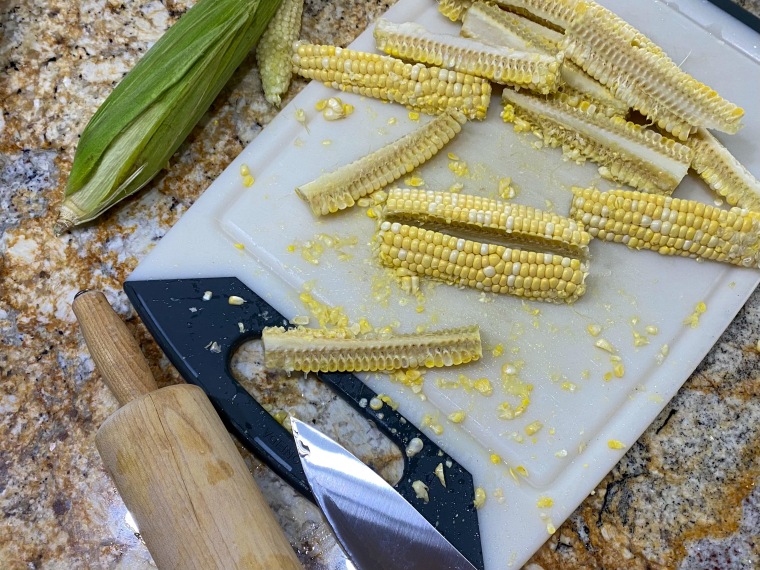 Right away, I made a mental note: This may be an activity best performed outside. My kitchen looked like the front row of one of '80s comedian Gallagher's famed performances. The pressure of hacking through corn cobs, sometimes banging on the knife with my rolling pin to chop through particularly stubborn pieces, made quite a mess.
I may be cleaning corn out of weird crevices in my kitchen for weeks, but overall, the process of quartering the corn cobs was pretty simple.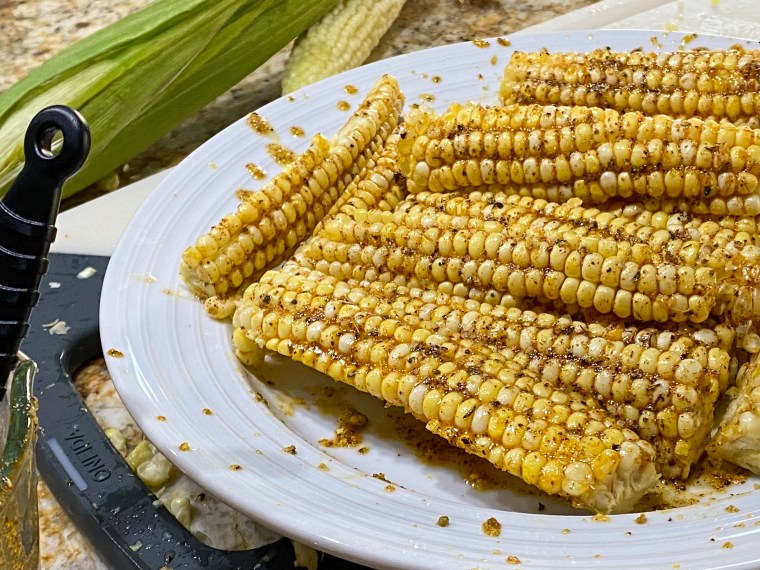 I followed a TikTok with more than 12 million views, uploaded by food blogger Farrah Jalanbo (aka @spicednice). In the video, cobs of corn are quartered, coated with a mixture of olive oil and spices and cooked in the air fryer for 10 minutes at 400 F.
The result? Perfectly curled elote-style corn ribs, topped with an aioli and some crumbled cotija cheese.
And that's not the only way to make corn ribs: Another TikTok shows Los Angeles, California restaurant Le Coupé's deep-fried version of the dish, served with lime mayo and cilantro.
Jalanbo says she shared her own version of corn ribs on TikTok, after seeing posts about a similar dish from an Australian restaurant. Her initial elote-style version was so popular that she went for round two, sharing a new flavor of corn ribs coated in garlic butter before air frying.
"When I took my first bite it was like an explosion of flavors," Jalanbo told TODAY Food. "I can't explain why, but it's so much more fun to eat corn on the cob this way."
"One huge factor is that these aren't a mess to eat because the entire corn on the cob doesn't get all over your face," she continued. "I think people are loving them because they're fun, delicious and so quick to make."
Jalanbo says she's experimented with cooking corn ribs in the air fryer and the oven, but prefers the air-fryer method.
"They curl better in the air fryer than they do in the oven," she said. "They will definitely still work in the oven, they just take much longer to curl. These can also be shallow fried on both sides (in a pan) as well and that will give them that perfect curl."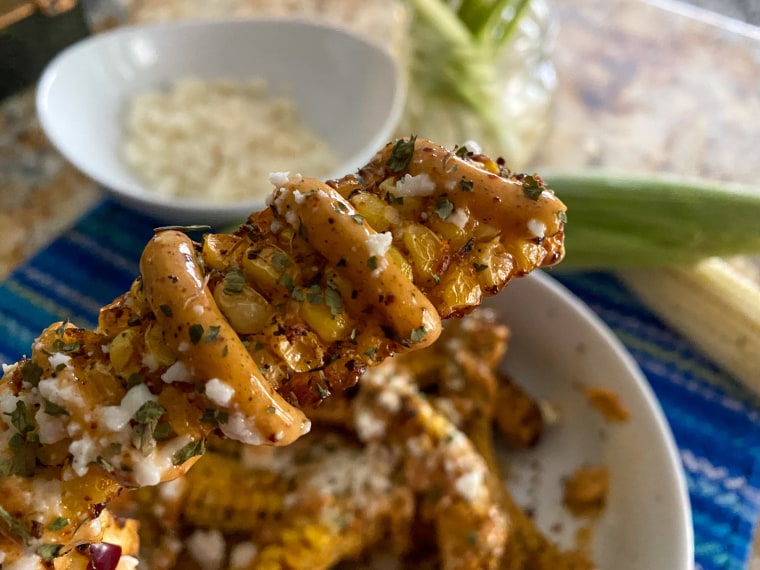 So what did my family think of my attempt at corn ribs? Unfortunately, only my husband got a taste. After trying the savory flavorful ribs of corn myself, he stood over the bowl and ate the entire thing.
Thankfully, there were other foods on the menu that night.