Breakfast has long been a crowded space among fast-food competitors. As restaurants continue to duke it out over morning meals, a new opponent is entering the ring today with some tantalizing offerings that may just unseat the classic McMuffin.
Last month, Wendy's confirmed it would be launching its new breakfast menu nationwide on March 2.
New menu items available Monday include the Breakfast Baconator, the Frosty-ccino (a Frosty-inspired coffee drink) and the Honey Butter Chicken Biscuit.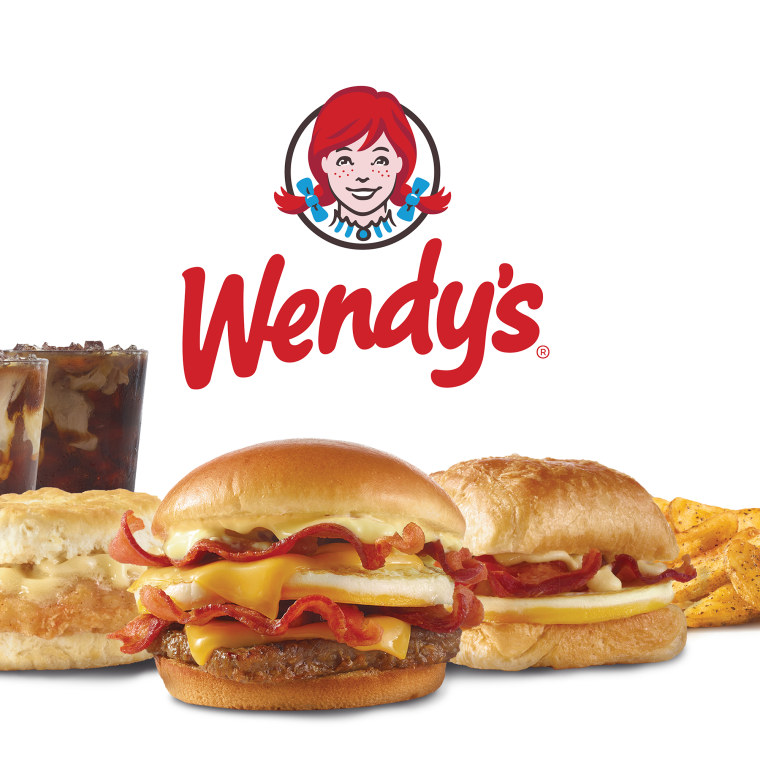 "Our crew will be hand-cracking fresh eggs on all our breakfast sandwiches and leaning into the quality ingredients that have long set Wendy's apart from the competition," Wendy's U.S. president Kurt Kane said in a statement released in February. Using freshly cracked eggs will set Wendy's apart from many other fast-food chains like Burger King and Dunkin', which use egg patties that contain various fillers. McDonald's, however, uses freshly cracked eggs in many of its morning sandwiches.
The Breakfast Baconator, a spin on Wendy's Baconator burger, is made with an egg, six strips of Applewood smoked bacon, one sausage patty (it's square, of course) and two slices of American cheese, all topped with a cheesy sauce
The chain's Frosty-ccino combines cold brew coffee with either chocolate or vanilla Frosty cream.
Wendy's Honey Butter Chicken Biscuit features a buttermilk biscuit base, topped with a fried chicken breast that's been slathered with whipped honey butter.
Other menu items will include seasoned breakfast potatoes and croissant sandwiches topped with eggs, cheese and a choice of bacon or sausage.
Wendy's breakfast will start at 6:30 a.m. and end at 10:30 a.m. at participating locations.
This isn't the first time Wendy's has attempted a breakfast rollout.
In the 1980s, the chain introduced a breakfast menu that included items such as made-to-order omelets, French toast and toasted sandwiches. But the dishes were too time consuming for workers to make, and the menu was ultimately discontinued.
Still, since breakfast has remained a popular front in the fast-food wars, it has been tested in some capacity at various Wendy's locations for years. In 2013, the chain tried again, briefly rolling out a breakfast value menu featuring dishes like sausage biscuits and breakfast burritos.
Before the national rollout, Wendy's served a limited breakfast menu at about 300 restaurants, including at some airports. The new plan sees that offering expand to 6,000 U.S. locations this year. When the new breakfast menu was first announced, the chain said it planned to hire as many as 20,000 new crew members in 2020 to fulfill the demand for early staffing needs.
McDonald's, which has around 13,000 locations nationwide, will still have access to the lion's share of fast-food breakfast seekers.