Among the many challenges in pairing food with wine, chocolate is among the easiest to overcome as we approach Valentine's Day. For example, if you've opened a robust red for dinner such as a California cabernet or zinfandel, finish it off with a little dark chocolate and you'll see what I mean. In fact, some red wines themselves actually have a subtle taste of chocolate, which comes from aging in oak barrels.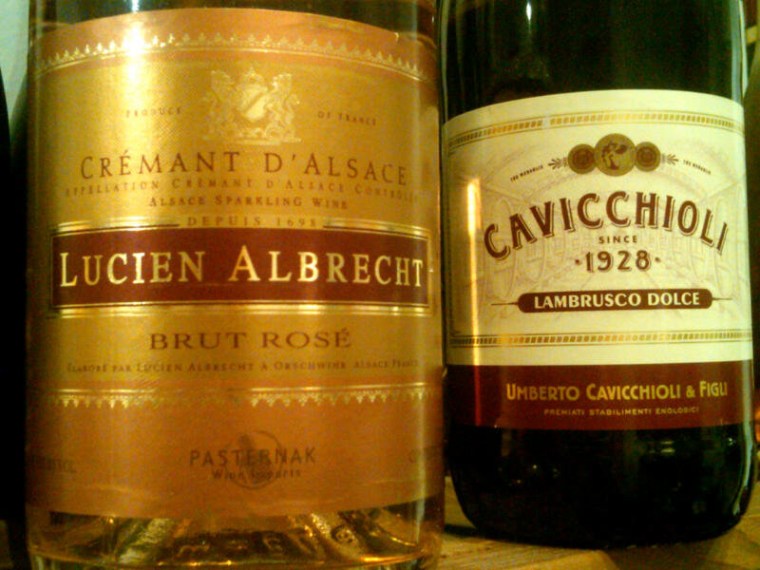 On the other side of the spectrum, any number of sparkling wines in hues of pink and red will provide a light and lively counterpart. One of my favorite non-Champagne sparklers is from the Alsace region of France, Lucien Albrecht's Cremant d'Alsace Brut Rosé. This dry wine with its light copper color is made from pinot noir and offers subtle strawberry, peach and floral notes and a little cream on the finish. With refreshing acidity, it will provide a nice lift to the richness of chocolate truffles or cake. The average price is $19 on wine-searcher.com. Imported by Pasternak Wine Imports, Harrison, N.Y.
By contrast, try a lightly sparkling red wine such as Cavicchioli's Lambrusco Dolce from Italy's Emilia-Romagna region. Dolce means sweet, but this is actually a semi-sweet wine with a relatively dry finish. Made from a blend of sorbara, grasparossa and salamino grapes, it's festive and easy to drink – alcohol is only 7.5 percent – with tastes that suggest black cherry and blackberry. It's a refreshing companion to chocolate of all kinds and comes with a bargain price of just $8. Imported by Frederick Wildman and Sons, N.Y. Wine received as a press sample.
Edward Deitch is a James Beard Award-winning wine critic. Find many more of his wine reviews and commentary on his blog, Vint-ed.com, and follow him on Twitter.
More from Bites: